Wednesday, February 01, 2006

i was tamed by rock n roll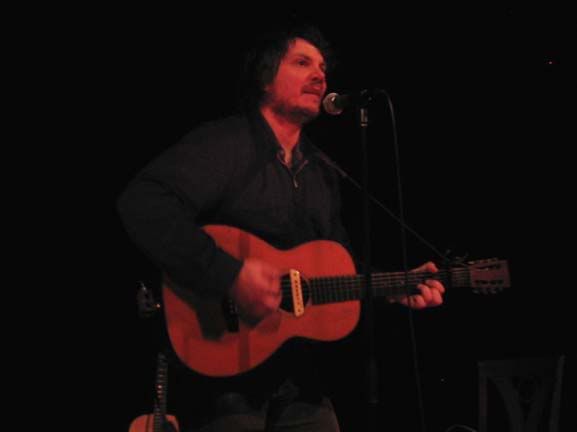 Wilco
is one of my favourite bands, so suffice to say, Jeff Tweedy could've come on stage, went through the motions on a couple of numbers and left, and I still would've left satisfied. So, after witnessing nearly two hours of Jeff doing songs by Wilco, Uncle Tupelo, Loose Fur, from the Mermaid Aveneue Project, and some cover tunes I'm still a bit awestruck. On any given tour, Wilco's setlist becomes fairly predictable (notwithstanding a one or two song change from night to night), but a Tweedy solo outing is a little more adventurous. It's also a chance to hear songs that the band rarely (if ever) plays. If you're a fan of the band, you've heard him wail during the solos from songs like "Spiders (Kidsmoke)," but I think I'm honestly more impressed with his acoustic chops. The end of the set closing "Acuff Rose" (from Uncle Tupelo's swan song,
Anodyne
) was amazing. And, in addition to the music, the stage banter was almost worth the price of admission in and of itself. If you missed out on this one, you totally dropped the ball. I, on the other hand, will be heading down to Seattle on Thursday for Jeff's show at the Moore, and if it's anything like tonight, it'll be well worth the drive.
now playing: Wilco - Summerteeth
6 Comments:
Glad you had a great time man, I know how much you were looking forward to it.
it was definitely a rad show. i wish i knew more of the songs.

if you could find a setlist somewhere, that'd be swell.
By

josh, at 3:57 p.m.
Jeff:
Sunken Treasure
(Was I) In Your Dreams
Please Tell My Brother
Bob Dylan's 49th Beard
IATTBYH
The Ruling Class
All The Same to Me
Summerteeth
Is That The Thanks I Get?
Theologians
Shot In The Arm
Airline To Heaven
ELT
Passenger Side
----------------------

Jeff w/ Glenn:

ITMWLY
Heavy Metal Drummer
War On War
----------------------

Jeff:

New Madrid
California Stars
Someone Else's Song
Remember The Mountain Bed
Acuff Rose
Nice setlist. Btw, thanks for the Serena Maneesh song a couple posts back. I'd been meaning to check them out and that's a great song.
By

Sean, at 11:24 p.m.
cool beans. sounds like a great show.
totally agree that the show was awesome. hope you weren't the guy screaming out 'i love you' between every song though :-p

glenn's opening set was pretty sweet too. didn't think i'd enjoy a drum solo show too much, but he was quite entertaining.
By

Jamie, at 12:24 a.m.