Wednesday, March 22, 2006

le le low
Last time I saw
Hot Hot Heat
, I came away disappointed... the last two times, in fact. But, for some reason, I thought that would change tonight. I used to adore this band, and it's unfortunate that my distaste for their music has coincided with their steady (and well deserved) gains in popularity, as it makes me feel a bit snobby. Let me be absolutely clear though, I'm immensely happy that they've gotten popular, and can fill the venues they used to play about 20 times over. The music just doesn't do it for me anymore.
It's as if they've lost their groove or something. The jerky, frantic, rhythms that used to come between the big, hooky choruses are glossed over for a much more pedestrian straight ahead 4/4. And the keyboards (even on the older tracks) are pushed further and further down in the mix, and further and further out of the picture. I guess its a consequence of Steve becoming a bit more of a frontman. Everything is so glossy sounding.
Bend Sinister
played second. I know they're held in quite high esteem among some folks in Vancouver (and elsewhere), but I just don't get it. Half the songs seem like subpar Muse, and the other half are like subpar Queen. Also, while they're fairly competent musicians, they really don't have the technical chops to wow with the proggy stuff.
You Say Party! We Say Die!
opened. Despite the fact that they had just driven in from SXSW, they all seemed amped. While they're a little rough around the edges musically (ie. there's some room to grow), they possess that sort of franticness that Hot Hot Heat have kinda lost. As per usual, I was pleased to be there.
I was too far back to get any decent shots of the headliners or Bend Sinister, but here's a YSP shot...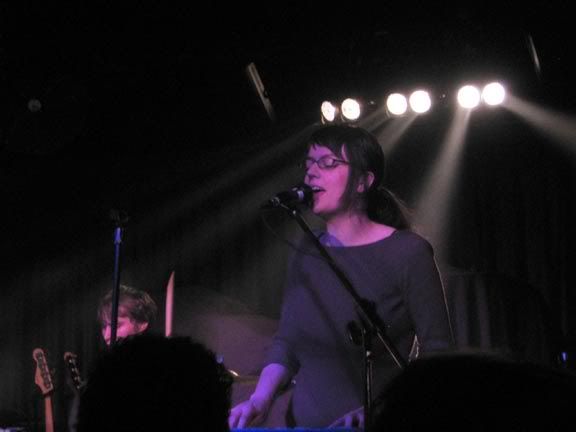 now playing: TV On The Radio - Wash The Day Away
7 Comments:
two words: dante decaro?

i'm going to the show tonight, almost as much for ysp!wsd! as for hhh
I bought Hot Hot Heat's most recent CD a little while back and hardly listened to it...but after reading your post, I'm 99 % sure I'm gonna sell it.
or maybe Hot Hot Heat's decrease in creativity lately is directly related to the size of Steve's hair.

-Kat
By

Anonymous, at 9:13 a.m.
um quinn you have got to be kidding me. this is completely non hot hot heat related because i am lame and only ever liked the bandages song, but... i have missed in my few months not only mike relm, J5, and now ¿lyrics born as well????? oh oh and my! gay! husband! at ACF.

¿have any leads on whats up for fall? because right now i feel like i am missing everything i hold dear. just watch jay z come and tour next month.
By

Marina, at 12:45 p.m.
¿AND THE STROKES?

fuck me this is unreal
By

Marina, at 12:46 p.m.
i guess i would be the "(and elsewhere)" in regards to the Bend. too bad you didn't like them; they usually are pretty good->great live. an off night?
Quinny you are such a music snob!

:D

Gina
By

Anonymous, at 2:00 a.m.