Thursday, April 13, 2006

i was good with names, i had a way with faces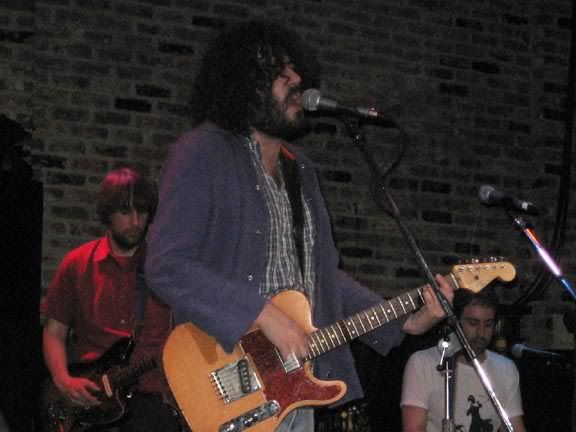 Tonight was my... I dunno what number time seeing
Destroyer
... but it's been a lot. This time around he had the band that played on
Rubies
backing him, and much like the record, the performance was a lot less trying (or a lot more "accessible") then the outings in support of
Your Blues
. I personally loved the renditions of Dan's catalogue that sprung from the tour where Frog Eyes backed him, but tonight was far from disappointing. It's late so I will leave with the following two thoughts:
1) I'm kinda surprised it sold out ahead of today.
and
2) Remember that part in Eddie Murphy's
Delerious
where he's imitating James Brown ("Hah!... that's a James Brown lyric"). Well, James didn't actually invent "hah!" and Robert Plant didn't invent "baby, baby, baby," but they certainly
own
the respective noises. With that in mind, I humbly declare Dan Bejar the master of "la" and "da."
If you require more in-depth discussion on Destroyer at this time, I suggest you go to
Pinder's
(whom I met today at the show)
Destroyer Wiki
.
Ladyhawk
played second. If you've been here before you know how I feel about them. They played "Sad Eyes/Blue Eyes." Last time I saw them they did not. However, this time they did not play "Came In Brave." They still rocked. They are also the only band in the city to illicit sing alongs to songs that aren't even released in recorded form yet.
The Christa Min
played first. I feel the same way about the Min as I do about Dead Meadow. I know they're good, but I feel like if I were stoned I'd enjoy things more.
'night.
now playing: Ladyhawk - Came In Brave
4 Comments:
Quinn! Are you going down to Seattle to see Sigur Ros in May? If not, do you know anyone else who is? I'm pretty desperate for a ride - the bus is quite pricey!
Forgot to add that I would, of course, chip in for gas.
You are ridiculously efficient at updating this. I saw you at that show three hours ago and you posted this an hour ago.
By

graham, at 3:05 AM
i have a 12 day break in exams... so other than look for jobs, ive got nothing else to do.

rachel: i havent really been that huge on sigur ros lately.. but if i hear of anyone heading down, ill let you know.