Wednesday, April 19, 2006

maybe we should break it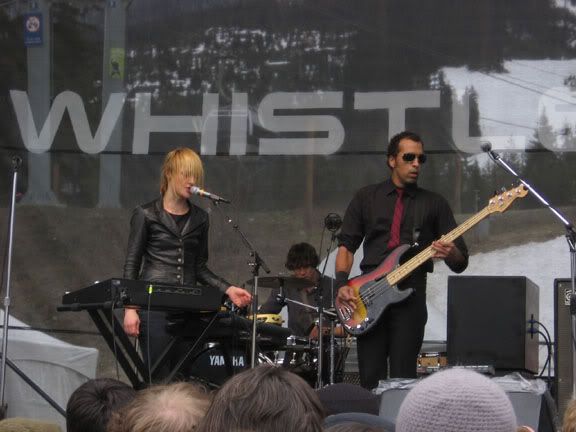 I made the trek up the Sea-to-Sky with some friends to catch
Metric's
free performance at the Ski and Snowboard Fest this afternoon. I think I remember Matt Good talking about an afternoon show and asserting that "4 O'clock is no time to rock." He may have had a point. It was also the last stop on the latest Metric tour. Perhaps that explains why the band seemed a little less enthused than usual at the beginning of their set. It didn't help that the crowd, while attentive, wasn't very energetic either. That being said, a free show is a free show. And, after a couple of numbers the band did seem to start to find their groove. By the time they made it to "Combat Baby" a number of more excited fans had also made their way to the front of the crowd. When the Emily and the boys launched into traditional closer, "Dead Disco," they seemed adamant that they'd go out with a bang. During the extended breakdown, Miss Haines even jumped down to bust open the front barricade, so she could invite people up on stage. All in all, while it wasn't as intense as their usual headlining gigs, it was definitely worth a leisurely afternoon excursion up the mountain.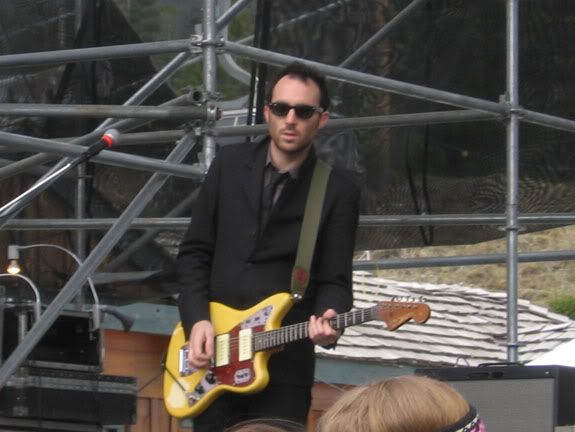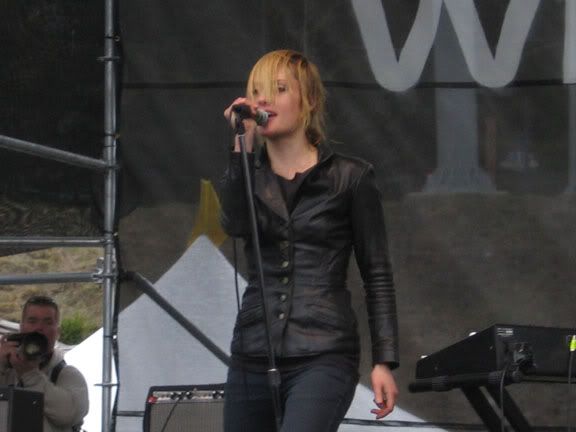 In other Metric news, hopefully you read
For the 'Records'
this morning and have already enjoyed Emily and James' acoustic performance and interview on Minnesota Public Radio. If you haven't (or even if you have), I took the liberty of coverting the stream into some .mp3s for your IPodding pleasure. The duo performed "Ending Start," "Monster Hospital," and "Live It Out" acoustic ("Ending Start" also featured Emily on piano). Needless to say, they're quite a bit different than the album versions. "Ending Start" is particularly pretty in its stripped back incarnation. There are also two interview clips.
Techy stuff: The stream was fixed 128kbps, so once I captured it as a .wav and re-encoded it to VBR the average bittrate is only about 85kbps. It sounds pretty good though, and has the added bonus of the entire zip file being less than 12mbs.
download: Metric -
Live on MPR (4-10-06) (zip file)
I imagine this will expire soon, and since it's not something officially released, I'll re-up it a couple of times.
now playing: Metric - Ending Start (acoustic)
4 Comments:
Yay Metric! Thanks for that Quinny!

(Your music is def my shopping)

Gina
By

Anonymous, at 1:20 AM
Thanks for this - you saved me a bunch of trouble converting the stream to mp3 & breaking it up. Awesome.
r
I had a feeling you might have made the trip up to Whistler to see Metric! Thanks for the blog, it keeps me up to date with what an awesome scene I'm missing while up in the mountains...
By

Anonymous, at 12:08 PM
That version of Live It Out is the best. ever.
By

vanmega, at 7:33 PM