Sunday, May 21, 2006

already gone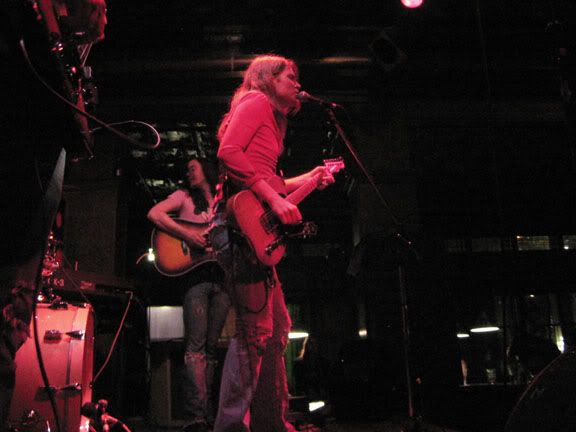 After re-reading my post about
Lions On The Street
, I realize I may have turned some people off, because the way I described them would've probably turned me off, had I not written it. I usually tend to shy away from any sort of "revival," and I think that's the way it came across. Granted, they really do sound like they were forged in the 70's, but differ from most blasts from the past, in that they're goddamn good at what they do. Conversely, I find that most bands who wear their influences on their sleeves end up as pale imitations, unable to fill the footsteps their attempting to tread on. I made my way down to check out the band at the Lamplighter last night, and that divide between successfully harnessing classic sounds and coming off as only followers was evident when sitting through the bands' openers.
The first act took a lot of cues from "classic rock" but were totally forgetable. In fact, I can't really recall what it was about their sound that offended me so much, but the conversation I ended up having about the Pabst (that was on special), and how cheap beer has become "hip," was far more interesting than the music. The second act, sounded like five dudes who grew up worshipping Guns n Roses, Pearl Jam, and Metallica. I happen to like Gnr and PJ quite a bit, but when that kind of music gets filtered down you end up with unneccessary riffage, gratuitious guitar posing, and a lead singer who puts on what Moby once called "the cookie monster voice." My friend questioned whether, "I think he talks like that all the time." I went with "no," based simply on the fact that there's no way a construction worker/jr. executive/barista/or whatever occupation, could possibly be taken seriously if they did.
By contrast, the boys in LitS pulled from influences that were far more tasteful, in my humble opinion (the Stones, the Band, the Faces, Rod Stewart before he got shitty and disco and/or shitty and AC). Classic sounding rock bands, though, have to jump that same hurdle that every guy who picks up a guitar and plays folk does: overcoming being merely pleasant sounding. And, they manage that as well by being, not simply a collection of familiar sounds, but pretty great songwriters to boot. In addition, the solos were well placed and never wanky, there was energy and feeling, and that energy translated to an intensity that was sans any obvious or unneccessary posturing.
As I mentioned on Friday, the band has an entire album sitting in a major label vault somewhere, which forced them to record their EP totally DIY, and, in the end, resulted in a really great sounding set of songs. Well, as your parents will tell you, adversity builds character, and that just might be the case with Lions In The Street, as they're songwriting prowess seems to have grown as well. In addition to to the EP material, what I assume were a new track or two, and a cover, the guys also played a song "from our album that will never see the light of day." And, to be completely honest, it just wasn't as good. The same style for sure, but the melody didn't stick with me, and it definitely didn't have the same sort of swagger that they seem to possess now.
Hopefully, they don't end up lumped in with the classic rock pretenders they played with last night, as they deserve much better company. Actually, on that note, they're opening (along with
the Illuminati
) for the mighty
Pride Tiger
at Richard's on June 21st. I know you're already going to see Pride Tiger, but show up early, ok?
You'd never call them innovators, but as
Matthew
put it, "I'd much rather listen to a band doing something old really well than an artist doing something really innovative badly."
You can still get the entire
Cat Got Your Tongue EP
for free on their
website
.
now playing: Lions In The Street - Lady Blue
0 Comments: