Thursday, May 18, 2006

the modern age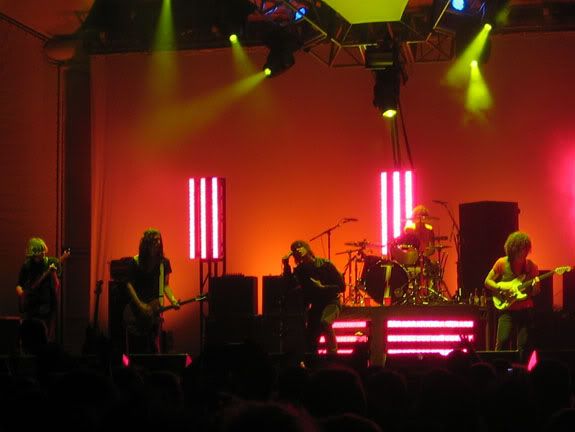 A friend of mine scored two freebies to
the Strokes
show tonight and was nice enough to invite me along, so I caught the formerly titled saviors of rock for the first time since they headlined the Commodore around 5 years ago (times flies).
To be completely honest, I think I've heard
Room On Fire
a couple times through at various locales, but other than the singles, haven't really made an effort to hear, or been exposed to much of
First Impressions of Earth
. So, the first thing that struck me about the band's performance was how very much I love the songs from
Is This It?
; a record that, for whatever reason, I haven't given a spin in awhile. Unforunately, the second thing that struck me is how flat the new songs sound by comparison. Perhaps "flat" is the wrong word, as the rhythm section rumbles on a lot of the new tracks, but it seems like the boys have traded the wonderfully jangly melodies that wove their way through the older material for their newfound bollocks. Julian seems to favour his "I'm bored with you" voice over his "holy crap I'm so excited the track is clipping" voice too. I suppose the whole yelling during the chorus pattern may have become a little predictable three records on, but on the other hand, if it works, it works. "Juicebox" was the exception among the new material, and consequently, was one of the better performances of the evening. Ditto for the mainset closing, "Reptilia."
I'm going to come off totally pretentious here, which is unfortunate. But, in all honestly, I also enjoyed them way more in a smaller venue. It's nothing to do with them getting popular. In fact, things can be quite the opposite sometimes.
Take Coldplay, for example. I can't say I'm interested in them much at all. I did, however, see them at the Commodore the first time they played here, and they were bloody awful. Chris Martin spent the entire show either whining about his guitar or staring at his feet. But compare that with footage of the band now. Again, they don't really do it for me musically, but they've certainly learned how to work a big stage. They still aren't the biggest band in the world, but they sure as hell perform like they are (well, they might actually think they are... but that's another discussion).
By contrast, the Strokes haven't gotten any worse, they're just mostly the same. And, while things like Julian's detached non-chalance went over pretty well in a bar, from halfway back in the Plaza of Nations it's just a little boring. Only during a raucous, night capping version of "Take It Or Leave It" did things really take off. Casablancas waltzed around the stage like he owned the place, Nick Valensi scaled an amp, and the other Nik and Albert Hammond, Jr moved out to the wings.
On the whole, they weren't bad. They were pretty good, really. They could just be so much better.
Oh... I almost forgot, they also embraced the comparisons of Juian's vocals to Lou Reed by churning out a pretty sweet version of "Walk On The Wild Side."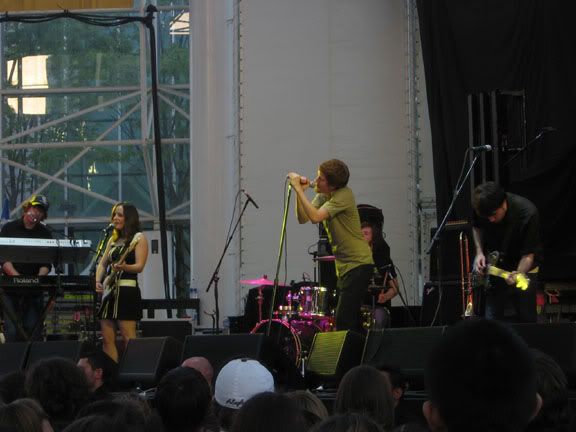 Most Serene Republic
opened. This is the third time I've seen them in a support role, and while they still haven't really won me over, they're certainly growing on me. They've undergone a bit of a lineup change as well, and have a bigger sound, which also works a little better.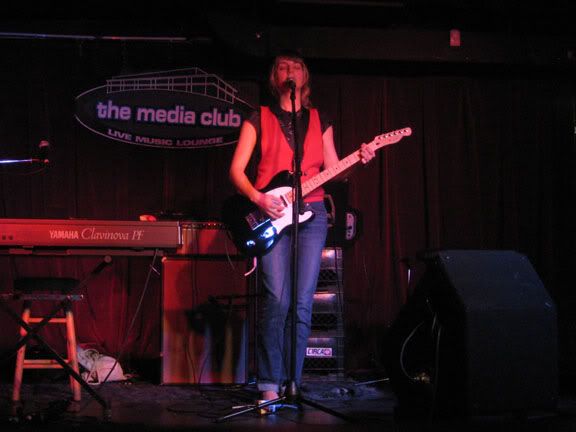 Before the rock extravaganza at the Plaza of Nations, I took in the hastily rescheduled
New Buffalo
show at the Media Club. Unfortunately, very little advertising translated into an extremely sparse crowd (like, 15 or so). Sally also got the bad news that after cancelling tonight's show to do a TV spot, the Concretes (whom she was set to open for down the West Coast) have decided to cancel the rest of the dates as well. Despite the low attendance and cancelled tour, she did her best to put on a very intimate little show. Sometimes playing along to more fleshed out backing tracks, sometimes backed only by guitar or piano, she made her way through most of
Last Beautiful Day
, and also performed a couple of new tracks (that sounded particularly strong). Hopefully, her next appearance in Vancouver is met with better circumstances.
All in all, not a bad Wednesday, considering this time last week I was still mourning the Islands and Concretes cancellations.
now playing: Sunset Rubdown - Us Ones In Between
5 Comments:
gotta disagree. the strokes have improved so much as a live band (especially in comparison to their last plaza show). julian is no longer a drunk asshole and happy to be there. they still have a coolness to them but with a bit of humility which is a nice change. they also play way longer sets now with (finally) encores.

the show itself was quite fun. i wasn't expecting to have that much fun, but i had a blast.
By

j, at 7:33 a.m.
I saw them in Ottawa, and I felt the same way...the old songs blew me away, and the new ones were kind of iffy. And it didn't help, either, that I'd seen them in Montreal on that 2001 tour, so I was comparing their performance in that tiny venue, where I literally stopped Julian from falling off the stage, with how they are now...it was kind of sad, but more for reasons of me feeling like I'd lost something than for anything they did.

And I love TMSR...
By

matthew, at 10:17 p.m.
did the lead singer from MSR bring out the broom again?
he didnt... maybe its a commodore thing.
j: i can't speak for the last Plaza show or the Orpheum one.. but they were definitely fully into it, and also quite humble at the Commodore way back when.
I remember Julian mentioning something along the lines of "when (they) first came here no one knew who we were, cause we were just opening (for the Doves), and then we sold out that place around the corner (the starfish), and now... look at all of you! thanks."

also, while the longer set is definitely good, i've always had some respect for bands who don't encore out of convention, especially new bands... i guess i like it when people don't assume that they're that good, even if they clearly are.