Saturday, September 02, 2006

rapture rapes the muses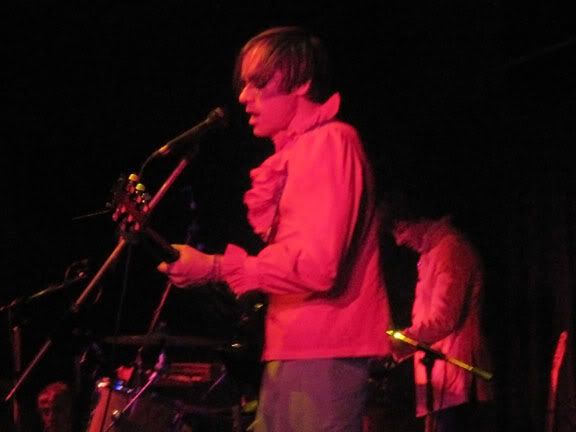 For reasons that I can't really explain (other than the fact that there's just a lot of music out there, and only limited time), I'm not really all that familiar with
Of Montreal
. I now own
the Sunlandic Twins
, but before tonight's show I'd only listened to
Satanic Panic In The Attic
more than once. The latter is definitely good enough to inspire further attention to the band's fairly large catalogue, but for whatever reason that never happened. Lucky for me, not being overly familiar with the songs being played didn't diminish my enjoyment of the show in the slightest. I can't really tell you much of what they played (other than the songs from
Satanic Panic
and a cover of "Crazy"), but I can tell you that they were a hell of a lot of fun. The psychpop dance party music was certainly a factor, but it seems that Vancouver audiences aren't just coming out en masse to shows as of late, they're also slowly starting to abandon the No Fun City tradition of standing stock still with one's hands in their pockets. At the last bunch of upbeat shows I've been to, it seems like people are finally willing to shake it a bit, and tonight most of the crowd was there to really get down. The band came to party as well, and while the early curfew is always a bit shitty, they certainly made the most of their 70 minutes or so.
I didn't get to the Plaza until just as
Panurge
were finishing up. My friend said they were "kinda boring." Take that as you will.
Show stuff:
The Rodney Graham/Book of Lists show on September 14th now also features a band called Hello Blue Roses, who are being billed as "featuring Dan Bejar."
Holy Fuck
are at Richard's on September 28th with
Shout Out Out Out Out
and
Land of Talk
. While I think both bands higher up on the bill to be pretty great, I am absolutely amped that Land of Talk is finally making it out West... even if its on a night with two other potentially spectacular shows scheduled.
Speaking of dates with too many good shows scheduled,
3 Inches of Blood
,
A Javelin Reign
, and Odessa are at the Media Club on September 7th. Now you can choose between the guy who sang in Can, a double bill of country tinged rock, or metal at its finest.
UNKLE
is at Richard's on the September 21st.
Thanks to Jordie for the headsup on those three, though I must contend that his assertion that Shadow might show up with James Lavelle on the 21st is impossible, as he'll be somewhere between Seattle and Berkely by the 21st.
Lucero
is at Red Room on October 5th.
Finally, here is an interesting follow-up to the alleged reason behind the new Joanna Newsom leaking being that PFork left their download server unsecured. Not only did they have
Ys
up, but pretty much every disc they've reviewed this year... plus "a Cursive Megadiscography" and Rob Mitchum's collection of Fiery Furnaces show bootlegs. You think the RIAA will be as pissed off with Ryan Schreiber as they are with the 14 year olds they sue? (via
the Rocking Refuses To Stop
)
While the part with all the full albums and unreleased goodies is now taken down for obvious reasons, you can still go
here
to find all the legal mp3s that they've posted in the last little while, free of the all too often irritating commentary, and without having to click "[read more]" ten times.
now playing: Of Montreal - Forecast Fascist Future
6 Comments:
Yes! Holy Fuck and Land of Talk are awesome...Holy Fuck will just leaving you gobsmacked (and, uh, saying "Holy Fuck!"). Stoked for that concert.
Warwick
ThisCityRocks.com
By

Warwick Patterson, at 9:57 a.m.
Did they play "Crazy" during the encore (if there was one)? Standing on hard dancefloors makes my feet hurt, so I left. I assumed the vigilant Plaza staff were shutting down the music right after "So Begins Our Alabee" finished.
they played "Crazy" and then came out for two more after the 10:30pm kick out time as well, much to my surprise. I was about to leave after the first encore.
Either you screwed up the link on the pitchfork downloads page or they took it down soon after you posted it.

Jordie
By

Jordie, at 11:27 a.m.
they took it down apparently
By

Quinn, at 12:44 p.m.
Hey Quinn, Ive been checking the vancouver for blogs about this show (SOOOO and Land of talk etc) I have some ticks for that show if ur interested.

write me, sim@bos.ca
By

Simmer, at 11:08 a.m.