Sunday, January 28, 2007

new wave jacket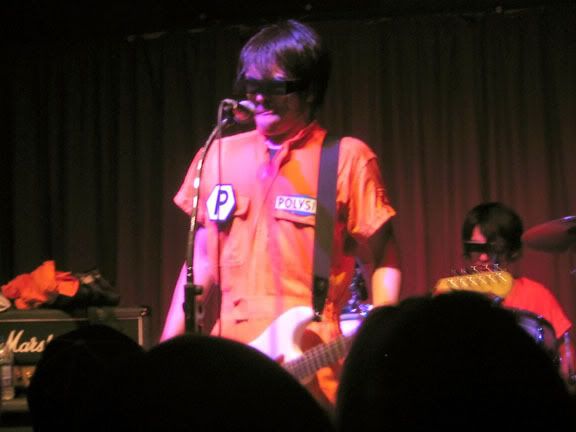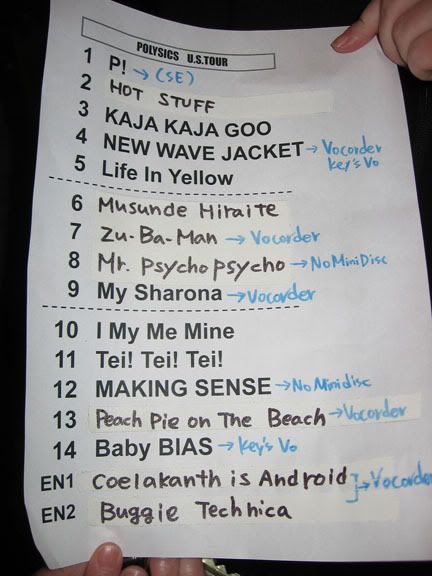 Polysics
probably aren't the type of band you'd want to see every day. There's certainly a bit of a shtick going on (the uniforms, the sleeves of the uniforms tearing away, the props, etc) and shticks get tired if you see them again and again. On the other hand, it seems like the band never run out of energy, and unbridled enthusiasm rarely gets tired. Considering the fact that Friday's show was their first in Vancouver, and probably their last for a decent amount of time, there was nothing to complain about.
As mentioned, the band was amped to be playing, and the crowd (which looked pretty sizable) was equally excited to see the Japanese new-wavers do their thing. "Coelkanth is Android" was massive, and their double time, vocodered lead vocals version of "My Sharona" was awesome. Any article about Polysics mentions Devo, and the comparison is certainly valid. The band bring up their affection for them constantly, and Hiroyuki Hayashi looked right at home in the Devo hat that an audience member threw on stage (seriously, that happened), but they don't share their idols meticulous and razor sharp execution. There's a rough edge and a loose vibe to Polysics and they where it well.
I made it to the show when
Fun 100
were finishing their last song, which was unfortunate. I figured they wouldn't start til 8, and made it in just after. I was mistaken.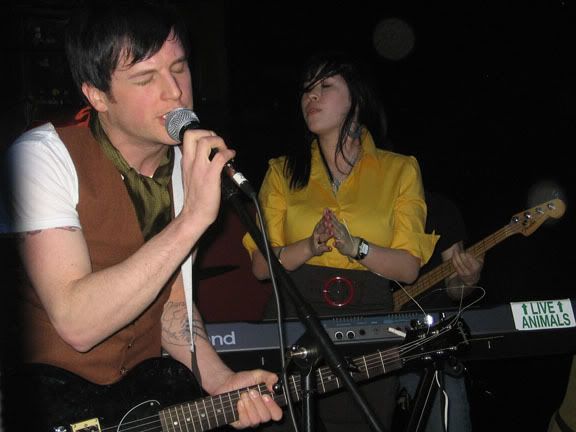 After Polysics, I made it down to the Columbia for
the Paper Cranes
at 1/2 Alive. Either hipsters don't like new wave bands getting in the way of their DJ nights or the venue shift from Limerick Junction to the Columbia threw some people off, because the place was uncharacteristically 1/2 full. Attendance aside, the Cranes played a pretty tight set, balancing songs off of their EP with some new ones that point to a equally strong new release in their future.
Oh... and the Columbia renovated, sort of. The floor is new and, more importantly, it sounds like they upgraded the sound system a bit.
Tapes N Tapes
are at the Plaza on May 6th.
VFest
is coming to Vancouver on May 20th and 21st. I bet Brandon Flowers is totally pissed that My Chemical Romance get top billing over his Killers. Maybe he'll start a feud. Maybe they'll fight! That still wouldn't make this worth attending. Last year TO got the Flaming Lips, Broken Social Scene (who were a last minute fill in for Massive Attack), Phoenix, the Raconteurs, Gnarls Barkley, the Strokes, among others. This year in Vancouver, Billy Talent is the third biggest draw at this point.
Discobelle
has a radio rip of the new Justice single, "D.A.N.C.E." It's pretty massive.
now playing: Justice - D.A.N.C.E. (radio rip)
3 Comments:
ya, i was seriously let down with the vfest vancouver line up. billy talent was just here fer chr*stsakes.
By

Anonymous, at 5:14 p.m.
i have the polysics set list too!! lol.
we were the ones that jumped on the stage after the show.
grabbed it from yano's drums.
TOISU!!!!
By

Anonymous, at 11:33 p.m.
Muse is rumoured which would be the only worthwhile at the moment. The TO event was brutal despite some decent bands and dj's. Lame crowd, line ups to show ID to get in the liquor areas (EVERY TIME!!), line ups to get Bud Light or Bud (ewwwww), line ups to get drink and food tickets, line ups for crappy food...Mind you, I had just returned from Reading Festival. Tip - save your money for Sasquatch the following weekend.
By

Anonymous, at 1:25 p.m.