Thursday, January 04, 2007

trash flavored trash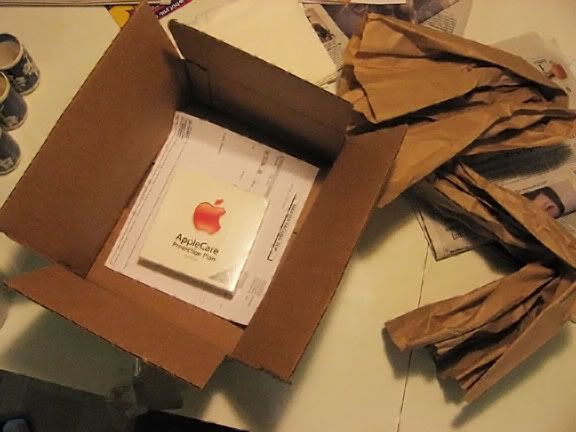 I decided to pay for the extended warranty on my iPod, and was a bit confused when I put in my order and was told that it would be shipped to me.
About a week goes by, and I receive the above package in the mail. The actual box, which was about the size of an iPod box, was in the larger cardboard box, which was then stuffed with paper. The innermost box had one sheet of paper with the code to register the extended warranty and a booklet outlining the warranty.
I don't really care about the $6 shipping, but I'm a bit pissed that they created so much unnecessary waste and physically shipped something (most likely by air, as it was fast) that they could've e-mailed to me. You'd think a computer company would know about a .PDF file for the booklet. You'd also think a company that likes to tout itself as forward looking and modern would... I dunno... give a crap about the environment.
Shows...
Neko Case
is at the Commodore on February 13th with the Crooked Fingers'
Eric Bachmann
. If I'm not mistaken, it's also the first time in awhile that Neko has played a venue here that doesn't end up pushing the ticket prices into the $35 range.
Great Lake Swimmers
are playing Richard's on April 5th. They're still playing the Gallery at UBC the day before (for half the price in a room less than half the size), but the latter is a closed show for students only.
The Awkward Stage
are at the Railway on January 12th with
Mohawk Lodge
,
Romance
and
the Choir Practice
.
Lions in the Street
are at the Plaza on January 11th. Chris from the band dropped me a line to say that the band are heading down to SXSW and will hopefully have their legal/label woes worked out this year. Hopefully the latter means a full-length release could be coming sooner rather than later as well.
Neil Hamburger
is at Pat's on January 17th with
Hugh Phukovsky
.
Graham
relayed to me that he got so drunk at a fairly recent Hamburger performance in Australia that he ended up heckling. Neil, however, did not respond by directing a racial tirade towards Graham. I'd say that means he has a ways to go before he truly achieves his goal of becoming the world's worst comedian.
Catlow
is at the Railway on the already busy date of January 18th.
Amy Honey
supports.
The Buttless Chaps
are doing a two night stand at the Railway on January 19th and 20th.
Electric 6
are back at Richard's on April 23rd.
Hot Loins
are handling opening duties at the Deerhoof show along with
blackblack
.
And last, but most certainly not least, if you haven't checked PFork today, you should know that
Wu-Tang is back!
now playing: No Doubt - Sunday Morning
5 Comments:
it's $46 CDN to see Neko here on Jan 30th at the equivalent of Richards. This city is killin me. I probably won't end up going.
By

Sean, at 11:33 p.m.
to be fair, Neil did throw a glass of water in our direction and told us to whisper our complaints into eachother's assholes after the show.

show prices here, Sean, are out of control. I've made it policy to onl see the absolutely essential or bands/artists that I've never seen before. If I went to every show I anted to, I'd have een less money than I do right now (and I don't have much).
By

Graham, at 11:12 a.m.
You know, that's Neil Hamburger's whole schtick. He likes when people heckle, so then he can throw things at them. Sometimes it's candy, but when it's candy, he throws it hard--like, whips it at people's faces in the front row.

He's delightful.
By

Regan, at 11:27 a.m.
www.catlowmusic.com

check your link, mate.
By

Aaron, at 7:41 p.m.
heh.. oops.

thx