Tuesday, March 20, 2007

you know i'm no good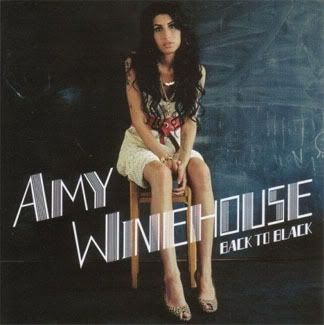 Americans finally got a taste of
Amy Winehouse
, as
Back to Black
finally got a release stateside last week. This also means that Canadians might take notice of the Brit chanteuse, even though her album's been out since December here (although Wikipedia says February). Confusing things, however, is the tracklisting for the stellar record. In the UK, it was eleven tracks long and ended with "Addicted." The version I have, which I can only assume is the Canadian copy based on the copyright info on the back (I got a promo, so maybe the retail is different), is only ten tracks long. However,
the Universal website
claims that the Canadian version has twelve songs, boasting both "Addicted" and an acoustic version of "Love is a Losing Game." By contrast, the American version has twelve tracks, but swaps the latter for the Ghostface remix of "You Know I'm No Good" (which has already been available on
More Fish
since December). I don't get it either. I really think people should go out and buy this... but if you end up missing the last two tracks, here they are.
download: Amy Winehouse -
Love is a Losing Game (acoustic)
download: Amy Winehouse -
Addicted
Arts County Fair
has finally rounded out this year's line up. De La Soul will take the stage right before Sam Roberts, and
Land of Talk
will kick things off (or maybe play second?). De La were actually pretty decent when I saw them last year, but I'm pretty psyched for Land of Talk. Of course, they're playing the coveted "empty stadium" part of the day. If you're planning on attending the Fair this year, show up early.
The Neins Circa
are at Pat's on April 6th with
Abernethy
and
Fanshaw
(Liv from the Choir Practice).
Jump + Dash
are playing a benefit gig for
the Buddha Academy
with
Wintermitts
,
the Ludvico Treatment
,
the Stalls
, and Dren on April 26th at the ANZA Club.
International Falls
are at Hoko's this Friday with
Huge Manatease
and
D. Trevlon
.
now playing: The Notorious B.I.G. - Things Done Changed
Labels: amy winehouse, show announcements
3 Comments:
My retail copy of Back to Black only has 10 tracks.
By

simon, at 12:08 p.m.
I love Amy Winehouse. She *must* have extensive jazz training
I've only heard two songs, on The Wedge the other week. I found her kinda samey...but I noticed today she's at Coachella so I may pass by if nothing better is happening.

Did you hear about her rather picky rider? http://www.thesmokinggun.com/archive/years/2007/0319071winehouse1.html

Kind of amusing.