Tuesday, October 02, 2007

magick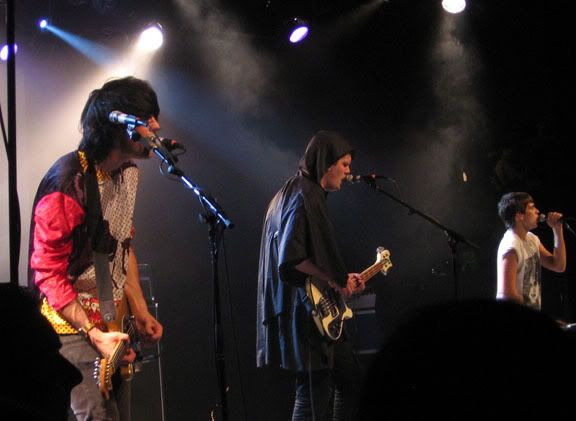 Last night, Vancouver welcomed back (the now Mercury Prize winning)
Klaxons
, who returned to the Ballroom after playing Richard's this past April. Despite the fact that they're still riding mega-hype across the pond, the crowd was quite sparse - they would've filled Dick's and not much more. The less-than-packed room didn't seem to bother the band though.
When they came through the last time, everything sounded sludgy and thick. It was a few steps removed from the sound on their record, but I actually thought they came across quite well. Yesterday, they still sounded a bit less polished than on CD, but things were a bit closer to what comes out of your stereo when you throw their album on.
Their popularity overseas means that they know how to work a crowd, and the numerous shows that they've played means that they've developed into a pretty decent live act. Still, it doesn't bode extremely well when the most interesting part of the set is the costumes.
M.I.A.
had added another show at the Commodore. This one goes a day earlier than her already sold out November 14th date, and presumably also features Cool Kids as the opening act. Assuming I don't get shut out for ticket in the pre-sale tomorrow, anybody want to buy my single for the 14th?
French Immersion Records is putting on a "Halloween Showcase" (a little early) on October 20th at Hoko's.
Adrian Painter & the Apxllx Ghxsts
(who are celebrating the release of their 7"),
The Lost Lovers Brigade
,
Wintermitts
,
Joel & the Last of the Neighbours
, Chris-a-riffic,
Dylan Thomas
,
gr8-2000
, and
David's Mind
all play a show that promises "candy, costumes, and prizes." The Dylan Thomas is not, however, zombie
Dylan Thomas
. Halloween, my ass.
Edit: MIA Presale password is "boyz" for the GMAN & RIZK one, and I'd presume the Spectrum one is "kala," since that's what it was last time. Sorry... should've posted that earlier.
Labels: klaxons, show announcements, show recaps
8 Comments:
anyone got an MIA presale password yet?
By

Pinder, at 10:15 a.m.
nevermind, i figured it out. missed the edit.
By

Pinder, at 10:19 a.m.
you didnt... i edited after you commented
By

Quinn, at 10:24 a.m.
Nearly $90 for two tickets. Yikes.
By

rob, at 12:27 p.m.
Looks like Digitalism has been rescheduled for Oct. 21 and Matthew Dear is opening now.
oh thats good. i thought i had missed it when i came back. i just guessed that kala was the password for Spectrum and it worked.
hey just wondering if you've still got that m.i.a. ticket up for grabs?
By

alyssa, at 5:23 p.m.
sorry, sold it that day.