Thursday, December 06, 2007

oh sailor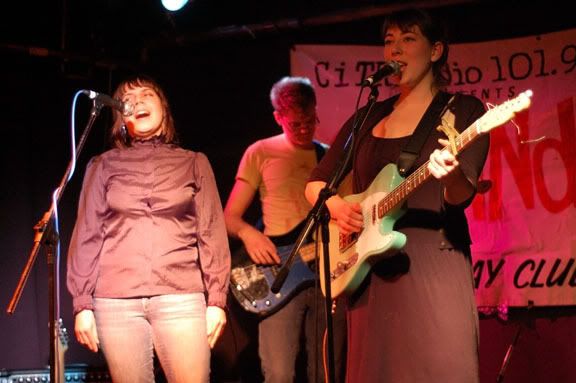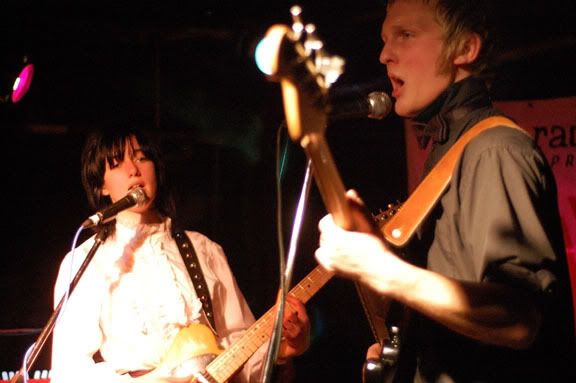 I'm striving to make this blog your go to source for two day old music commentary.
As mentioned yesterday,
Shindig!
wrapped up on Tuesday night and
Fanshaw
doomed herself with the Shindig curse, by taking home top spot (only kidding about the doomed part).
No disrespect to the
SSRIs
, but I was pretty surprised to find out that they beat out
Petroleum By-Products
(second photo). In fact, even though I liked Fanshaw's set the best (which was even better than the previous week), I still would've put money down on a By-Products win.
A big thanks to Ben Lai and
CiTR
for another great year. And a special thank you to everyone that I swore at during jokes for beer after my punchlines got called week after week... all seven of you.
This Friday,
Ok Vancouver Ok
,
Rose Melberg
, Lala,
Collapsing Opposites
,
the Unreliable Narrator
, Chris-a-riffic, and Hymn for Her Little Man are at Little Mountain Studios... which is right by my house now.
A week later on the 14th at the same place,
Organ Trail
,
A Relative Distance
,
Lost Lover's Brigade
, Fanshaw, and
Grayscales
play. Darren from the Trail promises that the band will be thoroughly unpracticed... but they've got new tunes and a new line-up to debut.
Atlas Sound
are at Pat's on March 5th.
Sex Attack!
are at 1/2 Alive on December 21st.
Bend Sinister
are at the Media Club tonight.
Telus just called me at work to day my home internet should work now. After my failure to properly set a line on Shindig, I'm offering 5:4 that my modem still won't receive a signal when I get home tonight.
Labels: fanshaw, lazy show recaps, petroleum by-products, shindig, show announcements, ssris
2 Comments:
Atlas Sound plays with White Rainbow and Valet - a full-on Kranky-fest!!

And does anyone else find the lack of upcoming shows on the S.W.A.K. website alarming? They normally have a dozen or more, and granted, winter is slower, I know there are bands playing. For a local-producer that consistently puts on great events, I just hope it is a lull and nothing more!
By

dave, at 3:11 p.m.
I heard that they already have quite a few shows booked for the new year... they just haven't announced them for some reason.

Those were rumours, but some of the rumours sounded pretty killer.