Wednesday, November 21, 2007

rat face
The fact that I don't have a picture of
Petroleum By-Products
speaks to how much the crowd was feeling them at
Shindig
last night. The area in front of the stage was crammed about 5-minutes into their winning set.
If you haven't had a chance to see them, they're (roughly) the same age Be Your Own Pet, dress like the Polysics, and sound like the B-52s, and that ain't half bad. In fact, it's quite good.
They play Library Square (for Casbah!) with
Culte du Cargo
(whose record is sitting perpetually on top of my growing "must listen to" stack of CDs) and
Stolen Bicycles Gang
on November 30th and at Unicorn on December 14th with
Hallmark
and
Ladies Night
. I don't know the actual order for either of those shows... so just show up on time for once.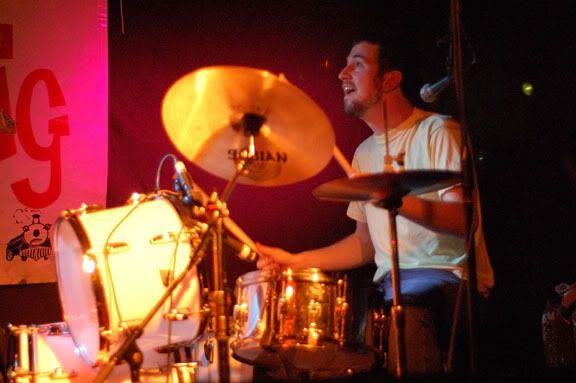 Japandroids
played what was apparently the "latest set ever" at Shindig, which unfortunately resulted in half the room being cleared by the time they played. They're still one of the - or perhaps the - local act(s) that I most enjoy live, but there was a drunk girl in front of stage who was having a better time than anybody... maybe ever. They closed with a cover of my favourite Wire song.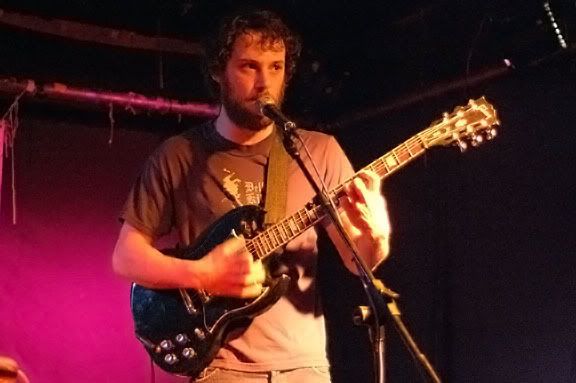 Today a coworker of mine noted that he "enjoyed that middle band (
Treacherous Machete
) more this time, because that guy (Burnside) wasn't drunk - or so drunk, anyway." I suppose I would agree. Although, drunk or sober, the duo are more entertaining than when the same people say/write the same "
Blues Hammer
" joke about six times. I mean, don't get me wrong, I dig
Ghostworld
too, but at least throw in another racist joke or something (just kidding. I love you,
Only
).
Liam from
No Gold
was kind enough to email to let me know that they're playing Pat's on November 30th with
Colorbook
, Basketball (formerly
Raking Bombs
), who are playing their first show in ages, and
International Falls
(whose CD I also need to give some proper spins to). I'm moving the next morning, but I'm still going to try to check this out after Cadence Weapon.
I finally picked up a copy of the
Mutators
7" that's out on
the Broadway to Boundary
(the fine gentleman who also brought you the Hot Loins 7"). If you've ever seen them play, then hearing me tell you that it slays will come as no surprise. Expect a "proper" (you know, as in, I expand that previous sentence with a bunch of descriptors and unrelated anecdotes you didn't need to know) review on
Streethawk
soon-ish (there's a White Lung one up right now - surprise: also slays). Each side of the 45 ends on a locked groove so the blissful noise goes forever and ever and ever and ever and ever and ever and yougetthepoint.
In case you forgot, they're playing on Saturday with AIDS Wolf and Shearing Pinx for an early show at the ER.
Twin Crystals are playing Fake Jazz tonight at the Cobalt, which is where I'm going right now...
now playing: Nurse & Solider - Satellightning (thanks Luke!)
Labels: (excessive use of brackets), japandroids, mutators, petroleum by-products, shindig, show announcements, show recaps, treacherous machete
7 Comments:
So who won?
By

Anonymous, at 9:05 p.m.
Unofficial AIDS Wolf after party at The Astoria (Better than Loneliness) No cover!

- Neil
By

Anonymous, at 8:47 a.m.
Petroleum By-Products won.

And I think Kristin said it's now the "official" after party... I was going to bring it up on Saturday.
according to Facebook.... its the official AIDS WOLF after partaaaaaay
Any idea who the "special guest" is at the Santa Fox Ball?
By

Anonymous, at 4:00 a.m.
if you listen to me about one thing, it's this: go see colourbook.

they're my bros from high school, and they impress the shit out of me more every time i see them.
By

dustin., at 11:09 a.m.
did Japandroids play a Wire cover as part of Shindig? Isn't that against the rules?