Friday, April 25, 2008

run children. run for your life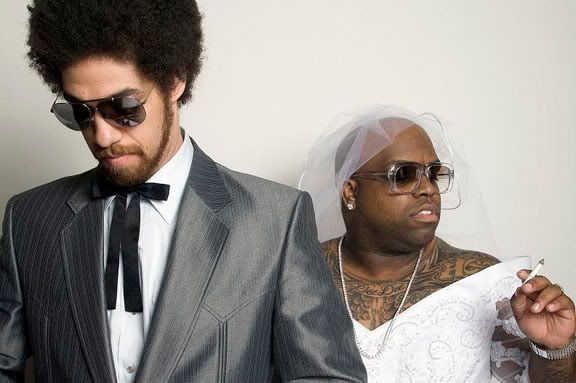 Contest: Gnarls Barkley Giveaway
Gnarls Barkley
doesn't really need an introduction, although I will note that they're label approved introduction speaks like Gnarls Barkley is actually a dude and not the team of Cee-lo and Danger Mouse. Suspend your disbelief, music fans.
Anyhow, you know these guys because they put out that song - you know that one that you maybe heard - called "Crazy." They've got a new one called
the Odd Couple
that's out now, and Warner hooked up a pretty sweet prize pack for someone out there:
-a limited edition "The Odd Couple" double vinyl record (one record plays the album forward, the other plays it backwards)
-a copy of "The Odd Couple" CD
-a copy of their first album "St. Elsewhere"
-a copy of Estelle's upcoming album "Shine," featuring an appearance by Gnarls Barkley singer Cee-Lo (and other artists like John Legend, Kanye West, Kardinal, etc.)
The CDs are nice, but a vinyl that plays the record backwards? It's never been so easy to decipher commands from your dark lord, Satan, than it is now.
If you'd like to confirm via encoded message whether Paul is actually dead this time around by taking home this prize pack, send an email before 12:01am on Friday, May 2nd to quinn.omori [at] gmail.com with the subject "Gnarls Barkley Contest" and to make it more interesting, tell me the "Crazy"-est thing that you've ever done... and there's no need to lie, because I'll choose a winner at random.
In the meantime, check out the video for the first single from
the Odd Couple
, "Run":
Labels: contests, gnarls barkley
1 Comments:
eric's trip/dog day at the plaza july 10th!
By

evan, at 12:54 a.m.