Friday, May 30, 2008

you won't let those robots defeat me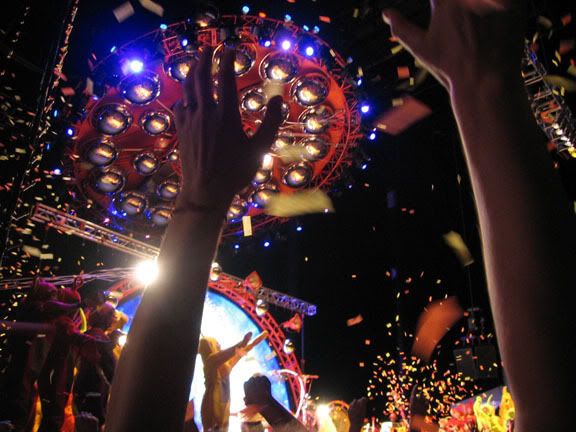 To be completely honest, when it came to
Sasquatch
this year, I was more excited about hanging out with the large group of friends that were also heading down to the Gorge than the music. There were still a lot of bands that I love there, but there weren't that many that I love and had never seen before... that's not to say that the music disappointed though.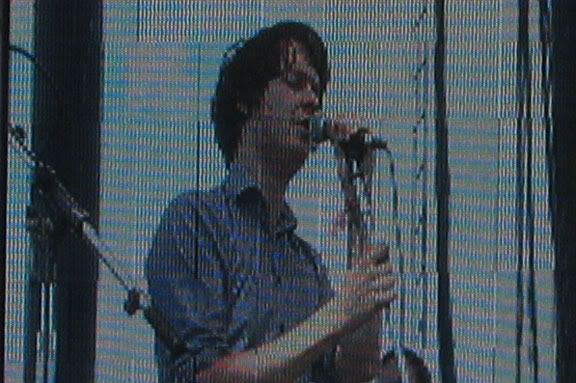 Beirut
were a half decent way to start the fest, but blazing heat didn't really do them any favours. I'm sure the Commodore was a much more appropriate venue.
My interest in
Kathleen Edwards
has been waning since her first record (which was pretty great), but she was alright. talked about filming a video with Marty McSorley, and evidently made it through the experience without getting bashed in the head with his hockey stick.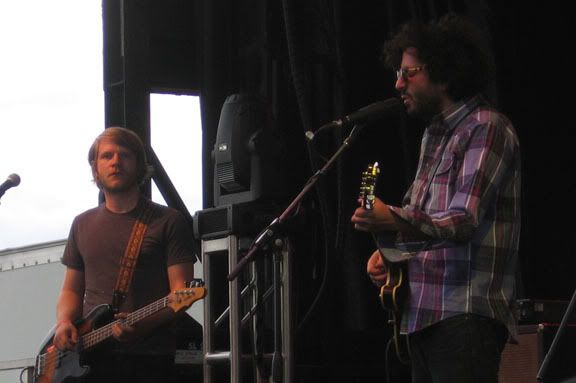 I really want to see Japanther tomorrow, but after
Destroyer
's set at the Gorge, I've got half a mind to track down a ticket to the Commodore tomorrow night. They rocked a set that only deviated from Trouble in Dreams when they closed out with "Hey, Snow White," which meant Nic Bragg was free to riff out for the duration of the performance... which makes me happy.
Destroyer's and the New Pornographers' sets actually overlapped by about 40-minutes, which led me to believe that there was no way that Bejar was going to perform with the NPs. Happily, I was wrong, because when I made it over the hill on my way to the mainstage, they were already partway through "Myriad Harbour." Dan also made his presence felt on "Jackie, Dressed in Cobras" and "Testament to Youth in Verse," but it was an
ELO cover
that sort of stole the show.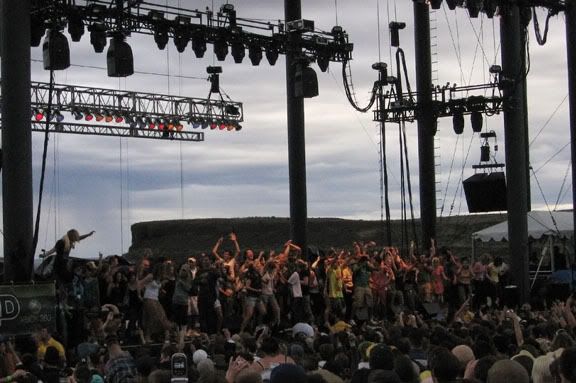 MIA
was actually allowed in the country this year, so she was able to make her Sasquatch debut. Yeah, it was the same set of tricks that she pulled out at the Commodore last time (and also probably at the Forum), but everything was bigger and louder and there were about 10,000 more people miming the gun shots in "Paper Planes." Set of the fest. Maya's somewhere up there in that throng of people... like Where's Waldo.
In my ongoing attempt to prevent myself from ever having to sit through Modest Mouse live again, I whipped up the hill and caught the end of
Okkervil River
. They're sort of hit or miss for me on record, but they're always great live... and they're coming to Richard's on September 18th.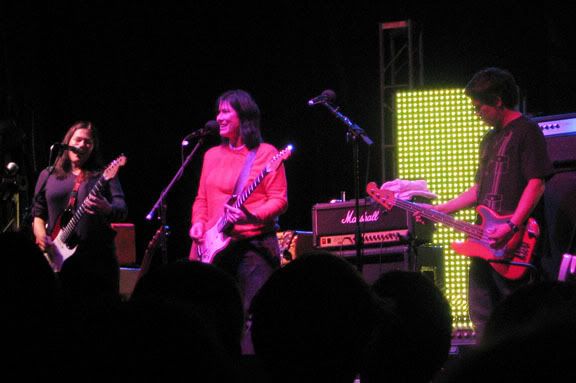 I found the last two
Breeders
records a bit boring, but I wasn't going to miss a chance to catch them live. "Divine Hammer" was a highlight early in the set and "Cannonball," of course, brought the house down, but how lame was it that Kim Deal couldn't tune her own goddamn guitar?
REM
closed out the first day.
Accelerate
is a pretty good record, but I don't think anyone was patiently awaiting "Supernatural Superserious." The band obliged by (mostly) alternating between old and new, and pulling out some semi-obscure old cuts, and if it weren't for the fact that it were pissing rain, I would've been perfectly happy with that set-up. But as it stood, I was more interested in running for cover from the weather.
I started off Sunday by taking in
Cold War Kids
. Dude can sing, "Hang Me Up to Dry" was awesome, but they were also probably more suited to darkness and coziness.
I might be alone, but I find
Tegan and Sara's
stage banter entertaining enough on its own. The music was okay too.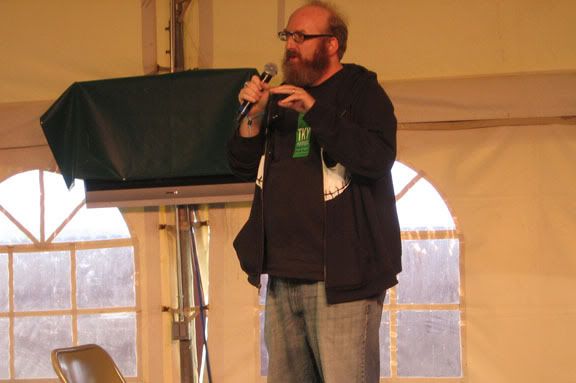 This year instead of a drunk.. err.. I mean "sick" Sarah Silverman going through the motions in between sets on the main stage, there was an actual comedy tent. The line up was huge the entire weekend, but waiting for
Brian Posehn
was more than worth it. I've actually seen him before (and thus, heard some of the jokes he told), but when he finished by sides literally hurt.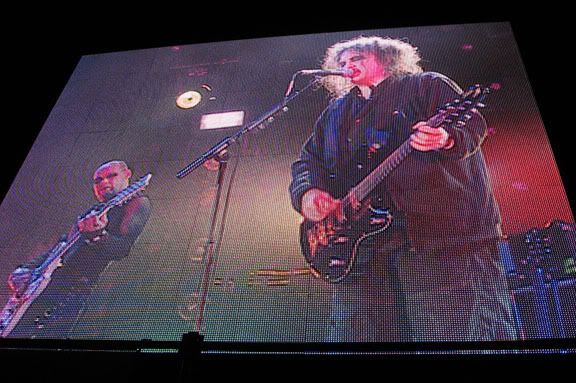 After laughing my ass off, I caught a bit of
Stephen Malkmus
(with his Jicks, of course)/avoided Death Cab, and then made my way to the main stage for
the Cure
.
For the first half of the set, I was bundled up on the hill, lying down (but awake) with my eyes closed. They sounded great, amazing even. And, in my head, it was the Robert Smith that you see in photos up there belting out "Lullaby."
After an hour or so, most of my friends made their way back to camp, so I moved down to the floor (where my girlfriend had stationed herself). They still sounded good, but the visual reality shattered the lovely picture (of Robert, not you) that I had in my head.
People get old, yes... but even the Stones aged more gracefully. Porl Thompson looked like a cross between Max Schreck and Billy Corgan... with worse eye make up. But I digress, I closed my eyes during "Boy Don't Cry," "10:15 Saturday Night," and "Killing an Arab" and all was well.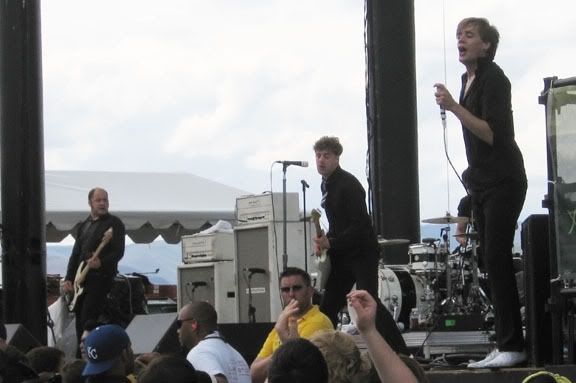 It sort of seems like
the Hives
have just been releasing reasonable (but still inferior) facsimiles of
Veni, Vedi, Vicious
for the last 7 years or so, but they still put on one helluva show. Plus, the first two days were mostly full of polite, well mannered indie rock bands, which was good, but it was nice to see some cocky, rockstar posing, honest to goodness showmen. And the Hives are certainly that.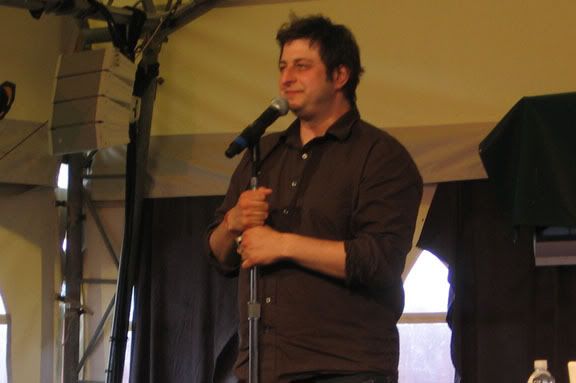 After the Hives, it was back to the comedy tent for
Marc Maron
and
Eugene Mirman
. I've seen Marc Maron before somewhere (I recognized the jokes), but wasn't familiar with Mirman live. Although, even if you had seen him before, it was probably mostly new to you to, since he seemed to be adlibbing half of his set based on audience interaction. Anyone who can make an Ayn Rand joke work, is worth seeing.
I really like the
Flight of the Conchords
TV show, but I don't watch a lot of TV, which means I don't see it all that often. I also don't watch their YouTube clips over and over. And, while I do find them funny, it sort of seemed like to really enjoy them live you had to be really familiar with the material... so I bailed pretty early to check out
Battles
.
...who must've played for about a half hour, because they were finishing up by the time I reached the Wookie stage.
So, left with nothing to do, I followed a deep rumbling sound that was emanating from the Yeti stage.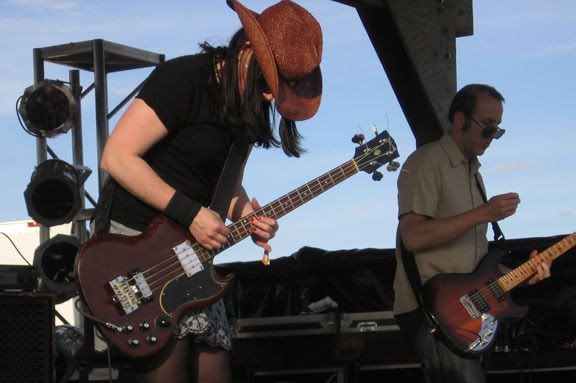 I'm not sure what I thought
Kinski
sounded like before Monday, but it sure wasn't what they do sound like. There were atmospheric bits here and there, but they mostly alternated between loud, fast riffs and loud, white noise. It seems like there's always one really pleasant surprise when I go to Sasquatch, and they were certainly it this year.
I caught
Jamie Lidell
next on the Wookie stage. Unlike the previous time that I saw him, he had a full band in tow. The extra players filled out the arrangements nicely, but the highlight was still when he did his thing solo.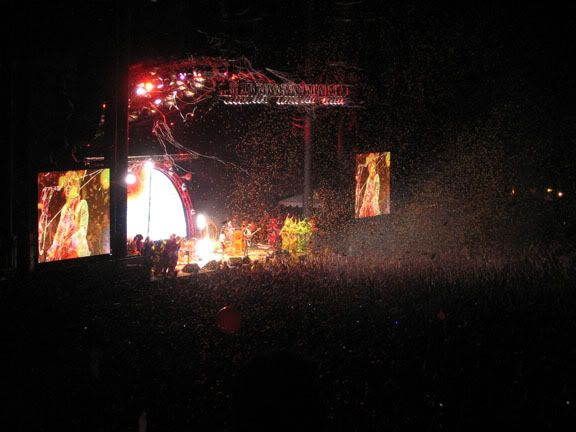 And then there were
the Flaming Lips
.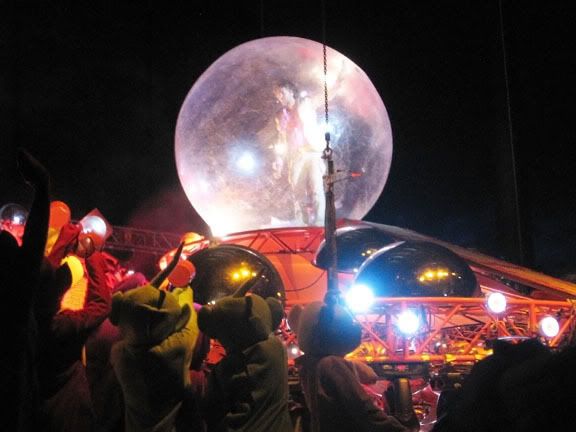 If you've seen them, you probably know most of what went down (although the brand new flying saucer was a nice new edition to the stage show).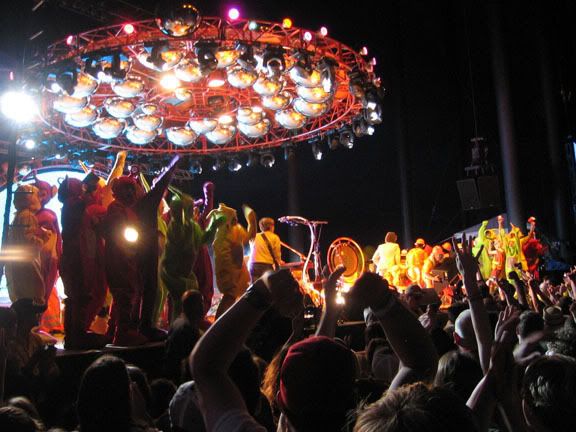 In the lead up to their set, I wasn't all that psyched, since I've seen them more than once, and knew what was going to go down. But when you're in the midst of flashing lights, flying balloons, and tons of confetti, you forget that you've seen most of this before. Plus, this is the first time that they've added
nudity
to their stage show (NSFW, obviously).
I was under the impression that they found the naked dancers at the same time they gathered up the Teletubbies, but apparently they just jumped over the front barricade and hopped up on stage. (thanks Ryan) Before the song in question - a cover of "the Song Remains the Same" - Wayne Coyne had noted that "everyone should get naked and dance around during this one." I bet he didn't expect anyone to actually do it though.
Quick heads up...
Tonight
Felix Cartel
,
Paul Devro
, and
Expendable Youth
are at Celebs... cause there weren't enough things going on.
And, tomorrow night's party at the Sweatshop is postponed until June 14th.
now playing: Uncle Tupelo - the Long Cut
Labels: sasquatch, show announcements, show recaps
3 Comments:
Good post... very complete run down. Thanks for doing that.

Also, I heart T&S banter.
Good stuff. :)

Btw, The Dandy Warhols are at the Vogue on June 18.
looks like we made a bad decision to leave around 7pm on Monday and miss the Lips. They were such a disappointment at Coachella in 2004 I figured we'd just get home late Monday instead of Tues.

Highlights:
Okkervil River - my new fave band
MIA - wasn't a fan before, am now
Cure - added muscle to some great old songs
New Porns - always great
PUSA - fun

Disappointments:
Destroyer - just can't get into them
Hives - trying too hard
REM - going through the motions

Liked the Breeders but like you said, if you can't tune your own guitar you shouldn't be in a band.

Sad how the Malkmus crowd got smaller by the minute. Seemed to be a combo of the weather, the Cure coming on and his insistence on not throwing us some Pavement.
By

g, at 3:53 p.m.