Thursday, July 17, 2008

and the way i feel tonight/i could die and i wouldn't mind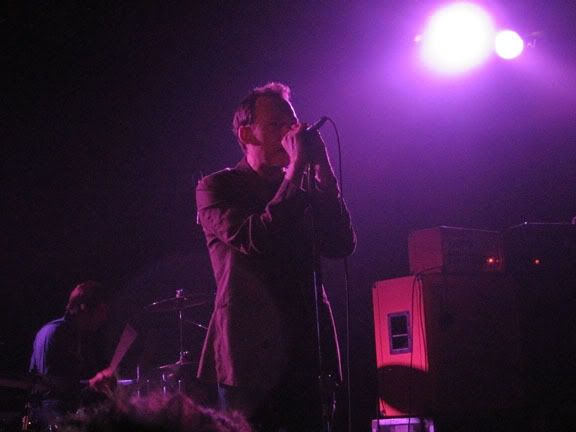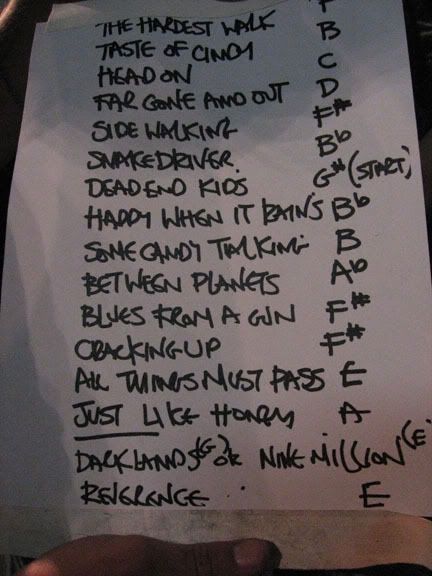 When I was about 14, my cousin sent me a pair of mixtapes that were filled with great music. Some of it I loved and still love, other songs are now forgotten, but the one band that hit me the hardest was
the Jesus and Mary Chain
. So, I was pretty psyched when I found out (thanks Matt!) that they were playing the Showbox Sodo in Seattle as part of their reunion tour.
Despite the dodgy sound in the venue (the new edition to the Showbox brand is a big echo filled, hangar-like room), they sounded amazing - just liked I'd imagined for the last dozen or so years. Jim Reid's singing voice is still spot on and his elder brother's guitar still wails like it did on all their records.
The setlist was mostly filled with JAMC classics, but they also played two new(ish) songs, "All Things Must Pass" and "Dead End Kids" (that Jim actually recorded for a solo project a few years back), and they didn't sound out of place at all.
I was hoping for "You Trip Me Up" or "Upside Down" in the encore, but it's sort of fitting that they'd end with "Reverence" ("I wanna die just like JFK/I wanna die in the USA") on the first date of their American tour.
Oh, and Jim sang all the songs, even the ones that William sings on record.
I only brought my point-and-shoot to the show, so try to squint a bit and that fuzzy picture will be more realistic (or just go
here
).
Speaking of reunions
Wire
are at the Commodore on October 16th. Tix are on sale this Saturday. (thanks
Brian
)
Bells Clanging
are at the Bourbon with
the Barcelona Chair
on July 23rd.
Also on the 23rd, there's "a night of music and anecdotes dedicated to the career of infamous produced Phil Spector" at Little Mountain Studios cleverly titled,
Full Spectrum
Nat Baldwin
(whose latest record is pretty great) is at the Peanut Gallery on July 26th with
Extra Life
,
Certain Breeds
, and
Yukon
(who are from Baltimore. No Gold didn't switch back to their old name).
Shout Out Out Out Out
is at Richard's on August 10th.
The Juan MacLean
is at Richard's on September 9th.
Alejandro Escovedo
is at the Biltmore on September 16th.
Elliott Brood
is at Richard's on September 20th.
Ra Ra Riot
are at the Media Club with
Walter Meego
the next night.
Jamie Lidell
is at the Plaza on October 4th.
Sensitive indie boys (and girls) have a conundrum on their hands:
Iron and Wine
is at the Commodore on October 7th. It's a Sam Beam solo show and it's the same day as Sigur Ros.
And... 2 Many DJs is canceled. (thanks
Matt
)
now playing: Elvis Costello - Indoor Fireworks
Labels: lazy show recaps, show announcements, the jesus and mary chain
2 Comments:
that JAMC set list is great despite not having Never Understand, Upside Down, My Little Underground, I Love Rock n Roll and Kill Surf City.

Would have been great if they could've been added to Sunday at Whistler this weekend. BSS>Elvis Costello and JAMC....unadulterated awesomeness.

By the way, ticket are on sale (At Zulu etc) for the Wedding Present at the Media Club on Sept 26.
By

g, at 3:03 p.m.
I wish they had played Never Understand or Upside Down too, but the others were kind of unlikely. Not that it mattered, since the show was so ass-kickingly awesome I don't think anyone went home unsatisfied.
By

Matt, at 12:40 a.m.