Thursday, September 18, 2008

trapped in an elevator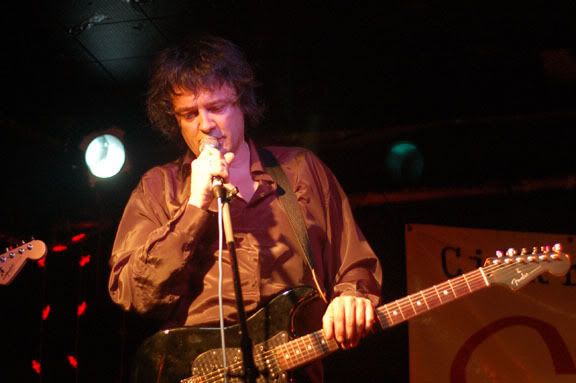 Shindig
sort of kicked off with more of a whimper than a bang on Tuesday. None of the bands were out and out terrible (someone might argue with me on that one), but nothing really blew me away either. I should note that a late (they were running behind) set in a bar setting wasn't the best place to get introduced to eventual winner (and Petroleum By-Products member)
Zombie Pistolero
, so I'll definitely reserve final judgment on his solo stuff. I have a feeling that I would've enjoyed the show at Cafe Montmartre more.
For the record, that photo is of some old dudes who sounded like they listened to a lot of Wire, not Zombie Pistolero. I think I liked them more than most people there.
Dead Ghosts
and
Manic Attracts
are at Psych Night at the ANZA on the 25th of this month.
K-Os
plays the Pit Pub at UBC with
the Good News
on the same night.
Taxes
are at the Astoria (which will be open again) on the 27th for Better than Nothing.
We Are Wolves
will be their for a DJ set after their show, while locals
Sex Attack!
and
Tyler Fedchuk
hold things down for the rest of the evening. It's also Dustin's birthday. I would say to buy him a drink, but he gets a bar tab for running the night... and he's a jerk. Taxes are on at "11:30pm sharp."
Stamina Mantis
kick of their tour on October 1st at Fake Jazz Wednesday at the Cobalt.
gr8-2000
,
Blackmage
, and
Bird Costumes
round out the bill.
Quintron & Miss Pussycat
are at the Biltmore on October 18th. (thanks Carmen)
Land of Talk
are at the Media Club on November 12th with
Josh Reichmann
. (thanks
Jeff
)
now playing: Wire - Heartbeat
Labels: lazy show recaps, shindig, show announcements
3 Comments:
Okkervil River last night = awesomeness incarnate
By

g, at 12:34 p.m.
Method Man and Redman last night = even more awesomeness. If you weren't there last night, you lost.
The man behind Zombie Pistolero is a former member of Petroleum By-Product, and according to their site, was never one at all!