Tuesday, October 28, 2008

desolation row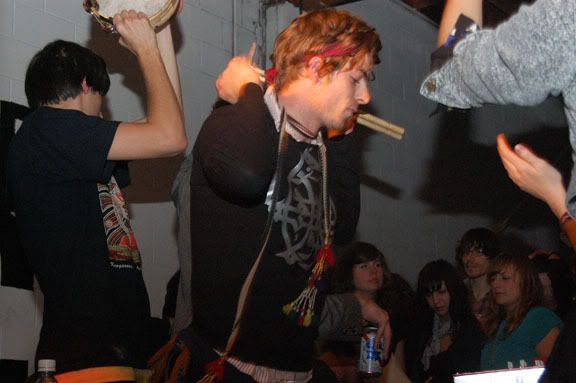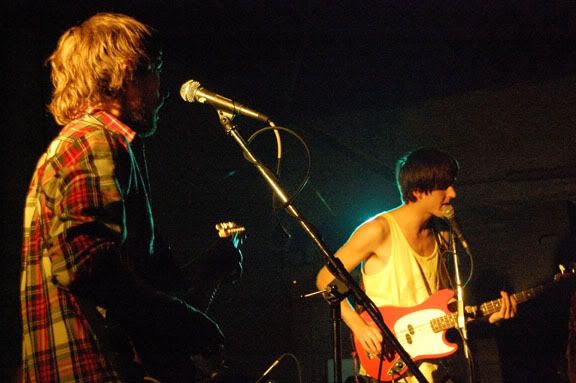 Here is a very quick weekend recap and a whole bunch of show announcements, minus links, because I'm sort of busy and lazy:
The Sweatshop on Friday was pretty good. No Gold were their usual charming selves. Ballz' set turned into a percussion free for all, which hurt them musically, but it made the performance - their last in Vancouver for a long, long time - a memorable one, to be sure. The last act I caught was Sorcerers. Their lead singer seemed pretty wasted, but the band sounded extra tight. It was sort of a nice contrast, actually.
Before the Sweatshop, I was at the Garage to see Dylan. I was expecting him to sound rough and live up to his reputation as "difficult," but even with that in mind, it was pretty terrible, perhaps depressingly terrible. I've always been fond of his ability and willingness to re-arrange his own songs, but, when in the past, he'd lead his band through a song in an entirely new way that was fresh, creative, and never different for the sake of being different, last weekend, he was content to mumble most of the lyrics to changed up numbers over a rotating series of generic 12-bar blues shuffles. Oh, and lest you think that reports of his voice being shot were exaggerated (which is what I thought, to be honest), you are wrong. He can play the hell out of a harmonica though, if that's any consolation... not that Bob Dylan needs any consolation, but you get my point, which is that I should have used by budget for an expensive show by an old guy on Neil Young (who was amazing last time I saw him a few years ago and apparently better last week).
On Saturday, I made it out to Bend Sinister's album release show. It was a pretty great performance by the band and it was coupled by a stage show that was straight out of 1975, complete with a string section, horns, video projections, and, yes, lasers.
Some stuff at the Biltmore:
-November 19th Justin Rutledge and Jenn Grant w/ Jody Glenham
-November 21st Jay Crocker, The Pack A.D., Swank, Beladeans, Valerie Graham, Spitfires, Hawaiian Bibles (Benefit show for Mike Gurr of Hotel Lobbyists)
-November 25th Holly Golightly
Some stuff not at the Biltmore:
Aja Rose and Gabriel Solomon are at Charles H. Scott Gallery (1399 Johnston St.) tomorrow night.
Sex With Strangers, the SSRIs, and Collapsing Opposites are at the ANZA for the latest One Cool Word release party on Thursday.
Also Thursday, Adjective, Terrorbird, and Zombie Pistolero & His Guns are at Honey.
There's an extra edition of Fake Jazz on November 11th.
Stamina Mantis, Ahna & Richard Catwrangleur, n213, and Holzkopf are at Blim on November 21st for a night that features music made by homemade, circuit bent, or otherwise altered electronics.
The same night Boys Noize and Paul Devro are at Celebs.
Franz Ferdinand is at the Commodore on December 9th.
Fake Blood is at the Republic on December 18th, to celebrate my birthday, I'm pretty sure.
Metric, Tokyo Police Club, Dears, Sebastian Grainger et les Montagnes, and Mike Relm are at the Vogue on December 21st for "Jingle Bell Rocks," a show in support of Covenant House.
Solars are also on the bill for the November 6th Wood Family Creeps show. It also starts at 8pm, not 8:30pm now.
Sex Negatives are now on the bill for the AIDS Wolf show on November 24th.
Nu Sensae, Gang Violence, and Role Mach are at the Astoria on November 28th, provided it's open by then.
Labels: basketball, bob dylan, lazy show recaps, no gold, show announcements, sorcerers
3 Comments:
re: Dylan. that's pretty unfortunate. when i saw him a year or so ago, he was in pretty good form.
Yo Quinn, I know its a bit early, but major concert - Broken social Scene & Tegan and Sara - Orpheum - Febuary 6 2009.

Orchestra is half sold out, but still some good seats left. Its a concert put on by Vanoc, sold on thier site somewhere. Not on ticketmaster.
By

Jessica, at 12:48 p.m.
The cheapest tickets for that Tegan and Sara/BSS show are $311 dollars each???!?! What the hell?
By

Anonymous, at 10:25 p.m.