Wednesday, November 19, 2008

cameras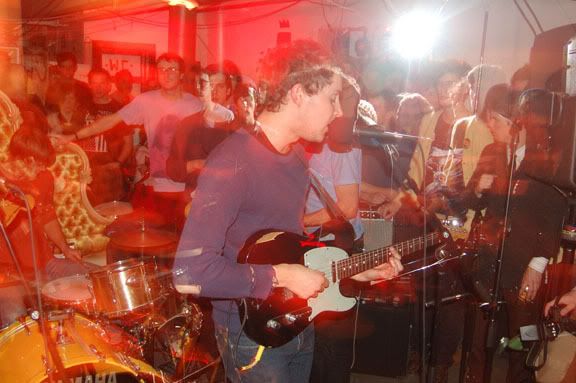 So, after having the plug pulled on the venue and apparently almost losing their headliner, the
Beyond Robson
post-election soiree finally did go off at the Peanut Gallery on Saturday.
Women
had some technical difficulties near the beginning of their set, but once they got rolling they sounded pretty good. The sound was way cleaner last time they were here (at Hoko's), but they played a bunch of new songs on Saturday, which were nice to hear. The new material isn't a far cry from the songs off of their self-titled debut, but that's definitely not a bad thing.
The Clips
, who may have played one of their last shows for awhile (Brasstronaut got a residency at
the Banff Centre
, so Edo will be out of town for 6 months or so - congrats, guys), came on before Women. The band practices in the Peanut Gallery, but I think this might have been the first time they'd ever played there. It was nice to see them on their home turf, especially if they aren't back there for awhile now.
As a Clips related aside, check out
these photos
by Chris Wang of their recent video shoot.
I got to the venue in time to catch the end of
Gang Violence's
set. They were pretty good to begin with and they're getting better every time I see them.
During Hot Panda and the Bicycles I was hanging in the back. I'm not overly fond of either band, honestly.
Tomorrow (Thursday, in case you're reading this tomorrow),
Hard Feelings
play with
Golden Touch
at Honey.
On Saturday,
Fine Mist
,
Trembling
, and
SSRIs
play at Casa del Artista. After the bands Mikey from
the Barcelona Chair
is spinning tunes. Admission is by donation and all proceeds go to Amnesty International and the Kuong Kyaw Refugee Camp on the Thailand-Burma border.
The same night,
Elizabeth
,
Adjective
, and
Sex Attack
are at the Peanut Gallery.
On November 27th, the aforementioned Barcelona Chair open for
Assertion
at Pat's.
On the 29th,
Haggatha
is at the Sweatshop with
V. Vecker
,
Set Sail to Sea
, and
Leviathans
.
The Sweatshop hosts another displaced ER show (someone called the cops on them) on December 4th with
Wet Hair
,
Peaking Lights
, Temptation, and
Aerosol Constellations
.
The next night,
Mattress
plays the Railway with
the Doers
,
Shearing Pinx
,
Stamina Mantis
, and
gr8-2000
. It's Shawn from the Doers' last show with the band.
Spiral Stairs (ex-Pavement) is at the Biltmore with
Ian Moore
on December 17th.
Matt & Kim
are at the Biltmore on January 28th.
Lykke Li
returns to play an even bigger venue (the Commodore) on February 11th.
And, Barr is off the bill at Richard's tomorrow night.
now playing: Marnie Stern - the Crippled Jazzer
Labels: gang violence, show announcements, show recaps, the clips, women
1 Comments:
Very cool image