Wednesday, July 29, 2009

leaky lifeboat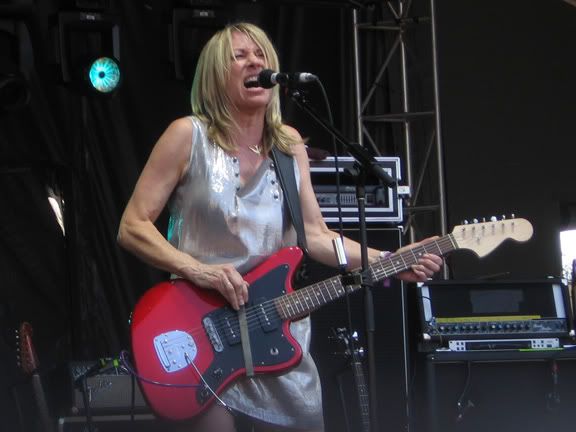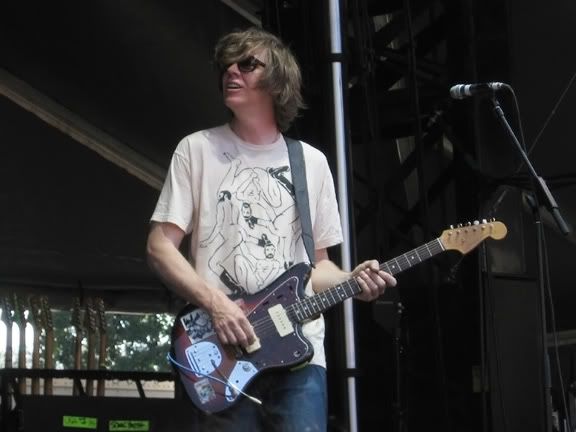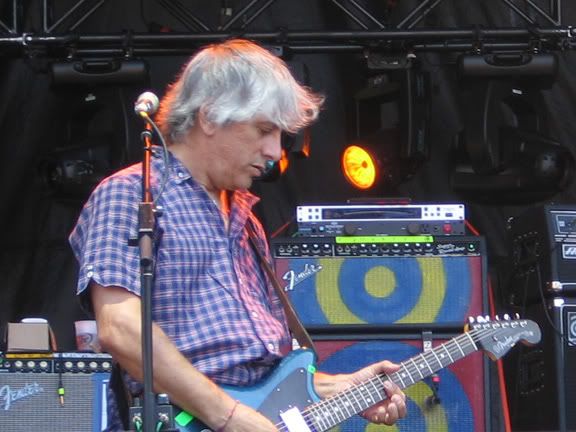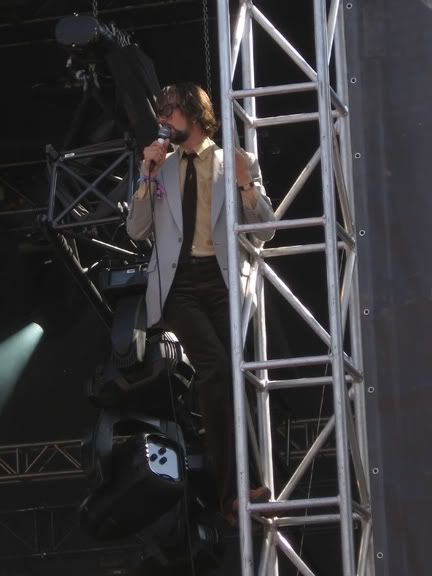 On Sunday, I checked out the second day of VFest, making it just in time to hear the last of
Awesome Color's
songs while waiting to get in.
Jarvis Cocker
was the first act that I actually saw. Jarvis, who wasn't exactly dressed for the weather, was his usual charming self, pulling mostly from his latest disc.
Future of the Left
, whose latest disc I quite like, were on the side stage after that, but I opted to move closer to the mainstage, since
Sonic Youth
were playing there right after.
SY, who had Mark Ibold (ex-Pavement) playing bass with them, pulled almost solely from
the Eternal
, throwing in a pair of tracks from
Daydream Nation
("Cross the Breeze" and "Silver Rocket"). While the set displayed that the newer stuff holds up pretty well against older tracks live, I could have done with a little more variety... but beggars can't be choosers.
I bailed just as
Metric
were finishing off their set. I wasn't huge on their latest, but they've definitely still got live chops.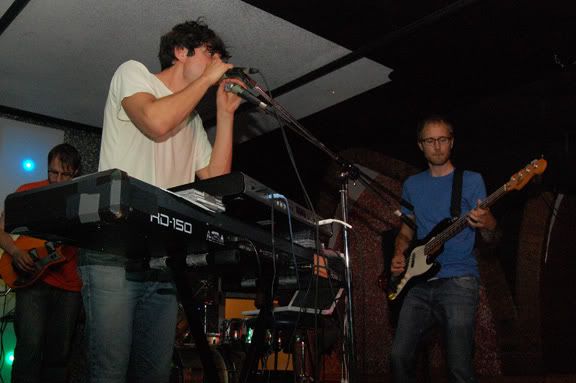 Thanks to
the Clips
for playing Damaged Goods on Friday. And sorry, once again, that the DJ started playing music accidentally before you guys were actually finished.
Cartographers
,
Streetlight
, and
Wilderness Years
play Funky Winkerbean's tonight.
On August 1st, there's a benefit for Goonies (at Goonies, of course) that features
Candles
,
Nihilist Party
,
Shipyards
, Gross Xmas, and
Half Chinese
.
Also on August 1st,
Quintron & Miss Pussycat
play an early show at the Media club with
thee Manipulators
.
Little Mountain is showing
the Speculative Frontier
on August 6th, a night that also features music by
Jeffrey Allport
and Empress.
Sex with Strangers
,
Combine the Victorious
,
Accost
, and
the Keeper
play the Rail on August 8th.
The Skinny
will be there to make you laugh as well.
Kidnap Kids
, Nihilist Party, Half Chinese, and
Payday Millionaire
play Lugz on August 14th.
Bats for Lashes
play Venue on August 25th. (thanks Reilly)
Busdriver
is at the Media Club on September 1st.
The Brunettes
are at the Media Club on September 21st.
The
Manic Street Preachers
play the Commodore on September 22nd, which is their first visit to Vancouver since before I even got a fake ID, let alone reached the age of majority, which is a long ass time ago.
Kid Koala
is at the Commodore the next night.
Brasstronaut
play the Biltmore on September 23rd.
Holy Fuck
play Venue on September 24th.
Pink Mountaintops
are at the Rickshaw on September 27th.
"Monsters of Folk" (Conor Oberst, Jim James, and M.Ward) are at the Orpheum on October 13th.
Grizzly Bear
plays the Vogue on October 14th. (thanks
BunkleLife
)
A Place to Bury Strangers
are at the Biltmore on October 20th.
Yo La Tengo
are at the Commodore on October 21st.
The Gossip
plays the Ballroom the next night.
Built to Spill
are at the Commodore on November 18th.
Labels: jarvis cocker, metric, show announcements, show recaps, sonic youth, the clips
2 Comments:
SY played a great rendition of Catholic Block too. More old stuff would have been nice though.
I doubted Ben Harper and I purely assumed his show would be shit but it was fucking amazing. They are not breaking any genre rules but they are extraordinarily tight and the musicianship is outstanding. I loved it!
By

Dennis, at 12:05 p.m.