Monday, July 20, 2009

neon eyelids lift me up to the sky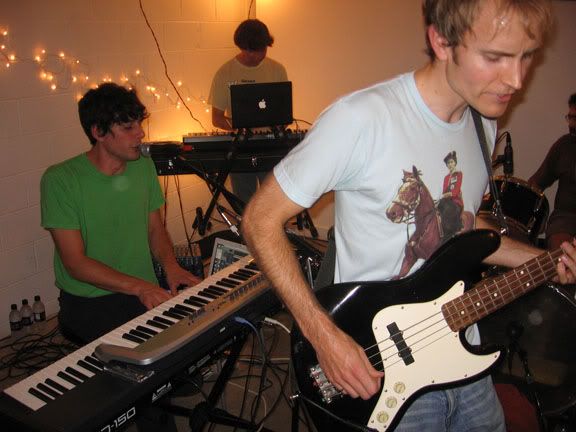 The Clips
haven't played in Vancouver since November of last year, so I'm really excited that they agreed to play
Damaged Goods
this coming Friday. If you've heard their record or seen them live, I probably don't need to say much more than that.
I'm going to optimistically suggest that you should get there early, because this really should be a packed show.
Regulars: July 20th - July 26thMonday
Skinny
Mondays @ the Biltmore: unknown (looking for a new venue?)
Tuesday
Boosh Tuesdays
@ the Cobalt:
the Falklands
,
Plus Perfect
,
What's Wrong With Tohei?
Sailing
@ the Astoria:
Half Chinese
Wednesday
Fake Jazz Wednesday
@ the Cobalt: The Two Dads,
Feral Children
,
Mind Kontrol Ultra
, Human Shield, Knots
The Beehive
@ Honey: back on July 29th
Gypsy Fade Wednesday
@ the Media Club: back on July 29th
Thursday
Honey Lung Thursday
@ Honey:
Stamina Mantis
,
Nihilist Party
, and
Role Mach
Friday
Damaged Goods
@ the Astoria:
the Clips
Far Away
@ the Media Club:
MT-40
Phantom Islands
@ Hoko's:
Stamina Mantis
,
Payday Millionaire
,
Air Castle
, and
Sajia Sultana
Saturday
Glory Days
@ the Biltmore:
Hard Drugs
and
Adelaide
Night Shift
@ the Astoria: back on August 8th
No More Strangers
@ Funky Winkerbean's:
the Magician
and
Girlfriends & Boyfriends
Labels: damaged goods, the clips, weekly listings
3 Comments:
according to pitchfork,a place to bury strangers oct 20 at the biltmore
role mach was added to that honey show on thursday
By

Anonymous, at 5:14 PM
i think skinny mondays are at the cobalt now
By

Anonymous, at 6:55 AM