Tuesday, October 13, 2009

mountains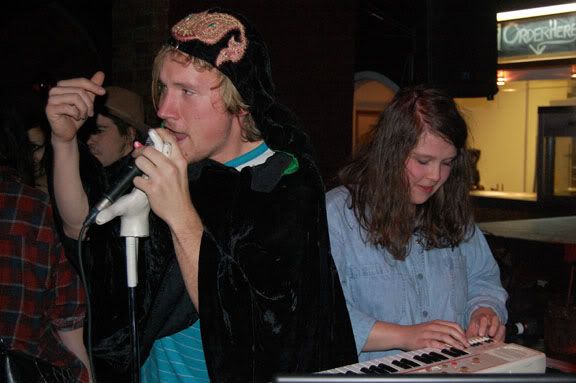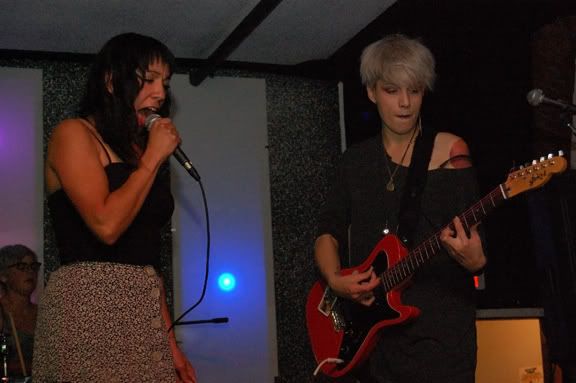 First off, thanks to the always wonderful
MT-40
and the now-on-my-list-of-bands-to-see-as-much-as-possible,
No L.A. Kill
for playing Damaged Goods on Friday.
Second, thanks to Tristan and the guys from
Winnie Cooper
for putting on one of (if not the) local shows of the year on Saturday at the packed-by-midnight Funky Winkerbean's. I've sung the praises of Basketball, Gang Violence, and Boogie Monster before, and they were amazing as usual, but I should make special note of
Babe Rainbow
, who rounded out the bill.
A lot of you probably already know Cam from his other ventures (playing in Hot Loins - RIP - and working to make Music Waste happen every year), and if you read real music publications (Exclaim, NME, etc), you may have heard them praise him. I haven't piped up about it, since I usually just talk about live shows, and this was actually his first. It wasn't exactly the best dance party music (although, neither is Boogie Monster, I suppose), but it was pretty damn good.
Check it out
, if only to tell your friends you were into him before he blew up.
Regulars: October 13th-18thMondayTuesday
Shindig
@ the Railway:
Kidnap Kids
,
Move On Citizen
, and
the Receptionists
Boosh Tuesdays
@ ?:
Sailing
@ the Astoria:
Detention
Wednesday
Fake Jazz Wednesday
@ ?:
The Beehive
@ Honey: back on October 21st
Discorder Presents...
@ the Astoria: back in the beginning of November
Gypsy Fade Wednesday
@ the Media Club: back on October 28th
Thursday
Honey Lung Thursday
@ Honey:
Shipyards
,
Stamina Mantis
,
Frozen Stake
, and
Burrow Owl
Blastramp
@ the Bourbon: no live act
Friday
Damaged Goods
@ the Astoria:
Cobras Cobras Cobras
Far Away
@ the Media Club:
Kick Evrything
Good Burger
@ Funky Winkerbean's: Heavy Chains (Andrea from Nu Sensae, Ann Marie from White Lung, and Brody, ex-Mutators)
Saturday
Glory Days
@ the Biltmore: no live act
Night Shift
@ the Astoria:
Defektors
,
White Lung
, and
Random Cuts
No More Strangers
@ Funky Winkerbean's: "Covers night" featuring the Friends,
Eeek
, and
the SSRIs
Labels: babe rainbow, basketball, boogie monster, gang violence, mt40, no l.a. kill, show recaps, weekly listings
3 Comments:
Prince Paul Halloween at the Astoria on Friday October 30th!
By

liane, at 12:04 p.m.
Thanks for the support, Quinn
Thank you Quinn! we love you right back