Monday, November 23, 2009

mr. lightning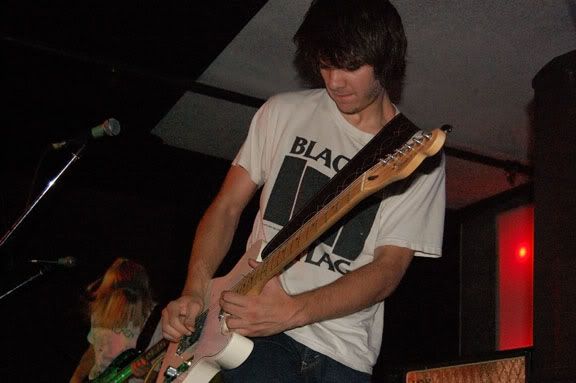 Manta Ray-Gun
were so great last time they played
Damaged Goods
that we decided it would be rad if they played again. Also, last time they brought one of the bands they're friends with (the wonderful Cat Attack) that I hadn't heard, and they've graciously offered to do that again. This time with their buddies in
Horsefly
.
Manta Ray-Gun's also playing Shindig tomorrow, so if you can get out to the Railway, go and cheer them on, then come down to the Astoria on Friday to help celebrate what's hopefully a trip to the Shindig finals in December.
There's always a ton of great stuff to talk about in the weekly listings, but I thought I'd also note the
White Lung
and
Womankind
show at Honey on Thursday, which should be all kinds of awesome.
Check back later tonight for a sweet contest and in a few days for a ton more show announcements... and maybe another contest too.
Regulars: November 23rd-29thMondayTuesday
Shindig
@ the Railway:
Kidnap Kids
,
Manta Ray-Gun
,
Lengthy List of Lovers
Sailing
@ the Astoria:
Telephone Girls
Wednesday
The Beehive
@ Honey: Little Sister & the Time Machine and
Dylan Thomas & Your Vancouver Vipers
Rock N Roll Pizza Party
@ the Biltmore: back on December 16th
Discorder Presents...
@ the Astoria: back at the beginning on December 2nd
Gypsy Fade Wednesday
@ the Media Club: ?
Thursday
Honey Lung Thursday
@ Honey:
White Lung
and
Womankind
Blastramp
@ the Bourbon:
Mt. Royal
Friday
Damaged Goods
@ the Astoria:
Manta Ray-Gun
and
Horsefly
Good Burger
@ Babar: unknown
First Friday
@ the Eldorado: back on December 4th
Saturday
Glory Days
@ the Biltmore:
Myths
Night Shift
@ the Astoria: back in December
No More Strangers
@ Smiley's:
Sean Nicholas Savage
,
Jasper Baydala
, and
Makeout Videotape
now playing: X - Poor Girl
Labels: damaged goods, show announcements, weekly listings
0 Comments: