Tuesday, October 27, 2009

hot bay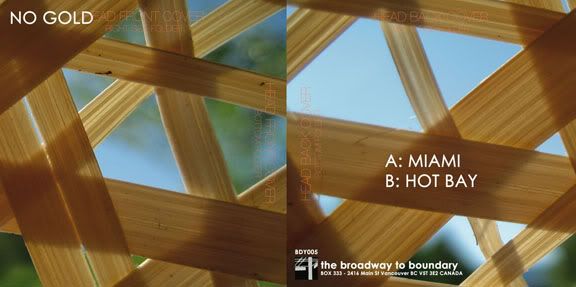 Contest: No Gold 7" Giveaway
So, this is the rad contest I was mentioning earlier today. At long last,
No Gold
's releasing something and they're doing it by way of 7" on the always wonderful
Broadway to Boundary
(who've also put out wax by Mutators, Shearing Pinx, Sex Negatives, and Hot Loins, with a Pink Noise 45 forthcoming).
Peter
at
who is the Broadway to Boundary has very kindly offered up two copies of this bad boy to coincide with tonight's release show at the Fortune Sound Club (with Basketball and Humans).
Even though this prize is worth jumping through hoops for, if you want to win, just send an email to quinn.omori [at] gmail.com with the subject line "No Gold 7-inch" before midnight on Halloween and I'll pick a winner when I'm hung over and full of mini-chocolate bars the next day.
And, if you don't win (or even if you do--records make great gifts), you can order a copy direct from
the Broadway to Boundary
or find a copy in your favourite independent retailer soon (if not now).
now playing: Fine Mist - Murder Murder
Labels: contests, no gold, the broadway to boundary
0 Comments: