Monday, September 13, 2010

we are the hardest saturday nights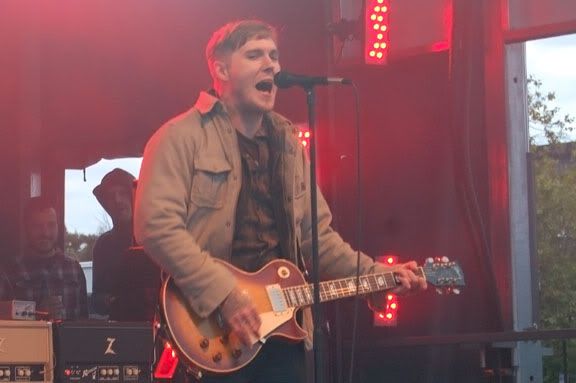 There are certain bands, some of whom I adore (the Weakerthans, the Hold Steady), and some of whom I'm pretty neutral on (the Mountain Goats, Why?), that seem to only have fans of the rabid variety. If you like them, chances are you love them, but if you're uninitiated and check them out live, you'll likely leave moderately entertained, but wondering just why everyone shoved up near the front was singing along so loudly.
The Gaslight Anthem
seem like one of those bands.
I wasn't compelled to check them out until
Pinder
posted a video of them performing "The '59 Sound" with Springsteen at Glastonbury on Tumblr (I mean, if it's good enough for
Pinder
the Boss, it's good enough for me), but I've been a big supporter every since. With that in mind, I actually saw them twice this past weekend.
On Friday, my friend Neil was DJing UBC's Welcome Back BBQ, so I made like an undergrad and
drank some shitty beer in a field
before checking the band out for the first time. Proving that I'm pretty out of touch with what's popular, I was surprised to see how many excited students showed up to do the same (a much better idea than
getting wasted and tearing up the frat village
). Gaslight, for their part, were pretty great, but they really turned it up a notch the next evening.
The Commodore was packed on Saturday by the time I made my way down and whether it was because of the weekend, my previous theory about "certain bands," or a combination of both, there was a palpable buzz in the air as the Gaslight Anthem's set time drew near. And, while the college crowd's warm welcome seemed to keep the band in good spirits, they really fed off of the energy of the Saturday night audience, and rewarded us with a lengthy setlist that included pretty much everything I wanted to hear, plus a cover of "American Girl" and show closing rendition of the Who's "Baba O'Riley." Again, it could definitely be because I was already so high on them, but it was one of the most enjoyable shows I've seen in ages.
now playing: the Gaslight Anthem -
She Loves You
Labels: gaslight anthem, show recaps
0 Comments: