Saturday, June 25, 2005

these are the days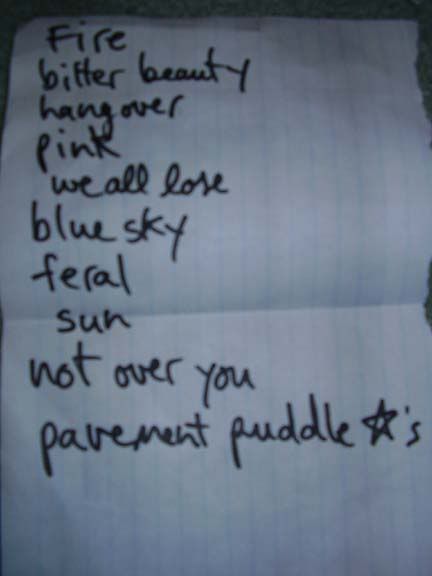 Chances are you missed out on the free Jason Collett show yesterday, which is unfortunate, because it would've been nicer to have more fans and a few less chatty industry people. It was Jason's first show with his new touring band, but they sounded really really tight. I missed the first four songs due to Vancouver's characteristically unreliable public transit system, but it was well worth the trip down.
LCD Soundsystem's
James Murphy
talks to the Guardian.
(via
Largehearted Boy
) He does a great job of summing up how wonderful the cassette was:
"I loved mix tapes: the idea that if you were going out walking you had to decide what music you might need in advance. None of this carrying your whole record collection around on an iPod shit. The best I ever made was for my friend Marcus who taught me how to DJ. He was always a bit hostile to rock until I heard him playing a record that had Silver Apples on it. I went through his whole collection and started spotting all the rock tracks that had been sampled. He asked me to put all the originals on a tape so I made him this great mix with Suicide, Gang Of Four, Can and stuff like that. Tapes with handwriting on - they're so fucking beautiful."
I love mp3s as much as the next guy, but there was something about recording songs from 7"s onto a tape so it could be packed around by walkmen that was a little more rewarding then just downloading a compilation of vinyl rips via bittorrent and throwing them on an mp3 cd or IPod. Also, you can still obssess over the tracklist on a mixcd, but when you got a tape you knew there was recording and erasing and someone actually sat there and pulled all the cds and records out of their cases. That, and I can think of a lot of mixcds where I've thrown on whatever standalone track that's been hogging time on my WinAmp at that time, whereas with tapes you can almost guarantee that every song on the thing came from an album that somebody loved.
Next time it rains, I'm making a tape.
Which reminds me, I should really get around to picking
this
up.
now playing: LCD Soundystem - Slow Dive (Siouxie and the Banshees cover)
2 Comments:
Hi. Love the blog. I have a site that 50 inch lcd tv is very similar you might be interested in.

Come and have a look when you get the time :-)
By

Anonymous, at 9:43 p.m.
Great Blog you have here! I am going to bookmark this one.

Play free online gamestoday at arcade queen

arcade classics freearcade classics free

Play until you drop but whatever you do don't let your boss catch you!
By

Anonymous, at 4:13 a.m.