Wednesday, June 01, 2005

tiny paintings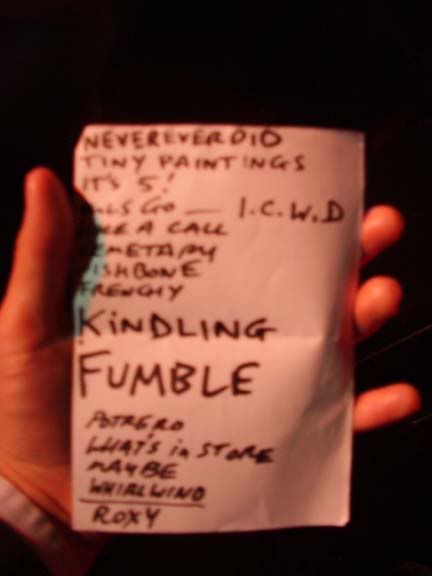 I rushed over to the Media Club after a reception out at UBC tonight, and was shocked to see a line of people snaking down the sidewalk, all trying to see
Architecture in Helsinki
. Granted, the Media Club isn't the biggest venue in the city, but it's still (pleasantly) surprising that a little known band from Australia sold the place out.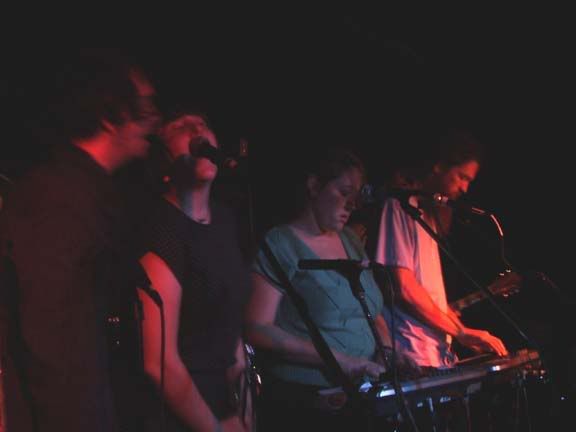 The band, to its credit, was up to the task of playing to a full house. Opening with "Neverevereverdid," and playing all of the spectacular
In Case We Die
as well as a few cuts from their debut, they were full of energy for the entire evening. Highlights included an extended version of "Do the Whirlwind" and the mainset closer, a cover of Roxy Music's "Love is the Drug" (they encored with a Krafwerk cover). Apologies, because they mentioned their distaste for Belle and Sebastian, but the best way I can think of to describe their sound is a cross between the Glasgow favourites and Montreal exports the Arcade Fire. I rarely say it, but I'm actually looking forward to the band being able to play a bigger venue. Their music lends itself so well to a little more movement, by the band and in the crowd, both of whom were hampered by the cozy confines of the Media Club.
When we saw them in Seattle my friend Sean chatted with Kellie Sutherland who informed him that they hoped to return to North America in September. If you missed the boat this time around, make sure you make it out then... and if you don't want to get stuck with out a ticket, make sure you buy one before the day of the show.
Local band,
the Winks
, opened the show. I was a little love/hate on them... half of the songs were great, but they sorta lost me on half. Their closer, a cover of the
Sonic Youth
classic, "Expressway to Yr Skull" was sublime though, right down to the classical sounding coda at the end.
now playing: Architecture in Helsinki - Need to Shout
3 Comments:
Now aquiring some architecture in helsinki music, really good stuff. I love finding out about new bands... looks like I won't have a chance to see them in Australia next month, but I'll tell my sis to keep an eye out for them there.
When are you coming back though?

Might be able to catch them at home.
Just out of curiosity...what did AIH say about Belle and Sebastian? In terms of their distaste for the band.
I saw them support B&S in Melbourne last year...surely supporting a band you don't like doesn't create a pleasant touring experience.
By

Caitlin, at 8:11 p.m.