Wednesday, August 10, 2005

beautiful sorta, but not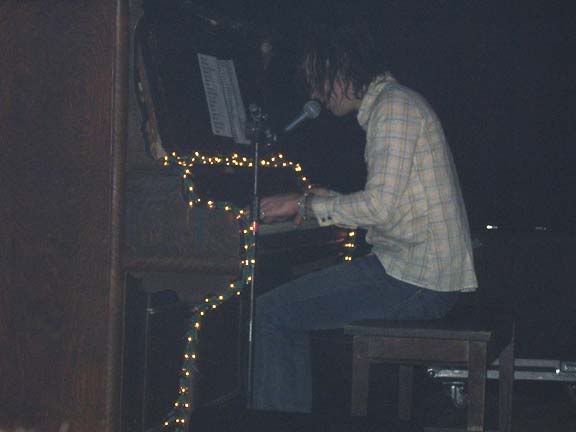 Alright, so I'm all for getting drunk at shows, if that's your thing. I also understand that say in a bar where you go strictly to drink, or a house party, or an office party, or hell, even a dinner party, sometimes people have way too much to drink and embarrassing situations occur. But, if you pay $40 because you apparently want to see someone make music and wedge yourself right in the middle of the goddamn floor and then procede to drink so much that you have to a) vomit all over yourself and b) stumble through the crowd rubbing up against people, do the world a favour and drink at home alone and listen to the cd til you puke... preferably while lying on your back.
Also, to the guy who insisted on yelling "Summer of 69" and "Cuts Like a Knife" over and over: 2001 called, it wants its joke back. Although it was almost worth it to hear Ryan retort, "I'll fuckin' break your face, man. I can afford a fuckin' lawyer, I bet you can't afford a new fuckin' face."
Argh.
As for the actual music, the night started off well, as Ryan and the Cardinals opened with a blistering rendition of "Beautiful Sorta" and the first four or five songs were punctuated with a great performance of "Please Do Not Let Me Go." However, as the show progressed, and the crowd got more and more unruly, Ryan got a bit more confrontational. That being said, he was far far from the tempermental Mr. Adams that I've read reviews about. I absolutely love his music (and live music in general) and I was even considering leaving at several points in the evening due to the crowd. So, keeping that in mind, he was extremely well behaved.
It's really late, so I won't go into much more detail, other than saying that it was an absolute treat (although I'm sure those constantly yelling for "old songs" would disagree) when Ryan brought
Jesse Malin
back on stage to do Jesse's "Brooklyn" and "Solitaire."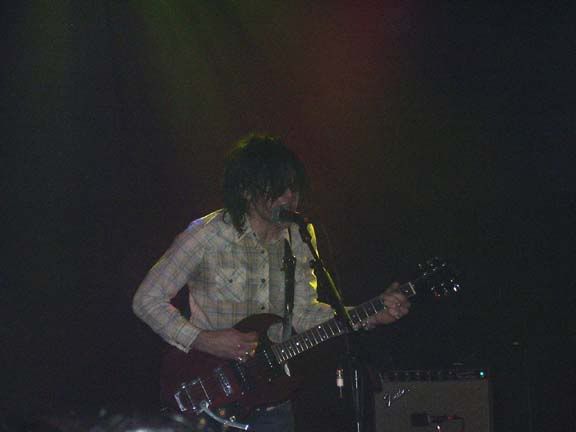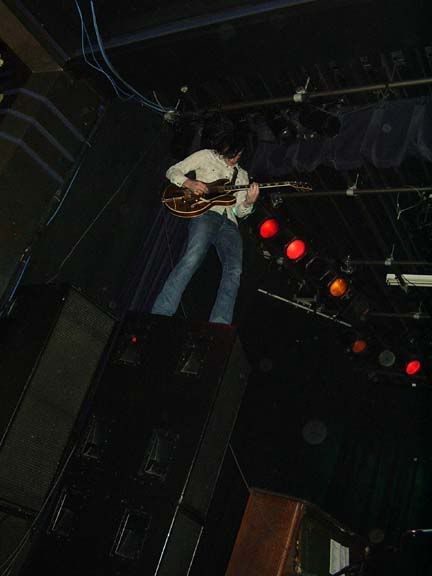 Ryan up on the speaker stack at the end of a rocking (and very loose) "I See Monsters"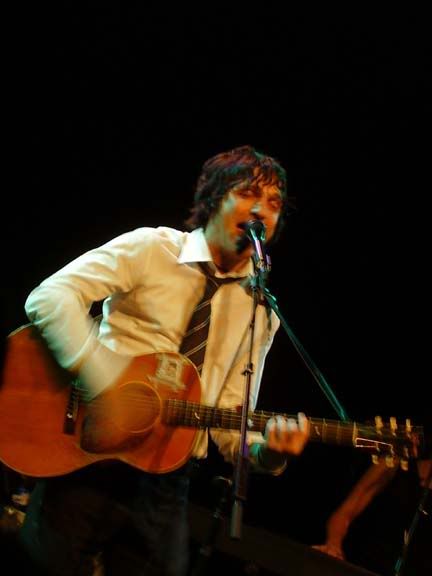 Jesse's opening set was great, and was highlighted by covers of the Replacements' "Bastards of Young" and Neil Young's "Helpless." Actually, "Helpless" was a little eerie as Malin's voice on the song was almost identical to Neil's.
In non-RyanAdams related news, I'm happy to report that the previously mentioned
Metric
show at Commodore, is actually two shows. Underagers get a chance to see the band as well, when they play an early set in the afternoon, followed by the 19+ show in the evening. Tickets for both shows go on sale this Friday at 10am.
The Most Serene Republic
opens.
War Child
is putting together another benefit album, ten years after the
Help
cd (that featured the first appearance of Radiohead's "Lucky"). The new cd will once again boast new tracks by Radiohead and the Manic Street Preachers, as well as new songs by Gorrilaz, Bloc Party, and Mylo, among others. You can purchase the downloads on September 9th, with cds hitting shelves a couple of weeks later.
Seeing Ryan Adams again in Seattle tomorrow, wish me luck.
now playing: Jesse Malin and Ryan Adams - Solitaire (live in Paris)
8 Comments:
Hey, great looking pics. The puking girl fucking sucked. She puked a bit on my leg. Fucking sick. It was a pretty damn good show. My first Ryan Adams concert. I enjoyed myself. Those Bryan Adams assholes needed to get a life.
By

Angela, at 4:07 a.m.
In retrospect, this show was exactly what I should've expected: every Ryan Adams fan would find something to love and something to hate (vomit notwithstanding). Personally, aside from the first couple of songs and "September", I thought the opening set was boring. The Cardinals played perfect country-rock, but Adams' charm (for me, at least) is that he's not afraid to be messy and wear his heart on his sleeve; the result was that Adams felt too restrained. It wasn't until Adams started talking/got drunk/ripped Josh Rouse a new cornchute that the show really took off. It was horribly sloppy and messy, but you won't see anything like that for the rest of the year (well, okay, you will when you see him again tonight, Quinn).
By

Neil, at 9:35 a.m.
Good post Quinn, I agree completely. The Bryan Adams assholes - do they think they are bing funny? Yeah dude, good one. Hadn't thought of requesting a Bryan Adams song. What a bunch of douchebags.

I've actually been pretty pleased and surprised with fairly good Vancouver crowds the past year or 2. But it seems crowds from 2003 which annoyed the hell out of me made a triumphant return last night.
By

sean, at 9:41 a.m.
i was right in front of the super loud drunk girls shouting out 'FIRECRACKER!!' or 'LET IT RIDE!' over and over again... from where I was standing, everyone around me seemed to hate the show. I heard people say stuff like "he's not playing songs we know! and the songs we know that he did play were slowed down!! that asshole can take his self indulgent shit elsewhere!" personally, i thought his reworked 'to be young' was great... and the other people who were saying "how many albums does he have?" "too many." does that even make sense? what a frustrating crowd. i say if you don't like it, leave. don't sit there being obnoxious and in turn ruining the show for those who want to be there. fuck.

but yeah... other than that, good show.
By

jordan, at 1:21 p.m.
dude, check this out:

www.eartothegroundfest.com

Rjd2!
Kid Koala!
Death From Above 1979!
Sleater-Kinney!
The Organ!
Saul Williams!
The Hidden Cameras!
Andrew Bird!
Joel Plaskett!
Final Fantasy!
Julie Doiron!
controller.controller!

etc. etc. etc.

I'm so there.
I got all excited untill I read Toronto:(
By

Jason, at 2:15 p.m.
Graham.. you need to start reading Frank's blog now (chromewaves) and to stop teasing me with shows in toronto.
By

Quinn, at 11:19 p.m.
Did you guys read the Georgia Straight review? I didn't hear the bass player telling Ryan to fuck himself but apparently she did. It was a heart-wrencher for me for the first half - then it went all pear-shaped. can't say i wasn't entertained though. I don't think that it's really that ok to diss people for 'posing' as shows, sucks when people get out of control drunk in a crowd though. it adds an anxiety "don't puke on me" vibe that ruins the experience....


thanks for your informative blog, it's become a regular read for me (thanks for passing me the link, Aleksandra)


XOXOXOX, Tenny
By

Anonymous, at 2:22 a.m.