Sunday, September 25, 2005

sometimes we rock'n'roll, sometimes we stay at home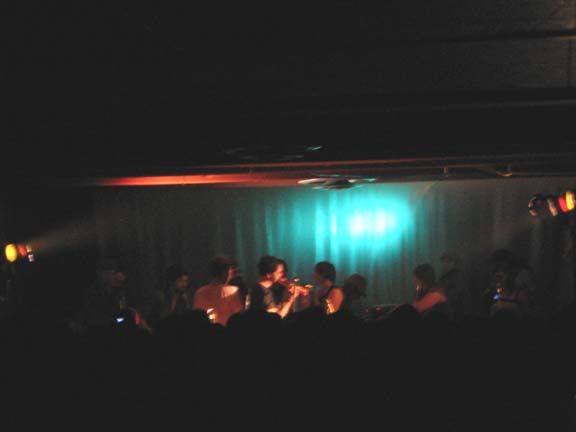 I arrived at last night's
Architecture in Helsinki
headlined show, just in time to catch openers,
Dr. Dog
. I know they're getting a lot of hype, but I didn't really find them much to write home about. Or, at least, there was nothing particularly striking about the music. What was striking was the venue. Usually an afterhours bar (which also begs the question of why you would want to draw attention to your illegal nightspot), after entering from the alley off of Hastings and moving through an empty warehouse like part, you came to the room that the bands were playing in, which was not unlike a sauna. This was compounded after Dr. Dog's set, as it appeared that everybody (including me) was primarily there to see
Wolf Parade
.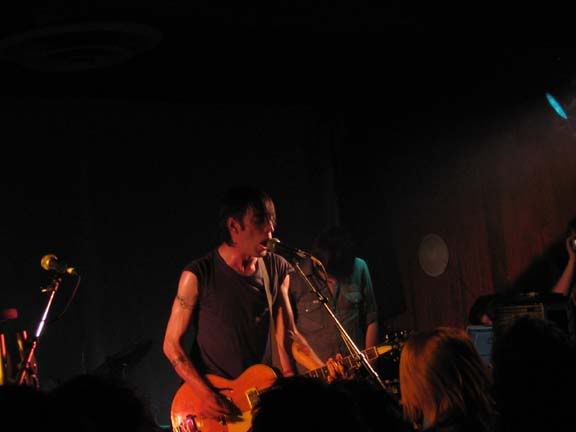 The (now, with addition of former
Hot Hot Heat-er
Dante DeCaro) five ex-Victorians were clearly feeling the heat, but that didn't stop them from going full tilt for the next 45 minutes or so. A little loose sounding? Perhaps. But, that was more than made up for (and maybe partly because) of the intensity level.
The jury is still out about their recent CMJ performance
, but I guarantee you're going to hear more and more and more about them in the next little while.
After Wolf Parade, the crowd was noticably thinner, which is unfortunate, as Architecture in Helsinki were, as per usual, pretty excellent. When they were setting up their gear they didn't look hugely thrilled about the place (and weren't even overly thrilled with the Media Club last time around), but once they started playing any reservations had clearly melted away. They even brought out the two openers for an extra percussion filled version of "Do the Whirlwind" to close the show.
Props to the DJ who spun "Only Shallow" by My Bloody Valentine between sets.
PS: check out the comments of the last entry for video/pics/more reviews of the New Pornographers show last night, and the previous night in Vic.
now playing: Wolf Parade - This Heart's On Fire
8 Comments:
i was front row of wolf parade and i thought they were excellent. the venue was a rather entertaining experience. it was a touch cooler at the front but barely. i wanted to stay for architecture but it just go too hot and i couldn't take it.
By

Anonymous, at 2:01 p.m.
If its hot in herre... improvise.
Did you notice the two cute girls in the front wearing just their bras?
By

NorthVanDan, at 6:19 p.m.
Wolf Parade - I'll Believe In Anything (Clip) (11 mb)

Architecture in Helsinki, Dr. Dog, Wolf Parade - Do The Whirlwind (finale) (40 mb)
By

artblot, at 7:23 p.m.
i saw one girl her bra, wouldn't call her cute though.
By

Anonymous, at 9:48 p.m.
I saw wolf parade headlining in victoria on friday, and they sounded fantastic. I talked to dan boeckner for awhile and he mentioned the cmj show, referring to it as a dog and pony show.
btw, I love your blog, it's always the first place I go online.
By

erin, at 11:19 p.m.
Dr. Dog stayed at my house last time they were in Vancouver touring with Ambulance Ltd. I died a little inside when i read this because i didn't even know they were going to be in town. They are champion guys - and they left us with a 26 of JDs. What more can a couple of girls want?
By

Collins, at 9:32 a.m.
I think I was standing somewhere behind you and to the left.
By

pinder, at 10:52 a.m.
hopefully you have an account:
http://www.dimeadozen.org/torrents-details.php?id=61554&hit=1
By

firmdragon, at 12:38 a.m.