Friday, March 24, 2006

bang bang rock n roll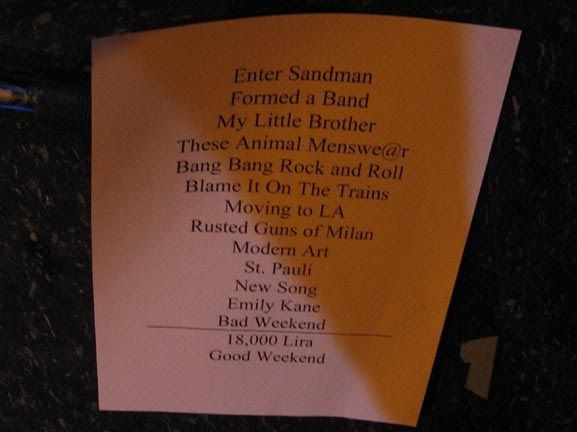 If you weren't at Belle and Sebastian tonight, you hopefully made it down to Richard's. If you did, you'll share my happiness that the boys (and girl) in
Art Brut
did decide to "form a band." I suppose I could open up the debate about whether they're a joke or for real, but frankly, when something is this much fun, it doesn't matter. Opening with the instrumental intro from "Enter Sandman," the quintet launched straight into "Formed A Band" and never let up. The set included a couple new numbers and a b-side, and was a rocking rolling good time throughout. Both the end of the mainset and the encore, however, were a near perfect climax for the raucous evening. "Emily Kane" was met with the predictable enthusiasm, and even contained an updated bridge where lead singer, Eddie Argos, informed us that he had, despite the recorded lyrics, actually seen her "over Christmas break." "Good Weekend," which was introduced as "currently number one in Japan, Australia... Disneyland, Narnia...," and featured a snippet of the Kinks, as well as the chant "Art! Brut! Top of the Pops!," closed out the evening in perfect fashion, as it encapsulated everything that was great about the set. They were only on for an hour, but when a band with only one album to their name turns out fifteen songs, there's not much to complain about; short and very sweet. You can tell it was good, because until just now, I had completely forgotten about my disappointment that the Serena Maneesh were supposed to have played (they had visa problems).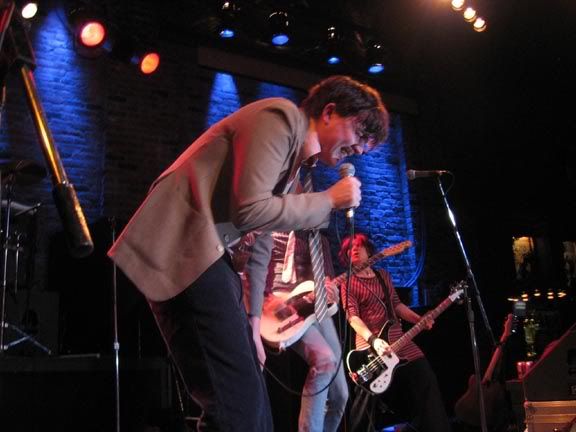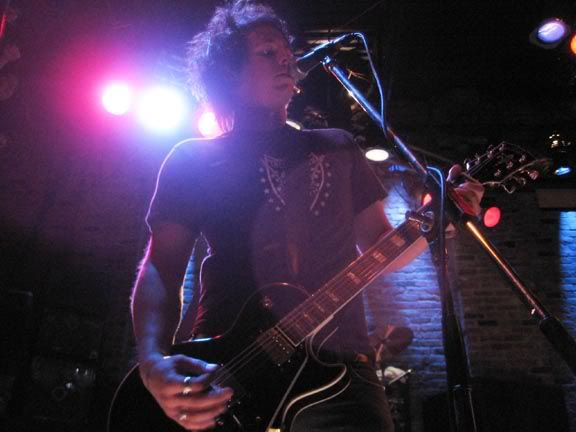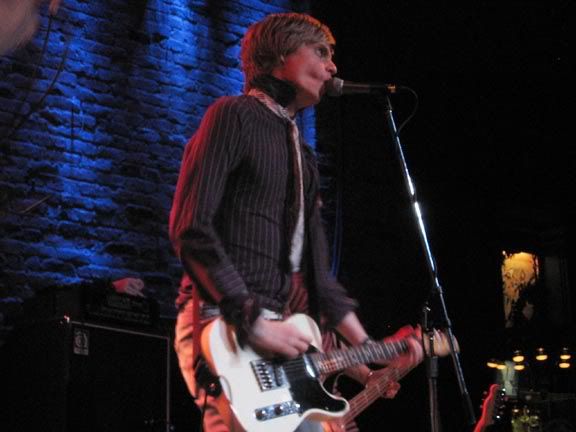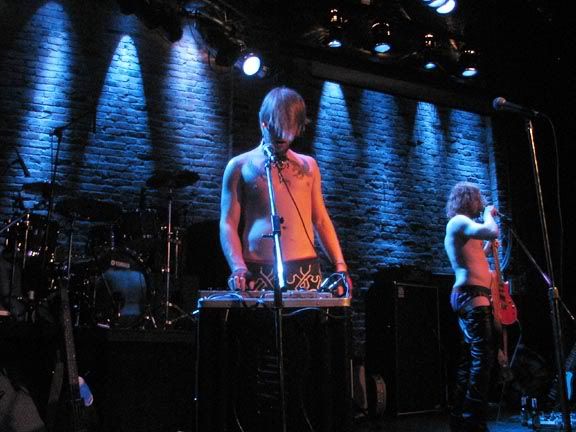 While the Maneesh were stuck in the US of A,
Gil Mantera's Party Dream
definitely turned it up enough to warm up tonight's crowd. I actually didn't make it in until they had a mere three songs left, and I definitely regret it. Again, there could be a debate on whether or not it's tongue and cheek, but either way they're goddamn entertaining. How entertaining? Well, the Village Voice decided to call their SXSW show the
best of the weekend
. Now, one could also probably debate the level of humour in that award as well, but if you want debate you can tune into CPAC. Hilarious doesn't begin to explain the spectacle, but if they ever come back to town, make sure you check them out and see for yourself.
now playing: Casey Dienel - The La La Song
3 Comments:
Nice pictures, it was definitely a great show.

In case you missed it, Gil from Gil Mantera used his pink undies as a beer cozy for most of the show.
By

Anonymous, at 10:42 a.m.
It's too bad you didn't catch the entire Gil Mantera's Party Dream set.

They were BONKERS.
By

vanmega, at 12:23 p.m.
if that new song is called "post soothing out" then they played the exact same setlist, same songs, same order as they did at their Vienna show in january thats floating around the internet...
By

Anonymous, at 6:37 p.m.