Thursday, March 02, 2006

i would like to see you often, but i don't need to see you often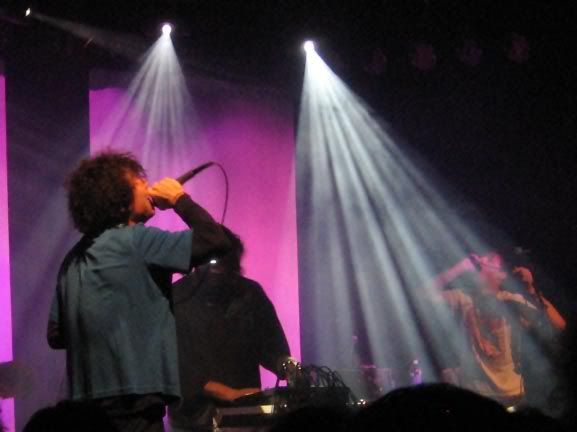 Let me start talking about tonight's
Animal Collective
show by saying that the openers soldified in my mind, that I'm wasting my time in University, when I could just be making totally mundane "noise-rock" and be playing rooms like the Commodore.
What about the headliners though?
Last year saw le Collective release
Feels
, and while I'm sure that more than one person out there is going to disagree when I say it's their best work to date, I'm going to go ahead and say it anyhow.
Feels
was a near perfect balance of the band's tendency to push boundaries and their natural tendency towards pop melody. Tonight there was a little too much of the former and not enough of the latter. That's not to say there weren't some rather sublime moments. "Grass" was tremendous, and when "The Purple Bottle" emerged headlong from a buildup of tapping percussion, echoing voices, and almost random guitar noise, you got a feel for what the band are capable of. At their best, Animal Collective is sort of like taking the Jesus and Mary Chain to their logical conclusion. That's not to say that the two bands sound alike, but the Mary Chain owed as much to Girl Groups as they did to Punk Rock. Take pop music and drench it in abrasive, soaring, feedback. By the same token, Animal Collective sort of sound like the Beach Boys chained up in a padded room, all screaming to get out. Tonight, the asylum kept them under pretty firm lock and key.
Here's something that's still puzzling me though. Even if the album shows a little more restraint and a little more structure, just how the hell did they sell out the Commodore? That's over a thousand people. When the Arcade Fire did it before they really blew up it was a little surprising, but not completely. They weren't especially well known, and the hype machine wasn't rolling full steam yet, but if you played someone
Funeral
, and they had any sort of affinity for guitar based music, they'd probably enjoy it. Conversely, and while I love
Feels
to death (
Sung Tongs
ain't no pushover of a record either), I fully expect that only one out of every two or three people I play it for will actually enjoy it enough to want to check out a live show. I blame/credit the internet.
now playing: Akron/Family - I'll Be On The Water
8 Comments:
they sold out the commodore???? holy crap!

i've seen that place half empty for mogwai, goldfrapp...
i was surprised too, and i much rather would have saw them at richards. however, the large stage was nice because they totally got to freak out and run around. a+ plus show all around.

do you have anymore pictures? my camera died right at the start of the show :\ if you would be so kind.. nsharpminor@gmail.com

cheers,
neil
By

Anonymous, at 8:46 a.m.
so how many songs from feels did they play in their set?
By

Anonymous, at 9:46 a.m.
ben harper is playing deer lake park on may 28th:

http://www.ticketmaster.ca/event/11003C5C6FC2BE9F?artistid=769250&majorcatid=10001&minorcatid=1
By

jenny, at 10:25 a.m.
thanks jenny.

neil: the rest of my photos are pretty shitty. i wasn't that close, and then i moved further back about half way through
By

Quinn, at 10:28 a.m.
no worries, i found some decent ones :)

n
By

Anonymous, at 3:48 p.m.
did you not think anything of BARR? I wondered how it would be for someone who didn't know almost all the words to his songs like I did. I think his work is amazing and found his performance so charming.
and do people really disagree that feels is ac's best work? I think it stands far above their other stuff, like everything else is leading to it. . . though I haven't heard all of their early work, yet. . .