Thursday, April 20, 2006

au contraire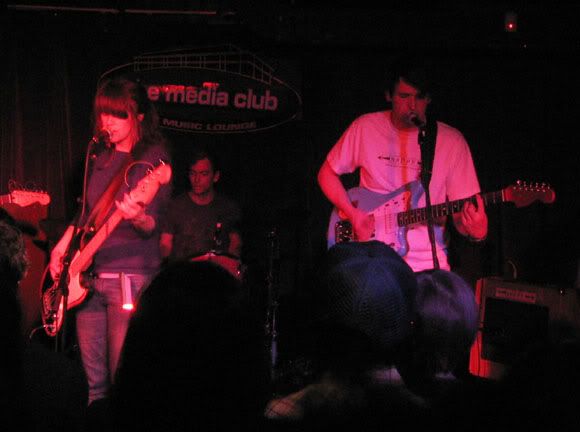 Can I just start this post by saying, while it's a little irritating that you've really got to be on the ball with getting tickets in advance for a lot of shows, it's awesome that so many more people are making it out to see quality live music in this city. Last October, when
Julie Doiron
played the Media Club it was about half full. I'm not sure if it was a sell out tonight, but it was definitely more cramped inside.
Julie was backed by openers
Shotgun and Jaybird
(who were featured on the mix from a couple of days ago), so the show was, in addition to being fuller, was a much different affair from either of her last two visits. I'm still not sure how I felt about the performance. I definitely enjoyed myself, but I definitely also enjoyed the opening numbers that Julie performed solo more than the full band set. The first song of the night, a half acapella rendition of "Sweeter," was especially enjoyable. I can't really put my finger on what it was about the full band tunes that didn't quite click as much with me, but it almost seemed as though things were just pushed a little too fast... the time signatures almost seemed to change on some of the songs. It might be also be her voice. I realized what I love about Julie's voice today: it's fragile. I turned to a friend between sets and noted that "I know what it is about her voice," and she smiled and said, "it's breakable." And, the thing about playing with a louder band, is that that vulnerability gets hidden a bit. That being said, there were some rather sublime drenched-in-feedback moments that I never would've expected to see at a Julie Doiron show. Playing with the boys from Shotgun and Jaybird, also resulted in a fun little rendition of Pavement's "Shady Lane."
Speaking of Shotgun and Jaybird, I was pretty impressed with their set. It's your standard "indie" fair, but they do it very well. I will say that I figured out why I like about half of the songs on their EP,
There Are Days, And Then There Are Days
, better than the other half: they're sung by two different guys.
I got to the Media Club just in time to catch local's
Radiogram
finishing up their last couple of numbers. I'm defintely a sucker for the alt-country thing, but I can't say that I was totally won over (this being the second time I've caught them, I think).
now playing: Julie Doiron - Sweeter (live)
2 Comments:
This is why I love Keren Ann - her voice is so fragile and almost drowns out some songs

G
By

Anonymous, at 7:12 a.m.
I had a similar reaction to the louder performance in comparison to previous visits, but was starting to enjoy the change later on in the set.

Biggest disappointment wasn't the performance though; it was the behaviour of a few people in the audience who thought the show was all about them, not the people on stage. One of them was the DJ, who just seemed incapable of keeping quiet for even a couple of minutes during Julie Doiron's set. Contrast that with the attention she was given at previous shows.

Keep listening to Radiogram. You'll realize that they're a fine band when you've got attuned to the sound.
By

apl, at 3:47 p.m.