Wednesday, June 28, 2006

the end of you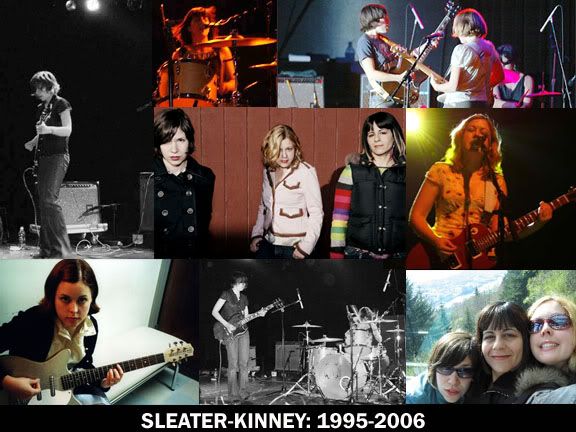 From
Sleater-Kinney.com
:
After eleven years as a band, Sleater-Kinney have decided to go on indefinite hiatus. The upcoming summer shows will be our last. As of now, there are no plans for future tours or recordings.

We feel lucky to have had the support of many wonderful people over the years. We want to thank everyone who has worked with us, written kind words about us, performed with us, and inspired us.

But mostly we want to extend our gratitude to our amazing fans. You have been a part of our story from the beginning. We could not have made our music without your enthusiasm, passion, and loyalty. It is you who have made the entire journey worthwhile.

With love and thanks,
Sleater-Kinney

And, with that, one of my favourite bands is, for the foreseeable future, finished. As
Pitchfork
writer Amy Phillips, hopefully noted, "hiatus" can mean My Bloody Valentine (more or less gone forever) and can also mean Jay-Z style "retirement." In the world of indie rock, however, "hiatus" is usually a synonym for the end (although, Jeff Magnum is apparently back, so who knows?).
It's strange, because I think this is the first time that this has happened; one of the musical acts that I hold in the very highest esteem has stopped making music. Nirvana was, of course, a pretty big deal, but I was only 12 when Kurt Cobain died. I'm pretty fond of Elliott Smith, but not so much that his suicide had a profound effect on me. Plus, death is much different than a break up, due, obviously, to the human tragedy involved. I was a massive Smashing Pumpkins fan when I was younger, but as with most people my interest waned after
Adore
. When the Pumpkins called it a day, it was most definitely their time. By contrast,
The Woods
- now S-K's swan song - was a thundering statement of a record.
The other thing about Sleater-Kinney is that they were one of those groups that was
my
band. I'm well aware that thousands of people were into them before I caught on (admittedly, kinda late), and I've since met friends who share my enthusiasm for the band. But, when I first "discovered" Sleater-Kinney I didn't know anyone with even a passing interest in them. In fact, the first time I saw them (in Bellingham, of all places), I had to beg my girlfriend at the time to accompany me.
But I digress. I want to hit on two more points from Amy's newsbite...
"Thank you for being an inspiration to women everywhere. No, fuck that-- to people everywhere."
The phrase, "they're pretty good... for a female/girl/chick band" has always offended me in general, as it's idiotic to link gender with musical prowess. With Sleater-Kinney, however, those words have always infuriated me. I once berated someone I had just been introduced to about said subject ("Actually, they're a great band, period. And, you're wearing a Lagwagon shirt, what the fuck do you know about music?"), which, admittedly, probably makes me a bit of a social retard, but I suppose that's better than being a sexist asshole.
"America's greatest rock band (yeah, I said it) have called it quits."
Some people may balk at that statment, but stop and think about it.
Name another rock band with such a consistentally strong catalogue.
Sure, their first record is spotty at best, but it's still quite an endearing little record. The self-titled debut, however, was an early shot of post-riotgrrl punk that only hinted at what they were capable of. By comparison,
Call the Doctor
, released only a year later, was a massive step forward, and ten years on, shows the trademark guitar and vocal interplay beginning to develop. At the same time, it also spawned some of the band's very best songs (notably, "I Wanna Be Your Joey Ramone"). Which is one of the great things about the band; while the variety in sound means even hardcore fans have their less favourite album, every one has at least a handful of undisputably classic tracks.
Call the Doctor
gave way to
Dig Me Out
- which someone on
ILM
called "the consensus record" - where Janet Weiss' debut behind the kit seemed to anchor her two axe wielding bandmates. From there, four more stellar albums followed. There were ups and downs, to be sure, but never anything you could reasonably call a "low."
Name another band that's displayed the same kind of growth and change from record to record.
Sleater-Kinney could have easily replicated the formula on
Dig Me Out
on subsequent releases, and they'd still be remembered as one of the better indie rock acts of recent times. Instead,
The Hot Rock
turned the completely counterintuitive trick of turning down the unbridled intensity of the first three records. Their was still (and would continue to be) a defining "sound" for the band, but tracks like "Get Up" were in distinct contrast to songs like "Turn It On."
All Hands on the Bad One
split the difference. While
All Hands...
is often considered their weakest release (mostly due to its unfortunate pacing, rather than lack of individually great songs), the follow up,
One Beat
, satisfied anyone looking for a return to form. It also, again, showed that the band was unafraid to expand its sonic pallette, with those competing vocals meeting up more and more to harmonize amidst the chaos. And then there was
The Woods
. It doesn't so much play as it breaks its way out of your speakers. Again, there's still familiar elements, but they're buried under a barrage of sludgy, psychedlic riffage. If you're going to call it a day, I suppose you might as well do it with a bang, and
The Woods
is quite literally that.
Name another band with a paralleled live reputation.
I've seen Sleater-Kinney four times: in nightclubs, at a festival, and all-ages. There were shows that were better and shows that were worse, but all of them were good. Don't take my word for it though, take a look around the internet. You'll have a hard time finding a negative review of their live show. In fact, you'll have a hard time finding anything but glowing reviews.
Now try to name a rock band that, you can objectively say, has done all three.
For me, at least, only Radiohead comes to mind, and I'm pretty sure Thom would be dead before he traded his Brit passport for an American one. I'll also stand by my own assertion that, since Fugazi are on a similarly indefinite hiatus, yesterday also marks the end of America's last great punk band.
I was going to try and pick out my favourite S-K tracks to post, but I'm currently having trouble distilling their catalogue to single CD for my friend Alanna. Picking 5-6 tracks would take me all day. I can say, however, that without a doubt, this is my favourite song of theirs, and one of my favourite songs ever.
download: Sleater-Kinney -
Words and Guitar
Thanks for the music, ladies.
now playing: Sleater-Kinney - Everything
3 Comments:
I'll pick one: "You're No Rock N' Roll Fun (Live)" recored at the Commodore Ballroom from the Jumpers CDS.

Also, I love Lagwagon :)
By

pinder, at 10:45 a.m.
excellent post!
By

Chris, at 1:57 p.m.
the jeff magnum thing was a hoax, from what i heard recently.
By

jen, at 4:51 p.m.