Saturday, July 08, 2006

the nightlife is mad crazy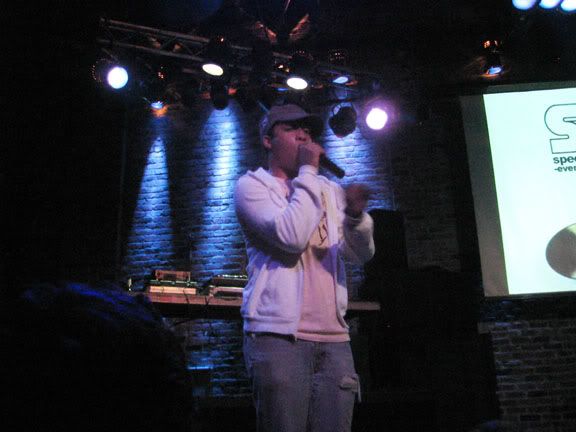 I guess it ain't at 8pm though. Richard's was half empty last night at
Cadence Weapon's
scheduled set time. Luckily, the promoter was AWOL, so Rollie was able to delay his start for 45-minutes or so. When things got started the place had filled up a bit, but it was still a damn shame that the crowd wasn't less sparse. Those who were smart enough to attend were treated the kind of thing that (at least in my opinion) you rarely see these days: a grade A live set from one MC and one DJ. No other instruments, no fancy staging, no side show, just Weez-El on the ones and twos and Cadence-fuckin-Weapon rocking the mic. The place may have been half full at best, but Rollie worked the stage like he was playing for thousands. And, when the stage got to small for him, he worked the crowd from the floor, jumping into the audience at one point to lead a chant of the hook to T.I.'s "What You Know."
He, of course, pulled from
Breaking Kayfabe
, but also rolled out quite a few newer tracks. According to recent interviews, he's got two records mostly written; one about housing in Texas and one about the "hipster condition." I definitely caught a Pete Doherty reference last night, so maybe that'll show up on the latter. My friend Chris made the point that he's good now, but there's greatness in the future. I'd actually contend that he's really good now, but that's just nitpicking. At any rate, when the next couple records hit the streets, it's going to be some serious next level shit.
I left to make a friend's birthay soiree, so I missed Omni and Fatlip. Though, I heard Fatlip was stuck at the border, so I may not have missed much.
Head over to
Rollie's blog
and grab his remix/mash of Rick Ross' "Hustlin."
I'm certainly not a diehard of either team, but when the World Cup final rolls around, it's time to drop the "well, as long as the football is good, I'm happy" attitude and pick a side. So,
Forza Azzurri!
See you on the drive - bright and early - tomorrow.
now playing: Phoenix - Long Distance Call
3 Comments:
I saw Cadence Weapon yesterday in Toronto as part of the Beats, Breaks and Culture festival at Harbourfront. Good set, although plagued by technical difficulties. I like how he raps on some tracks and sings on others. He's pretty versatile.
fatlip's set was pretty weak, mainly because he didn't have a dj and the promoter was left to man the deck, and didn't know what fatlip wanted him to do. it was awkward and unproffesional of fatlip be so disorganised. and omni's set as well as his 'hypeman' abilities were quite underwhelming as well. they need to sit down with DEL and get some pointers on how to rip up richards.

as for cadence weapon, i also think he's good but not great. even overrated, if you will. but i'll def be watching him to see how he grows into his talents in the future.
By

Anonymous, at 7:41 p.m.
Amy Millan Sept 20 Richards (i think)
By

Shea, at 9:00 a.m.