Thursday, September 21, 2006

pour me out another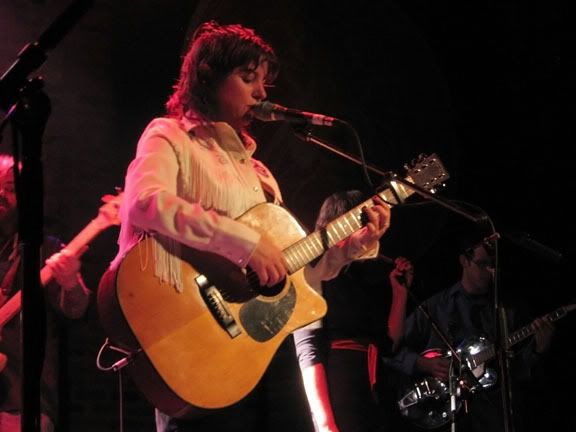 I may be in the minority, but I'm 100% down with this current trend of people "going country." In some cases, even - like Jenny Lewis - I'm more into the twangy side project than the full time gig. I wouldn't say that about
Amy Millan
, but being less enjoyable than Stars, isn't exactly a scathing criticism.
Amy played to a rather sparse, but very enthusiastic crowd at Richard's last night. Joined by a six-piece band, she ran through most (all?) of
Honey from the Tombs
, a couple new numbers, one song that was left off of the record, and a cover of Gillian Welch... oh, and a guy named Torquil Campbell showed up on stage halfway through to duet on an acoustic version of "Look Up." It wasn't exactly mindblowing, but it was very very good (albeit, a very close approximation of the record), and the Stars "cover" could've made pretty much any evening.
I didn't get their in time for the openers, did I drop the ball on that one?
Sean
points us to this
McSweeney's
article on how the RIAA is going to fuck you right up.
Hanson
points us towards
Hipsterotica
, which is either terrifying or hilarious, probably a bit of both. There's no images, only stupidly bad text, so I suppose that makes it safe for most work places. A sample:
we leave the double deuce secret show and head to beauty bar where we do a shot of fernet. you look so hot in your new "feelings are boring, kissing is awesome" tee shirt and i'm really glad you decided to get rid of that ridiculous faux hawk - it was so 2003. the rapture comes on the jukebox and with a knowing look, you grab my hand and lead me to the men's bathroom -electroclash always gets you hard. we lock the bathroom door & i undo your NES controller belt buckle that i made for you last weekend at the craft mafia meet up and i slip my hand inside your dark wash rock and republic jeans. you undo my knock off alexander mcqueen skull scarf from it's perfectly tousled knot and proceed to blindfold me with it and turn me around. i brace myself against the wall while you lift up my vintage missoni shift dress and start fucking me from behind...
I swear I saw two people just like that going into the women's washroom at Limerick Junction on Friday... and here I thought they were just going to do a line.
In semi-related news, the Suicide Girls Burlesque show sold out... seriously, wtf.
Greg Keelor
(you know, the guy who's not Jim Cuddy that writes songs in Blue Rodeo) is playing the Commodore on October 22nd. Taking a brilliant cue from Neko Case, he will be backed by
Sadies
.
Wolfmother
is at the Commodore on December 4th. I went to see the AC/DC tribute show on Saturday, and I bet half those dudes will be here too. That's not a selling point, by the way.
now playing: Arcade Fire - No Cars Go
3 Comments:
Laughing at the Hipsterotica...what happens when the little kids read too much Bret Easton Ellis :D :D :D
french rappers TTC are playing Paul Devro's party thing at Salon Des Bourgeioise on Sep 30th. which is already a superloaded date.
oooh.. thatll be late though... apparently Caps & Jones are spinning at Shine that night too.