Wednesday, September 20, 2006

this lamb sells condos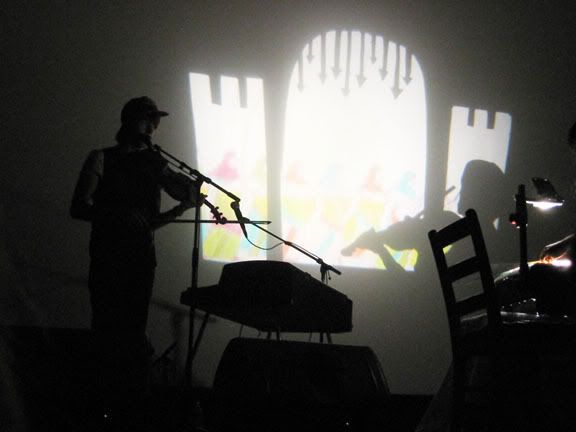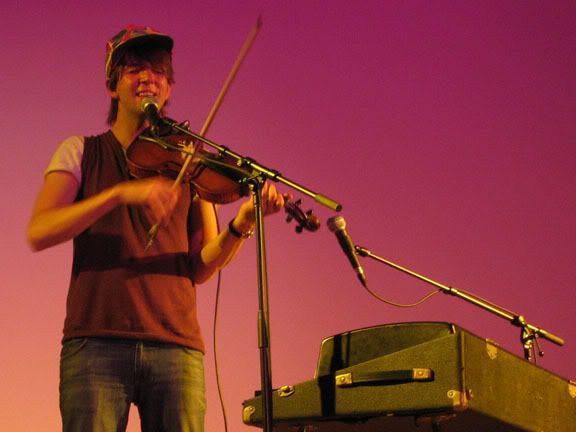 I think that was one of the best things I've seen all year... maybe ever. Did you manage to get a ticket? I certainly hope so.
I know quite a few people who've seen
Final Fantasy
live, and all of them have told me how great it was afterward. My friend Kat was so enamoured with Owen at Osheaga that she texted me directly after, all the way from Montreal (I had insisted that she see him play). And, I don't think I've ever read a review of his live show that was anything short of glowing. In spite of it all, I was still taken a back by just how great tonight's show was.
Owen played solo, with just his violin, a (new-ish to the Final Fantasy live repertoire) Fender Rhodes piano and, of course, a delay/sampling pedal to create loops of his own playing. If you're remotely interested in him, you already know that he (like Andrew Bird) loops his own playing to recreate the multitracking on his records, but some of the sounds he was creating - especially some of the ones that were coaxed out of his violin - were amazing. In retrospect, perhaps "solo" isn't actually true. Stephanie Comilang was on stage for most of the performance to lend Owen a hand with the visual aspect of the performance, minipulating overhead projections to wonderful effect.
He pulled from both albums, played a couple of non-album tracks, and did the three covers that have already been plastered all over the blogosphere (Bloc Party's "This Modern Love," Joanna Newsom's "Peach, Plum, Pear" and "Fantasy" by Mariah Carey). Really, it seemed like he could've played anything, and it would've been amazing.
Bob Wiseman
took the stage before Owen, and was utterly entertaining, but in a more comical way. That's intentionally comical, he's opening for Scott Thompson (of Kids in the Hall fame) back in the Norm in a couple of weeks (October 3rd, to be exact). His was a multimedia performance that mixed accordian, guitar, voice, and some spectacular short videos. I think the thought of seeing him again might have pushed me over the fence about seeing Scott Thompson.
Magali Meagher of
Phonemes
(she's also a former Hidden Camera) opened the show up. It took me awhile to warm up to her, but by about halfway through the set, when Bob and Owen emerged from the crowd backing her on accordian and violin (respectively), I was won over.
now playing: X - Los Angeles
5 Comments:
Good, so it wasn't just me. That really WAS the best show of the year.
By

luisairene, at 7:04 a.m.
definitely the most unique show of the year, and yeah, definitely one of the best. the sound in the theatre was great too, surprisingly. the show begs to be made into a dvd.
that show = awesome city.
By

vanmega, at 11:08 a.m.
I want some more of this comilang girl.

thanks quinny. what do you i owe you by the way? (other than dinner?)

kp
By

Anonymous, at 11:14 a.m.
amazing show! i'm so glad i managed to snatch a tix on the day of. i agree with everyone else, one of the best shows of the year!
By

knowaolivia, at 2:08 p.m.