Saturday, November 18, 2006

cheer it on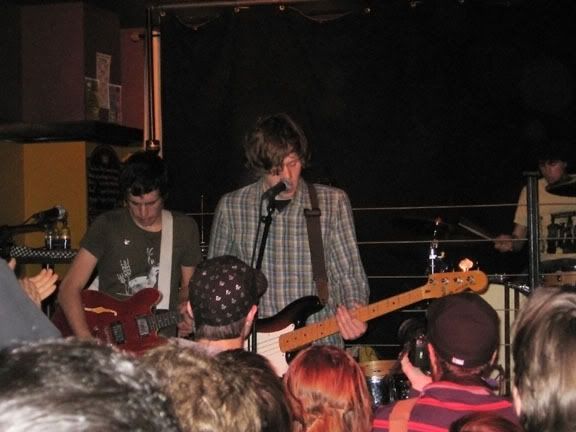 Tokyo Police Club
crammed themselves into the rather cozy confines of the Gallery Lounge last night to play their Vancouver debut. The noisy nature on the
A Lesson in Crime EP
is part of the bands' charm, but the sound was a little too rough last night. That aside, they put on an energetic, albeit short set. Of course, with only one EP under their belt, a brief appearance was to be expected. If you missed last night, it won't be the end of the world, but these guys have to potential for big things in the near future.
Locals
Shukov
opened. They're talented musicians, but I'm not so hot on the atmospheric guitar/breathy vocals combo. I'll leave it at that.
If you were planning on catching
the Decemberists
this weekend, you'll want to make alternate plans, as both tonight and tomorrow's show have been canceled. From Decemberists HQ:
Hello -

I'm sorry to say that the Decemberists have canceled their 11/18 & 11/19 Vancouver shows due to Colin's illness. He's been put on vocal rest to prevent permanent injury to his vocal chords. We hope to reschedule the shows during December and will let you know as soon as we've found suitable dates.

No official word yet on how refunds will be handled, but I'm guessing tickets will be honored at the rescheduled shows or you should be able to visit the Commodore box office for refunds.

Dawn the Manager
The dates have been rescheduled for December 13th/14th (respectively) and tickets to this weekends shows will be honoured on the new dates (again respectively). Alternately, refunds can still be obtained at your point of purchase. (thanks to everyone who sent me that, and to
Hanson
who tracked down the reasoning behind the postponements)
You Ain't No Picasso
points us to
Minty Fresh
, who are giving away a free EP by
the Prototypes
.
No Luck Club
is at the Media Club on November 25th to celebrate the release of their second LP.
Calamalka
and
Mary Ancheta
support.
An update on the Leeroy Stagger openers...
The Filigrees
also open on the 24th and
Indio Saravanja
opens both nights. If you're keeping track, that's a lot of music that you could
see for free
now playing: Pink Mountaintops - New Drug Queens
1 Comments:
Just returned from a disappointing and entirely surprising trip to Vancouver from Bellingham just to see the Decemberists. We were pretty sore not to have received any advanced notice, lucky to get out of some of our hotel room cost and totally losing the great buzz from alpha sushi and some stoli in the hotel. We drove home in silence, and will return in December, still excited fans though tonight, terribly embittered. At least we got to go to Hon's and Lush. An email, some notice on the commodore website, anything? :(
Get Well to Colin.
By

Hapes, at 12:25 a.m.