Sunday, April 29, 2007

anything but disco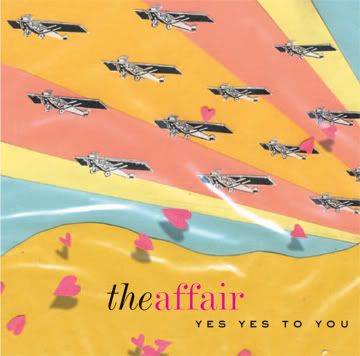 Promo Pile: Vol. 3
The Affair
-
Yes Yes to You
I think the
Buddyhead MP3 Blog
was the first thing that tipped me off about the Affair. I can't remember exactly when they posted about the NYC band, but I do know that I had three mp3s kicking around on my hard drive for about a year before they finally released their debut full-length,
Yes Yes to You
in January.
The band isn't exactly trying to break new ground with their new new-wave sound, but what they lack in originality they make up for with tunes, and the latter is often better than forced novelty anyhow. The Affair's also been blessed with quite the singer, and even if you're sick of "throwback" bands, you'll want to give them a chance because of Kali Holloway. In a track review for the Tyee, I think I said something about her having Debbie Harry's attitude and Ronnie Spector's pipes, and I stand by that. The songs on
Yes Yes to You
are bursting with girl group leads, but also boast lyrics with enough modern wit to make the Velvettes blush collectively.
The only thing about this record that rubs me the wrong way is the production. The vocals are pushed up to the front and sound great, the drums sound nicer, and the guitar has some extra "umph." But the keyboard has gone from having this really smooth and appropriately vintage sound to a much sharper casio kind of tone. It's still a great album, but I found that a little disappointing (check it out for yourself below).
download: the Affair -
Andy
(from
Yes Yes to You
via
theaffairnyc.com
)
download: the Affair -
Undressed, Undercover (Demo Version of "Andy")
now playing: Bjork - Earth Intruders (Spank Rock Remix)
Labels: promo pile, the affair
0 Comments: