Sunday, June 10, 2007

warm it up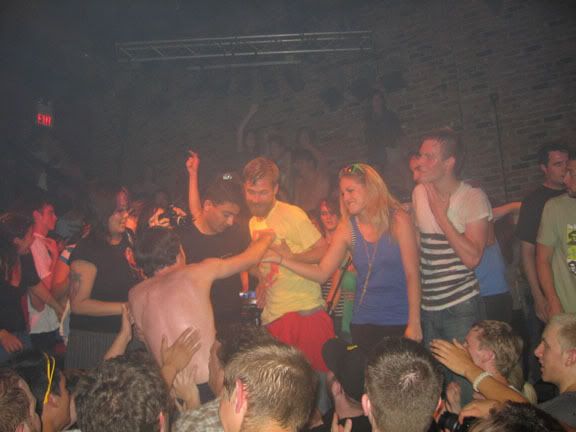 To quote the infinite wisdom of Sean Orr, when you looked out at the crowd at last night's
Girl Talk
show it was like "Vancouver woke up from its coma." Honestly, it was nuts. I've seen my fair share of shows in our fair city in the last decade or so, but I've never seen anything like last night. I didn't get to Richard's until Girl Talk (aka Gregg Gillis) had already been rocking the venue for 2-3 songs, which was all it took for the stage to get packed with people. In fact, when I was getting ID'd the security were having a mini-powwow about just what the hell they were going to do about the situation (which was apparently to threaten to shut the show down). If every Vancouver crowd came ready to party half as hard as this, we'd quickly lose our reputation for being masters of standing stock still.
The performance itself was a bit weird. From a musicianship perspective, it was probably one of the least impressive things I've seen in my life. It was a guy with a laptop and a mouse, who would occasionally talk into a microphone, and was really good at fiddling with Ableton Live (or some similar program). But from a showmanship perspective it was bloody amazing. I don't think I've ever seen a DJ (or anyone, for that matter) rock a crowd so well. And to top it off, while he came across completely comfortable and confident, he was also instantly affable. Since I stole a quote from Sean already, I'll quote Mike from
ChalkedUp
as well, who put it best when he noted that the performance was like "watching one of your best buddies just kill it."
And dude fucking killed it.
I missed Datarock (3 people have said this was a mistake and 2 said it definitely wasn't) because I was at the Media Club to catch Liz from
Land of Talk
's solo set. The trio became one last night because of some visa issues with their new drummer, Eric (he's Canadian, but if he came back to Canada right now, he wouldn't be able to get back into the US for the rest of the tour). She told me after that she wasn't all that keen on the prospect of playing by herself, and while I like the band just the way that they are, it was a cool - and rare - treat to see her play some songs (new and old) solo. It was a completely different atmosphere from the Girl Talk show, but I enjoyed the opposite combination of very wonderful musicianship and very understated showmanship just as much.
I spotted
FirmDragon
with his camera (but didn't get a chance to say hello), so keep any eye on
DimeaDozen
and his tape might show up some time.
I also managed to catch one Music Waste set. I made it down to Hoko's in time to see
the Public or the Press
. They were okay at doing what they do, but the new-new-wave thing isn't an original enough thing to set them apart from anyone.
now playing: Spoon - Finer Feelings
Labels: girl talk, land of talk, music waste, show recaps
6 Comments:
Datarock definitely had the crowd moving... a good measure of success in my opinion.

Not sure if I'd go see 'em headline though.

- Rob
By

Best Friends, at 8:13 p.m.
a few girl talk pics here:

http://versus-3.blogspot.com/

- Rob O.
By

Best Friends, at 8:18 p.m.
Hate to spoil the optimism, but wtf was up with the Richard's bouncers? Its like they smelled fun and pounced. Dicks at dicks. And did you see the one dude at the end of the show? Grrr...
By

Sean Orr, at 12:00 a.m.
I was still standing beside you at that point I think... and I completely agree.
I cannot believe I missed this show. There is something wrong with my brain.
Datarock made me want to kill myself. The guy actually said something about starting a "new-rave revolution." Worst shit ever. I had to leave and get mega stoned. Thanks to God I came back. Best Saturday in this city EVER.