Saturday, June 09, 2007

rock n roll on the floor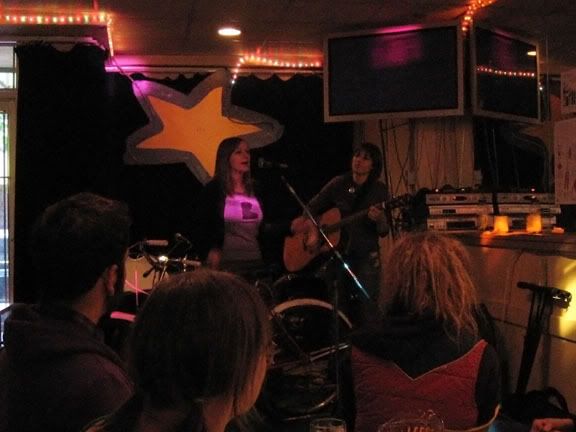 Music Waste: Night Two
I started the evening off by seeing
Old Phoebe
at Hoko's. I'll say right up front that my friend Jamie plays in the band. And while I think my fondness for their super lo-fi pop songs is genuine, you can keep my bias in mind if you want. They're on a hiatus after they open for Immaculate Machine in Nanaimo next week though, so you won't have a chance to judge for yourself anyhow. On a Hoko's side note, who sneaks booze in there (prompting the "if you BYOB we will kick you out!" signs all over)? It's $3 for a pint, you cheap fucks.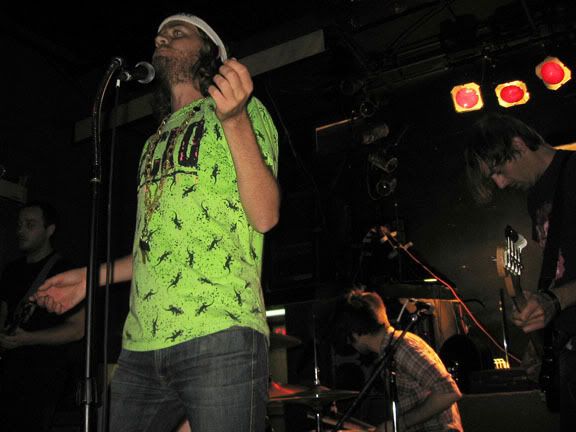 After duetting with my friend Aleks on Human League's "Don't You Want Me" (Hoko's is a karaoke joint after all), I walked over to the Balmoral in time to catch the end of
N213
(which I wasn't feeling all that much) and
Taxes
. Taxes could probably get by on Sean Orr's stage banter alone (he even brought an ice pack), but happily the music's pretty damn good too. They have that same dancey, post-punk feel that two of my former local favourites - the Red Light Sting and Blue Grey Dots - had, albeit without the keyboards and they're a little more sprawling and experimental than the latter. I can see these guys quickly becoming one of my favourite local acts, so do yourself a favour and check them out soon. And speaking of the Red Light Sting, Gregory Adams interviewed Sean for
the Surrey Now
. No joke. They're playing out in Abby with Winning on June 15th, and a little closer to home on June 22nd, when they're at the Cobalt with Death Rays and either Sun Arise or the People Verses (Death Rays' Myspace says one thing, Taxes' says another).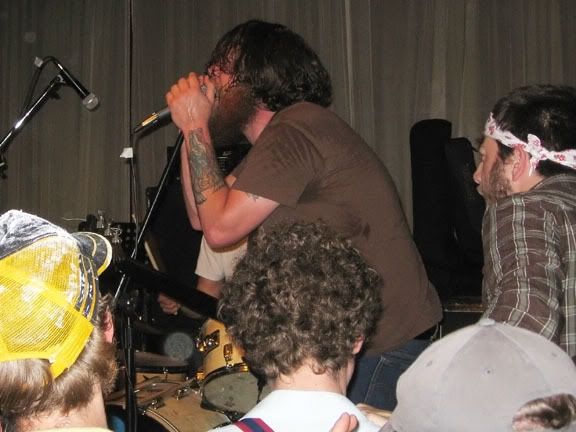 Because the Balmoral was a bit behind schedule, I missed
White Lung
(although they might be added to the NCRC Go Your Own Waste Show on Monday) at the Royal Unicorn, but made it in time to see
Bison
. I don't talk a lot about metal here, but that doesn't mean I'm not into it. And the brand of metal that Bison is serving up is the type of metal that gets me going. Definitely the set of the fest for me so far. "Wartime" blew my mind live. Catch them on the 28th with 3 Inches and Jaws or at 4pm today at the Sweatshop (1820 Pandora) for an all-ager Skate for Cancer Benefit.
Animal Collective
are at the Commodore on September 15th.
Spoon
are at the Commodore on September 7th. Wolf Parade fans who like Spoon more, but already have Wolf Parade tickets are unhappy campers right now.
Thanks to the numerous people who emailed/commented with info on the last two.
Robert Dayton's new project,
the Hallmark Group
is at the Western Front on June 15th with
Abernethy
and 011.
Timbaland
is opening the JT show. I'm currently putting the chances of a Nelly Furtado cameo at 3-1. (thanks to Mike for the heads up)
Wilco just released some more dates on the
Sky Blue Sky
tour. No Vancouver date yet, but there's 6 days off between the Peg and Seattle, so cross your fingers.
Via
Rob
, ILM presents
LOL80's
.
And last, but certainly not least, even though their new drummer can't cross into Canada and cross back into the US because of Visa issues,
Land of Talk
are opening for the Rosebuds tonight. Liz is hitting town by herself to do a solo set! I plan on catching this before heading over to Girl Talk, so no Music Waste for me tonight.
now playing: Bison - Wartime
Labels: music waste, show announcements, show recaps
5 Comments:
Hoko's is notorious for watering down their cocktails and hi-balls. I'd BYOB too or else I'd never get drunk!
just sayin.
By

Jessi, at 7:25 p.m.
comprehensive! I wish I had the stamina to take pictures and blog about everything as faithfully as you. I think you do Taxes a bit of a disservice, though, by labelling them a post-punk dance band. I think their ties are closer to the dominant punk style around the turn of the '00's, before the disco punk thing really blew up. As in, they play mathy, beefy post-hardcore that I'd compare to Frodus, or a more straightforward Refused, or even a less misanthropic Jesus Lizard. Maybe even At the Drive-In or Les Savy Fav. Steve and Al have been playing together since the WPP, and Rick (ex-Cadeaux, Golden Phoenix) is just really, really good. Ain't no dance-punk band hereabouts with chops like these guys. I'm stoked to see them some more! Apparently they're talking about putting out a cassette soon-ish.
if by stamina you mean geekery, you would be correct... and i think i may have come across differently than i'd intended re: taxes. i like to dance to some pretty spastic stuff, so i wasn't trying to compare them to the rapture or anything. though the AtDI or LSF nods, i would totally agree with... i always thought the Red Light Sting sort of sounded like that too.
Thanks so much for coming to the show guys, and thanks for the words. Vancouver owes a lot to both of you.

I hope we're hard to pin down. I mean, Christopher Alex Olson (updateable mixtape) said we were like a detuned, pitched down Arab on Radar. Then again I here a more Constantines feel to the music. So...
If you actually watched us make drinks, just like any other establishment, if you order a highball or cocktail, it's ONE OUNCE of liquor. No matter how much water or pop or juice you put into it, it's still ONE OUNCE of liquor. If you order a double it's TWO OUNCES of liquor. Dilution people, dilution - if you want to taste the alcohol and get super drunk, order a SHOT. If you don't want ice say so, but you'll just be drinking ONE OUNCE of alcohol in a shitload of juice/pop.
By

Katie, at 11:51 a.m.