Wednesday, May 30, 2007

blown away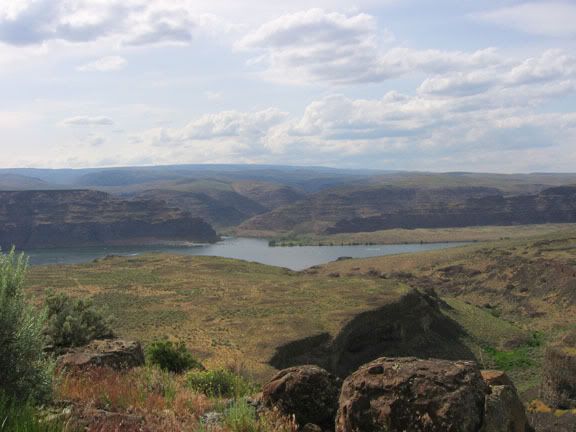 Now that I've had a couple days to recover, here's a bit of a
Sasquatch
recap. The line up wasn't near as good as the last couple of years, but if there's a better way to spend the last weekend in May, I have yet to find it.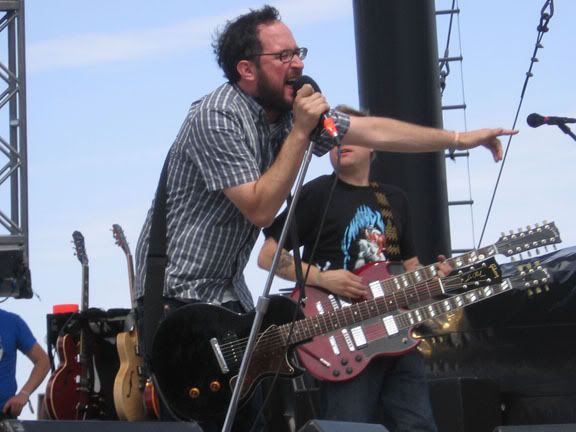 I managed to get through the gates at the Gorge in time to catch
the Hold Steady
. If you come here with any regularity, you know that I'm a huge fan of the band. And despite being unable to pull off the somewhat foolhardy drunken plan to pass Craig Finn a beer with "Play Positive Jam!" written on it, there was certainly nothing to be disappointed about. (It honestly seemed like a great way to request a song at the time.)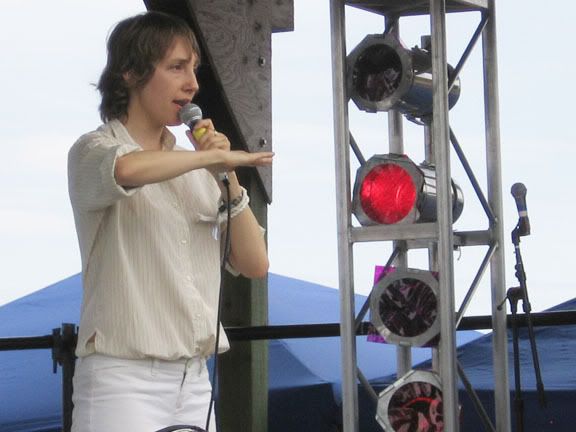 After the Hold Steady I forced a couple friends to book it up the hill with me to catch
the Blow
at the Yeti Stage.
Paper Television
was one of my favourite albums of last year, and I'm happy to say that Khaela Maricich's performance lived up to my rather high expectations. She just sang over pre-recorded beats, but what she lacked in instrumentation, she more than made up for with charisma. In fact, I'm not embarrassed to admit that I now have a 14 year old girl reading
YM
style crush on her.
I went from the Blow on a bit of a whirlwind tour of the stages, hitting up parts of
Viva Voce
,
Electrelane
,
Neko Case
, and
Ghostland Observatory
. Most of it is a haze of hurrying between stages and stopping to consume more overpriced beer.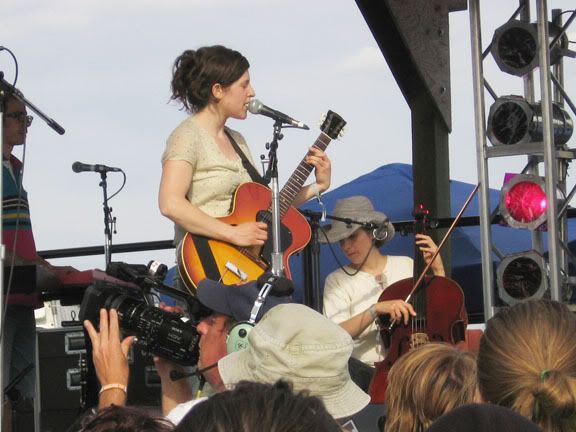 The next set I caught (almost) in full was
Mirah's
performance on the Yeti Stage. Her new LP leaked last week, and while I'm really keen on
Advisory Committee
and
C'mon Miracle
, I can't say that the forthcoming record has tickled my fancy at all. Luckily (at least for me) she pulled mostly from her back catalogue. I had some friends who thought she was a bit boring, but being able to hear "Cold Cold Water" and "We're Both So Sorry" live was enough to impress me.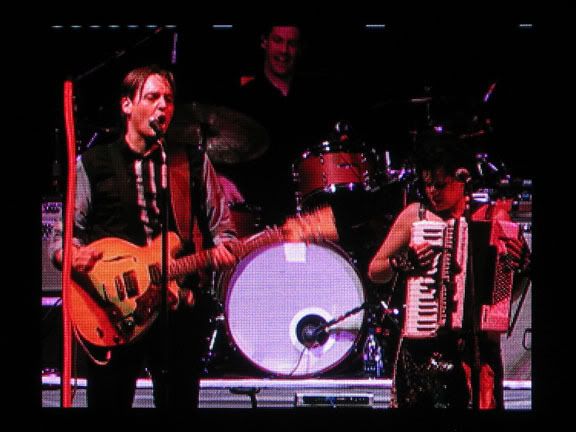 I spent the time between Mirah and
Arcade Fire
milling about and napping, before heading down to the floor in front of the mainstage for Montreal's best export since smoked meat. I think most people will agree that
Neon Bible
is a step back from
Funeral
, so it's even more amazing that they were even better than last time I saw them (at Sasquatch 2005, when they were one of, if not the best performer). The new stuff sounded better in the flesh, but you'd be crazy if you pointed to anything but
Funeral's
strongest tracks as the absolute highlights. By the time they got to "Rebellion" it was pretty clear that it was going to be one of the best sets of the fest, and the closing rendition of "Wake Up" was awesome.
With all due respect to any die-hard
Bjork
fans out there, I took in the elven Icelander's set from further back on the hill. I also fell asleep during part of her set. I will say that the opening performance of "Earth Intruders" was pretty amazing, and I regained consciousness in time to catch my favourite Bjork tune ("Army of Me"). As I noted in my VFest recap, I'm also a sucker for anyone who shoots flames several stories into the air. Apparently we missed lasers when we made and early dash back to camp as well.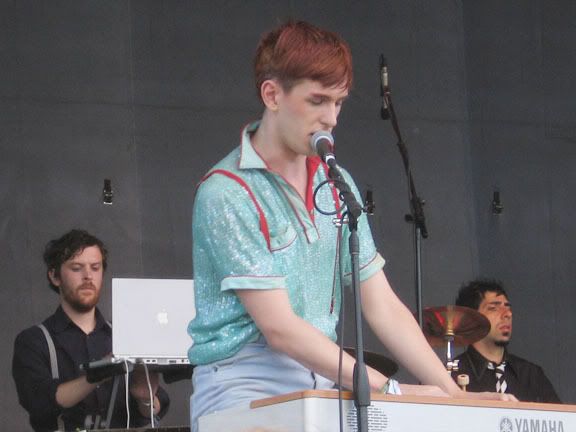 My day 2 started quite a bit later than the first day, and thanks to taking extra time to relax at our campsite, and then a ridiculously long wait to get in to the venue, we made it in just in time to catch
Patrick Wolf
.
As an aside, it took so long to get inside because they were slightly more thorough with the searches. That being said, the searches were still so half-assed that you could have snuck anything you wanted inside. If you intend to hold up the line for the sake of security, at least make it somewhat worthwhile. I loved the fact that they were checking in people's cigarette boxes, presumably for joints, but I pulled a full bottle of pills out of my bag and the guy at the gate didn't bat an eyelash. Granted, all I had was some Advil, but I'm just as likely (if not more so) to have drugs in that as someone with a pack of smokes. But I digress.
I haven't really paid much attention to Patrick Wolf in the past. His first couple of albums didn't really do it for me, and while I'm way more into the new one, I haven't had a chance to give it too many spins yet. For that reason, I'd have to say that he was the most pleasant surprise of the weekend. My friend quipped that he was "like Owen Pallett, but gay." And while that really doesn't make sense, in another way it makes so much sense. "Accident and Emergency" sounded like it was pulled straight from some electroclash cabaret. Y'know, if the concept of an "electroclash cabaret" was totally mindblowing.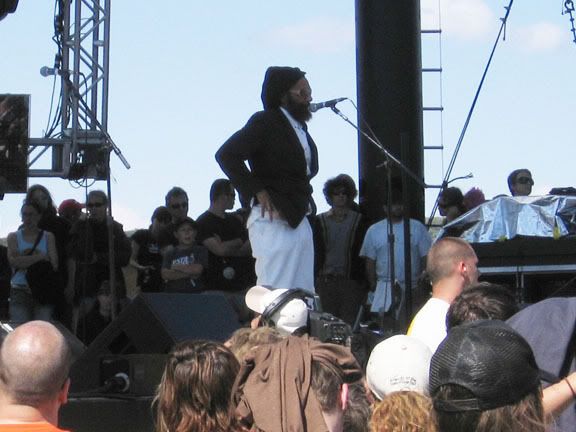 I was pretty psyched about the prospect of seeing
Bad Brains
, but in all honesty, they were sort of boring. HR mostly stood fairly still, and there was a bit too much of the band's reggae influence on display for my liking.
If you were at
last year's festival
, you will most definitely remember when the weather took centre stage, and unfortunately during
the Polyphonic Spree's
set, Mother Nature decided to snag the spotlight again. Part way through their set, the winds kicked up so strongly that the band had to stop playing. The lighting rigs were getting whipped around so hard that there was a worry that they might come down. After the Spree were shooed off stage, there was a delay of several hours as they simultaneously waited for the wind to die down and solve the lighting problem. The result was the Polyphonic Spree opening up their "exclusive" after hours show (it was originally only for wristband holders who let some Verizon Wireless guy give them a schpeel about new cell phones), Michael Franti being moved to the Wookie Stage, and Spoon being pushed back. I had no interest in sitting through Michael Franti when there was nothing else to see, so the rescheduling was actually fine by me.
On a side note, the Polyphonic Spree's decision to dump their "we're in a cult, please drink our kool-aid" uniforms to new duds that are more than vaguely reminiscent of the SS is an even worse fashion decision than dumping your ugg boots for crocs.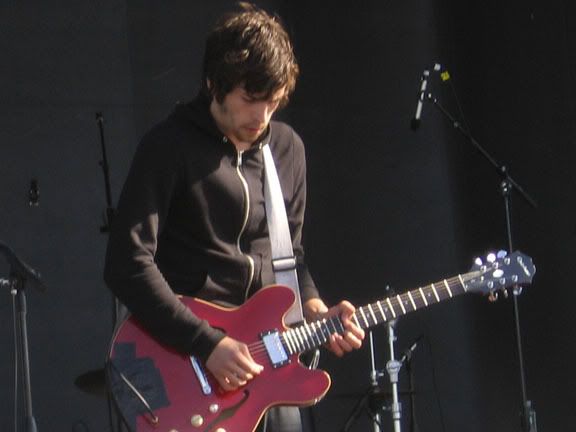 During the ensuing mainstage delay, I made it up to the Wookie stage to catch
Tokyo Police Club
. They rep'd for Canada, putting in one of the better sets that I caught all weekend, and happily the sound was actually better (despite the weather issues) than when I saw them out at UBC last year.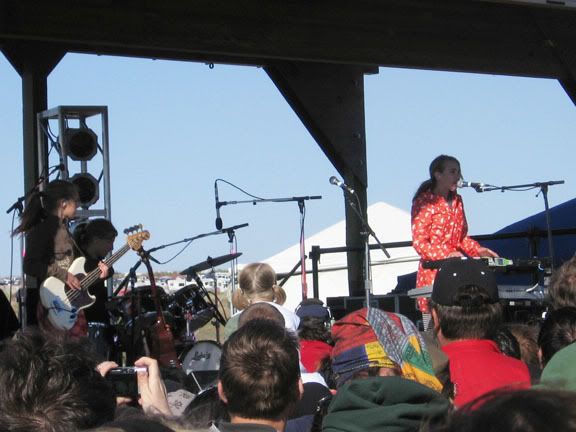 Smoosh
! I read some preview of the show that complained that "nobody likes the sound of a 15-year old girl's voice." I think it might have been in the
the Stranger
. To that I say, nobody likes your shitty, cynical music criticism... except maybe people who hate other adorable things like
lolcats
. After hearing their Bloc Party cover again, I may also go out on the unpopular limb and say that it's better than Final Fantasy's.
After checking on the progress over at the mainstage, I caught some of
the Black Angels
' set from afar. I totally dig what they're serving up, but a bright afternoon in May is about as far from the ideal setting to see the band that you can get.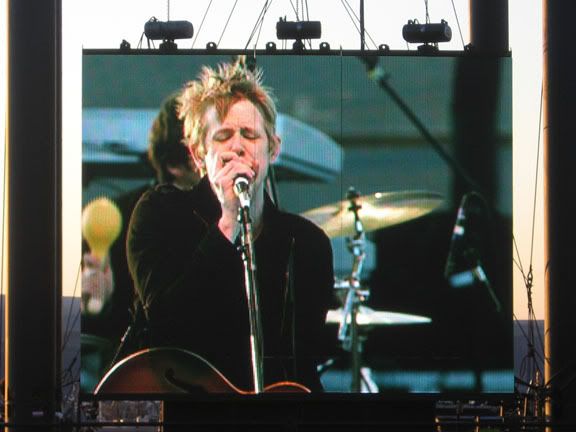 We were waiting around (begrudgingly in my case) to catch the
Dandy Warhols
when we got wind (by that I mean literally hearing them line check because the wind was blowing from the mainstage) that
Spoon
might actually be on soon. I hung around until they played "We Used to Be Friends" two songs in and booked it over to see Britt Daniel and co, who had just torn into "The Way We Get By." Speaking of Britt, there was nary a word out of him, but what they lacked in talk, they more than made up for in rock. "The Way We Get By" and "I Turn My Camera On" were predictable crowd favourites, but the set was solid through and through.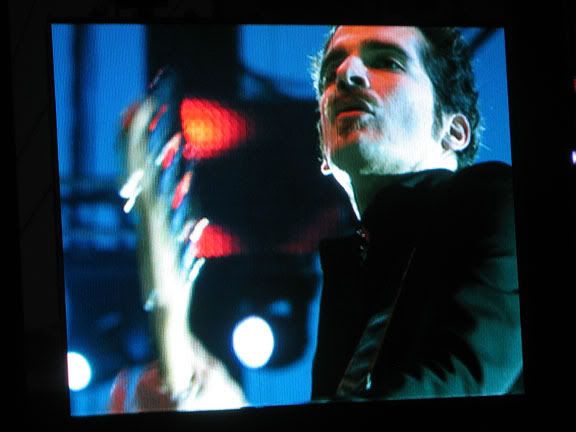 By the time
Interpol
made their entrance the wind chill had made it feel more like October in Kelowna instead of George in May, and my comrades and I made a quick retreat about five songs into the band's set. I haven't seen them since their first show in Vancouver quite a few years ago, but after getting a bit of a refresher I didn't feel like I was missing much when we opted to escape the cold instead of sticking around (well, except for the Beastie Boys, but despite the fact that they're pretty stellar live, once Beastie's live experience in the last couple of years is enough for me).
Side notes...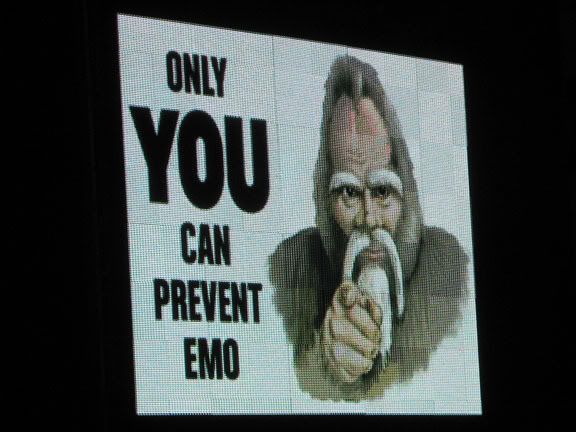 true story.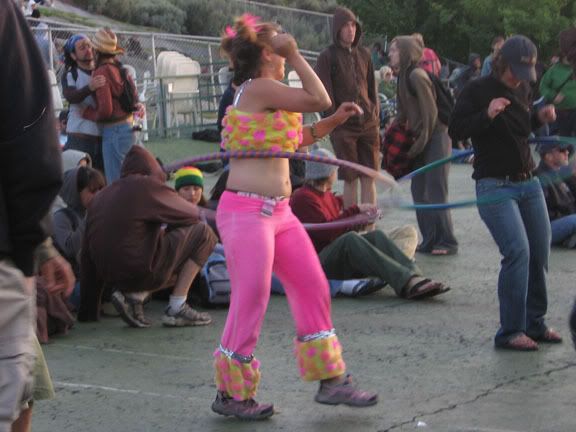 Despite the fact that it doesn't look like it in the photo, it was absolutely frigid when I took this shot. Is it stupid outfits or hulahoops that prevent your body from getting hypothermia? Or drugs maybe. My bet is on the drugs.
Finally, I must give a big thank you to my friend Josh, who recommended that I stay at
Wild Horse Campground
instead of the Gorge campsite (read: like Arts County Fair, but overnight - translation: gross). It was an amazing place to camp, and I highly recommend booking early and staying there if you plan to head to the Gorge for Sasquatch 2008 (or anything for that matter). Everything about it was great, but the food in particular was awesome. I haven't eaten a lot of red meat in the last 5 years, but when I have it hasn't made me regret the lack of beef in my diet. That being said, I think I'm looking forward to the Campground's "Wild Burger" as much as I'm looking forward to next year's festival. This probably seems totally trivial to most of you, but seriously, it was the best burger I've had in my life.
now playing: the Affair - Andy
Labels: sasquatch, show recaps
8 Comments:
but owen pallett is gay. or is that why it doesn't make sense...?
By

Anonymous, at 1:28 p.m.
That's what I was getting at, yeah.
thanks for the acknowledgement. Wild Horse burgers rule.

I have to take issue with comment about Neon Bible being "a step back from Funeral" -- that's just insane, man!!! NB is the best album released in the last 2 years, in my opinion.
sounds like it was fun. I want to push my dodge off a cliff for it preventing us from going.

Nice reporting/pictures.

-Gord
By

Gord, at 10:28 p.m.
looks like your experience was very similar to mine -- even down to skipping the beasties -- except i didn't catch the univerally-praised patrick wolf set because i was protecting our spot on the hill from hippies and douchebag encroachers
Ghostland Observatory was totally the performace of the festival for me, even though it was a sunny afternoon their performance was really a performance. And i know you saw what I saw you weren't that far infront of me.
By

Anonymous, at 2:31 a.m.
Sunday searches was so lax that we were able to sneak in several beers, a fair share of gin, joints and five, yes five LITERS of wine!

God I love Sasquatch!

Highlight sets for me were mostly on Sunday, despite Ghostland, the amazing AF and Bjork shows (By the way, Neon Bible becomes more of a step up from Funeral every time I hear it.. I'm with you McNorton).

Patrick Wolf was great fun, Spoon was solid and Beastie Boys were pretty much mind blowing. Too bad that Interpol was such a snooze.

Wild Horse is the best! God among campsites.
Thanks for the solid reporting on Sasquatch. I was there, but it was fun to re-live it through someone else's words. Interpol was the biggest let down (did anyone else think Paul sounded like shit?) and both Beastie sets/Arcade Fire exceeded expectations.
I couldn't believe how many props we got for being Canadian from fellow campers/festival goers.
Can't wait for next year.
By

Jessi, at 4:23 p.m.