Tuesday, August 21, 2007

maybe all i need is a shot in the arm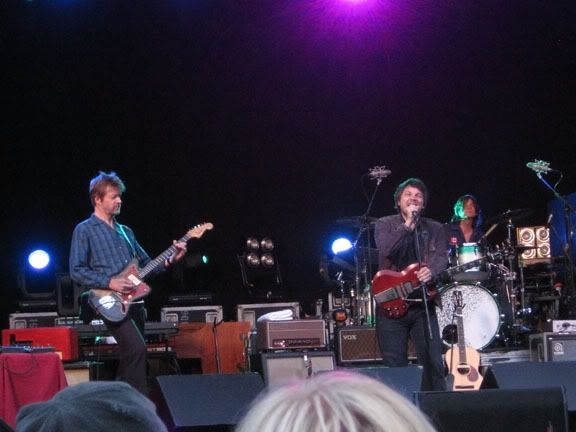 I've probably seen
Wilco
more times than necessary, so it was entirely my own fault that by the time I saw them at Sasquatch in 2005, I was pretty sick of hearing them play the songs off of
Yankee Hotel Foxtrot
. The thing about Wilco is that, despite the fact that they have a huge catalogue, they stick to a very similar setlist for one tour... sometimes for a couple years. I guess there's a reason why normal people are a little bit more choosy about the shows they attend, as the two years between then and last night did wonders to rekindle my interest in the band's live performance.
Even though they're two albums on, the band played quite a bit from
YHF
(everything but "Radio Cure," "Ashes of American Flags," and "Reservations," I think). More exciting for me, they also played a fair number of songs from
Being There
, and dropped "Too Far Apart" into the set for the first time in about seven years.
The band had canceled a couple of dates because Nels Cline came down with a case of chicken pox. If he was still feeling the effects of the affliction - and at his age he would - it certainly wasn't showing. The rest of the band was in equally good spirits, so despite the $45 price tag, there wasn't much to complain about.
Amy Winehouse is blowing off the rest of her tour. And to add to the comment in the last post, word is that she is, in fact, in rehab. Cue every crappy entertainment publication in the Western world running a headline that makes a play on the lyrics to "Rehab." Drink twice if it involves flipping "no, no, no" into "yes, yes, yes."
London Spy
are at the Backstage Lounge on Friday.
Barbizon School Painters
and
the Showgears
support. I had a caesar at the Backstage Lounge the other night and the non-vodka portion of the drink came straight out of the gun in some weird pre-mixed concoction. I recommend ordering a different libation if you find yourself there.
I'm not sure if
this is a joke
or not.
And finally, this isn't music related, but I found it on the
CBC Radio 3 Blog
. That's just
messed up
. I don't know what's more sad: the idea that police might incite a riot just so they can bust the heads of peaceful protesters or that it took CBC Radio 3 to dig it up, while the "real" journalists are busy chasing press releases somewhere.
now playing: Les Savy Fav - Scotchgard the Credit Card
Labels: show announcements, show recaps, wilco
4 Comments:
The YouTube video makes me sick. What kind of country do we live in?
CBC News is covering the story at least
http://www.cbc.ca/canada/montreal/story/2007/08/22/ot-police-070822.html
By

Anonymous, at 5:18 p.m.
Institubes is at Richard's on the 12th, and DJ Klever (The Allies) is at Shine on the 20th. Also, if you wanna hear some dubstep on a proper soundsytem, Youngsta will be at Open Studios for Dubforms 4 on the 8th.
By

Chris, at 1:27 p.m.
the RZA has a chess tournament

Quinn, I suggest you step up.
By

Jordie, at 11:12 a.m.