Saturday, August 11, 2007

we've got more songs than a song convention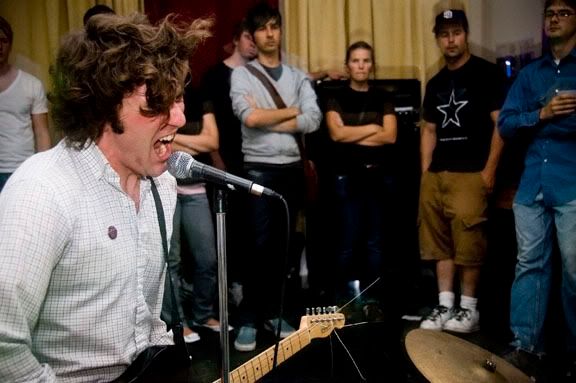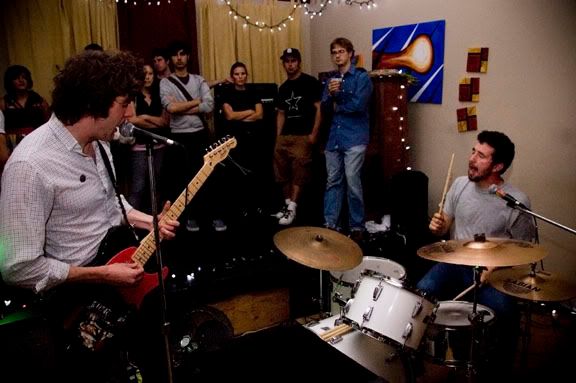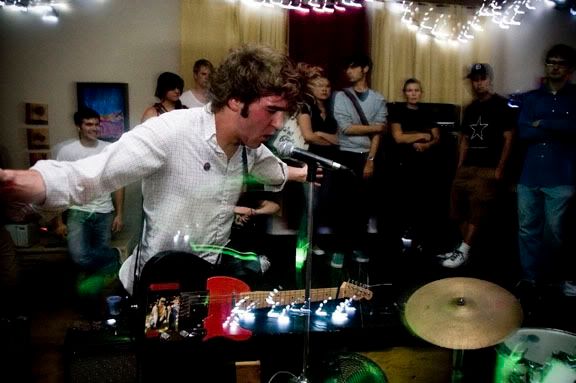 My friend
Luke
took those photos of
Japandroids
, who played at Casa del Artista last night.
I'm of the opinion that they're one of the best new bands to come out of Vancouver in quite awhile, and their set last night didn't do anything to change that opinion. Like Fake Shark Real Zombie (one of my other local favourites), they seem to perform every show like they're trying to reach you in the rafters of a very large venue, instead of the relatively tiny rooms that they usually rock. And like Fake Shark, it doesn't seem contrived or cliche when they're doing it.
Aerosol Constellations
opened the show. They made incredibly soothing music - so much so, that I didn't really realize they had started playing until about 5 minutes into their set. The words "atmospheric" and "textural" should really be synonyms for "suck," but this didn't suck, and those seem like fitting adjectives.
I saw
the Barcelona Chair
for the first time awhile ago and remember being turned off because they were way too loud for Hoko's. Plus, I had missed the boat on ear plugs. Last night the volume level was far more appropriate, and my level of enjoyment went up immensely. They've got a two-piece Godspeed thing going on.
Apologies to the Cape May, but I spent most of their set sitting around outside, so I'll reserve judging the 3 minutes of their set that I saw.
The Fiery Furnaces
are at Richard's on October 15th. I'm more excited for this than anything else that's been announced this summer.
The Shout Out Louds
are at Richard's on October 12th.
Johnossi
and
Nico Vega
open.
The Awkward Stage
is at the Media Club with
Spiral Beach
on August 18th.
Josh Rouse
is at the Plaza on September 24th with
Jason Collett
.
now playing: Mclusky - To Hell With Good Intentions
Labels: aerosol constellations, japandroids, show announcements, show recaps, the barcelona chair
4 Comments:
what's up with everyone in those photos doing the Vancouver-style crossed-arms-I'm-looking-really-bored pose during JPNDRDS?
You sort of answered your own question there, no?
the cape may are amazing. too bad you missed them!
By

Josh, at 10:14 a.m.
'cause that's just what we do, dammit.