Monday, September 17, 2007

through the broken city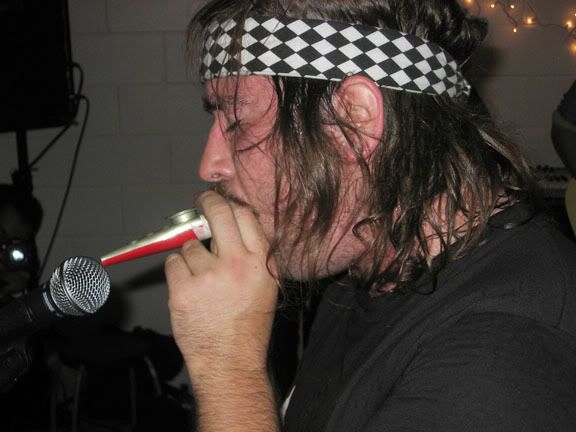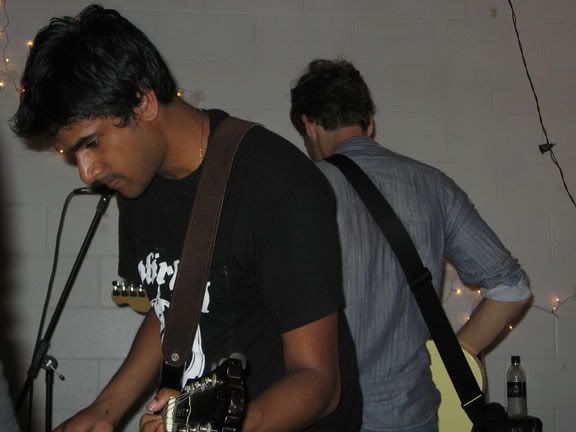 I've always maintained that while I never felt that
Bend Sinister
were my thing, I've always thought that they're extremely talented. There's the old argument about whether "good" music is a subjective or objective thing, and while there's definitely a subjective component to any criticism, I always brought up Bend Sinister as an example of a band that I thought were, objectively speaking, a great band. With that in mind, I also felt like one day I'd be watching them and things would click. I think that day came on Saturday night. They're still a few steps removed from what I usually listen to (Naben once jokingly - or maybe seriously - said that judging by what I listen to, if I liked them, they'd be doing something wrong), but they're set this weekend was immensely enjoyable. So, I guess I have to think of someone else to point to when I make my objective criticism argument, and if Naben reads this while they're on tour he might have to reconsider some of his riffage. It's business as usual for everyone else though.
Sinister singer, Dan Moxon, organized the weekend soiree at
Brad Gough Studios
as the kick-off for their CBC Radio 3 sponsored tour, and I can't think of a better way to celebrate their latest trek across the country. While the place was absolutely packed (by about 10pm), the space was such that it didn't seem as weirdly cramped as gallery shows usually are. Don't get me wrong, the place was stuffed with people, but rather than feeling like it was a show in an art space, it felt like the place was actually designed with performance in mind. The sound system wasn't the most amazing thing in the world, but other than that, you it didn't feel like the music was intruding on somewhere that it didn't usually belong. Hopefully, things went off without any major hitches, and we'll see a few more shows there in future.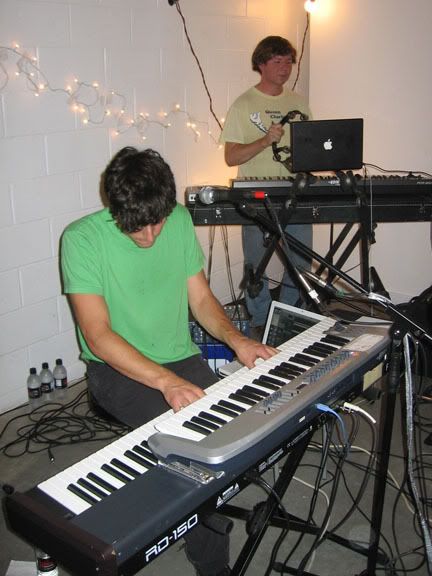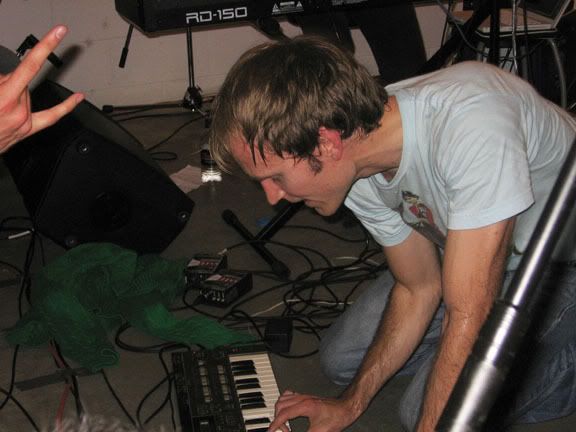 The Clips
, who are out on tour with Bend Sinister for the first half a dozen dates or so, played right before their tour mates, and further cemented themselves as one of my favourite local live acts. Apparently, people were unfortunately still during No Gold's set (which I unfortunately missed), but things definitely got moving once the Clips got going. It was hot as hell inside, but that didn't mean people were holding back at all... it just meant that it got really sweaty in there. And, since the people came to move, the band obliged by sticking almost exclusively to their upbeat numbers, which was just fine by me.
How much am I looking forward to their forthcoming (out Nov. 3rd) full-length? A lot.
After the tour, their next scheduled show is November 29th at the Bourbon (for Blastramp). The equally poptastic,
Good News
are also on the bill... and hey, doubles are four bucks.
I missed No Gold (damnit), because I was interviewing
Bison
over at the Balmoral (woo!). I actually didn't get to catch their set (my original plan was to skip between venues, but the Bend Sinister show was so full there were no ins/outs), but I did take in
Taxes
before heading East. Sean seemed even more animated than usual, and I think the somewhat sparse crowd that was there would agree that they were pretty ace. I'm kicking myself for forgetting to pick up their freshly burned CD-R release, but hopefully they'll have some on hand when they play
Shindig
on October 30th (against Adjective - that one'll be close).
Speaking of
Adjective
, they'll be the guest live act at
Better Than Loneliness
on October 3rd at the Biltmore.
Chromeo
are set to make-up for their canceled show from a few months back on October 4th at Sonar.
The Winks
are back home on November 3rd to play an all-ager at the Ukrainian Hall with
Secret Mommy
,
No Gold
, and
Collapsing Opposites
.
While you may want to head down to the Plaza for Boys Noize on Wednesday night, you should know that
the Makeout
is celebrating it's first birthday at the Unicorn. That's a whole year of Thursday morning hangovers!
I've got an awesome contest to announce tomorrow, so check back/stay tuned/get excited.
Labels: bend sinister, show announcements, show recaps, the clips
2 Comments:
"I'm kicking myself for forgetting to pick up their freshly burned CD-R release, but hopefully they'll have some on hand when they play Shindig on October 30th (against Adjective - that one'll be close)."

I'll get you one bro, just email me.
dude... your blog is amazing. I just read The Clips review now...

See you at their CD Release Party at ANZA.

cheers,
Leigh