Saturday, September 08, 2007

it's getting better all the time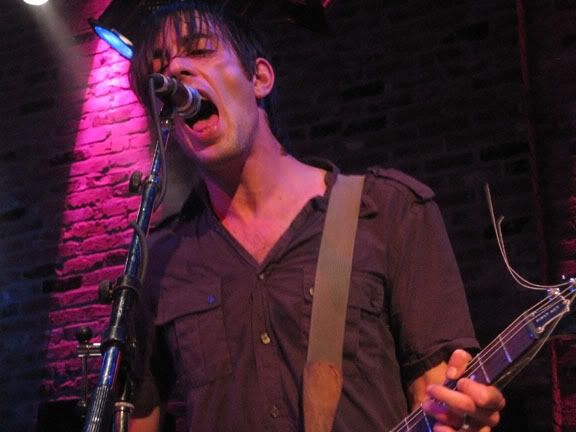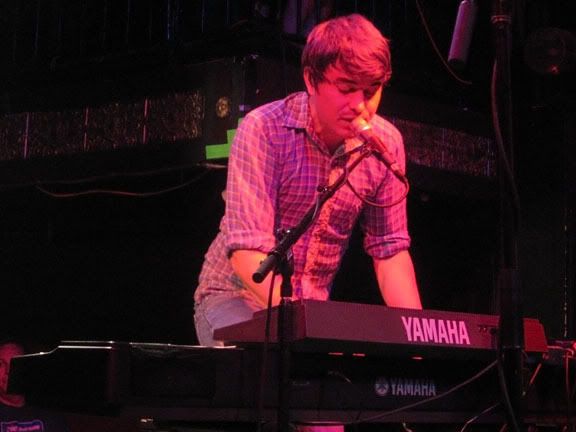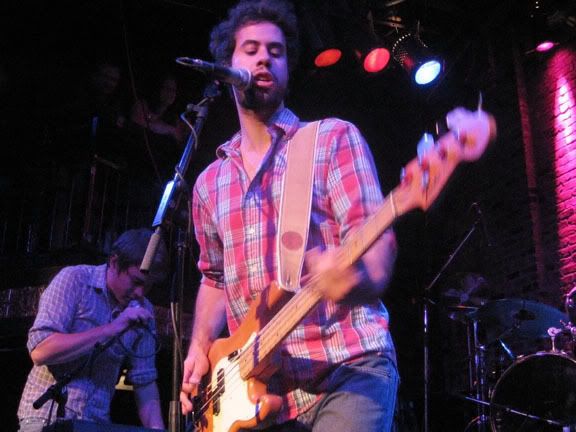 Considering that their show at the Commodore last year sold out in a couple weeks (maybe faster?), it's a bit of a shame that
Wolf Parade
ended up booked into the significantly smaller confines of Richard's last night. Even with Spoon playing the same evening, there were probably more than a few people who got shut out of this one.
The band were in a pretty good mood for a (sort of) homecoming show, and seemed excited to debut a bunch of new tunes. It was, as expected, the older songs that got the best crowd response, but the new songs bode well for the band's forthcoming sophomore full-length. It's hard to pick out a highlight from the main set, but the one-two closing punch of "Shine a Light" and "I'll Believe in Anything" was a pretty fantastic way to close things out.
I stand by what I said about the venue, because it's unfortunate that everyone who wanted to see the show couldn't get in (I imagine it was scheduling thing), but for anyone who was there, it was nice to catch them in a more "intimate" venue. Especially a more intimate venue that isn't a total sweatbox/fire trap (see:
this
).
I got there late, so I didn't catch any of Holy Fuck, save for the tail end of their last song.
Side note: it's perfectly understandable that when people are jostling around a bit at a show, you'll sometimes find that you end up in front/behind someone else, but if you actually go out of your way to barge in front of the two very sweet looking (and also very short) girls, turn around and say "sorry," as if that makes up for it, and then continue to carry on like a bit of a jackass after you blocked their view and nudged them out of the way, you're worse than a jackass. When one of you leaves, the one who remains really shouldn't pull up another friend, so he can once again shove said girls and once again block their view. Also, while I've seen my share of washed up/shitty bands, buying and then wearing a Silverchair t-shirt from their 2007 tour is the equivalent of rocking a Weezer shirt from the
Make Believe
tour. In other words, not the most awesome decision. Although, it is a better decision than feeling up the homely chick that you shoved your way up to the front with. Normally, I wouldn't pick on such things, but if you act like an asshole, you sort of deserve to have the piss taken out of you, no?
exhibit A: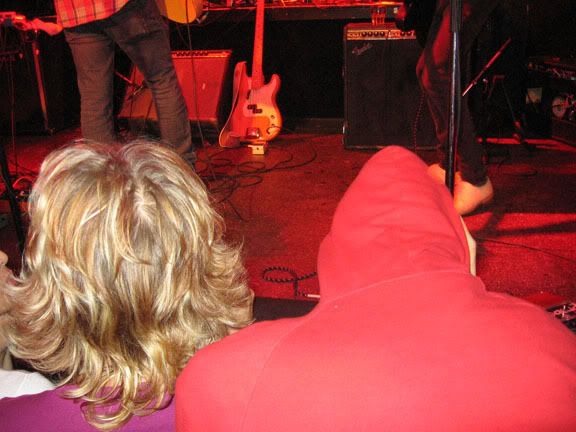 exhibit B: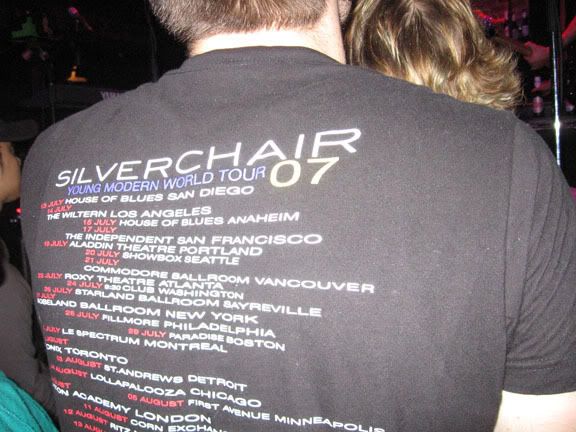 I was late for Wolf Parade, because I dropped by the Welcome Back BBQ at UBC after work. I've got mad respect for
Buck 65
as an artist, but I've never really been that into him personally. I've got to say that he was really impressive live though. Dude knows how to entertain, and while he's not A-trak or anything, he has some decent scratch-dj chops as well.
If you were shut out of Girl Talk the other night, here's what it looked like: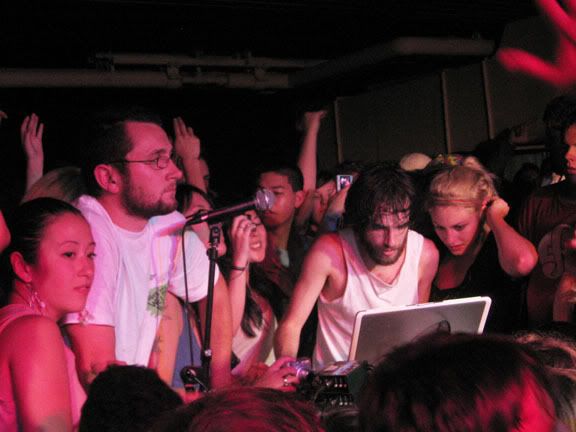 The girl next to Greg Gillis in this photo totally knows the best play that he can make in Scrabulous next... look at the concentration. "I know it shouldn't be a real word but 'qi' totally counts, I swear."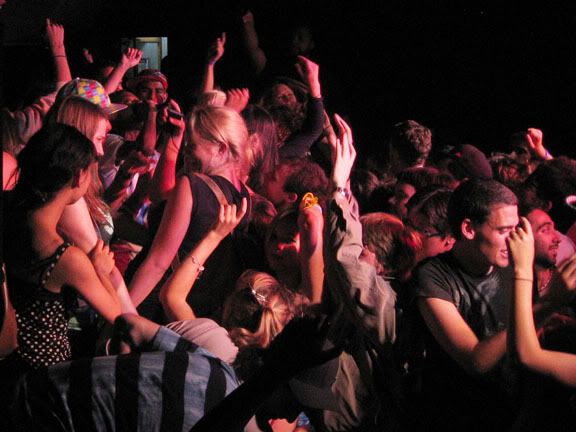 Thunderheist is in there somewhere.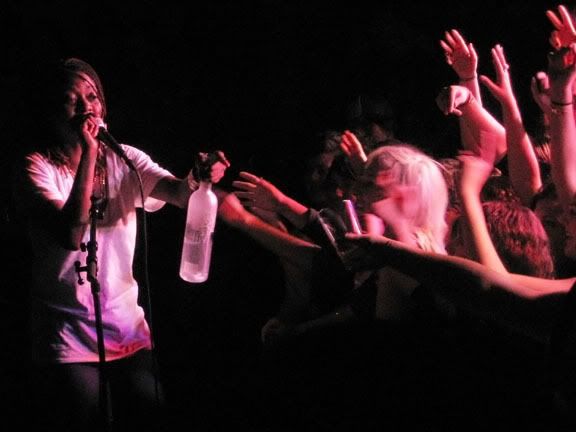 Isis (from TH) pre-stage invasion and pre-extreme intoxication from that bottle of vodka.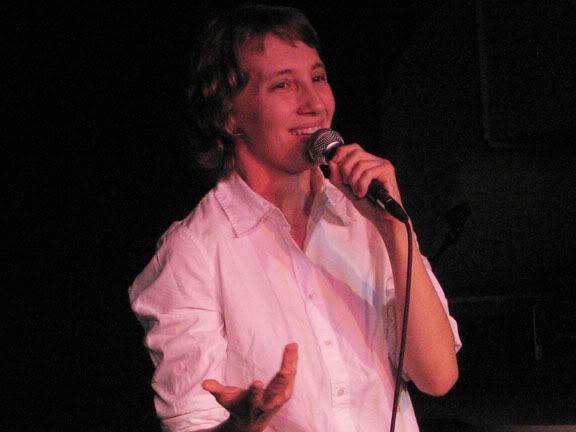 Khaela from the Blow... she's laughing at all the suckers who were buying beer instead of paying attention to her.
I forgot to list it, but I suggest heading down to Abbott St. in Gastown tomorrow sometime between 2pm-8pm for the Livestock Block Party. Check the
details
.
now playing: Spaceman 3 - Che
Labels: girlk talk, show recaps, the blow, thunderheist, wolf parade
6 Comments:
Yes, I definitely did not enjoy the grinding that was happening right beside me.
I heard the last half song of Holy Fuck, and it sounded really good. It's too bad that I forgot about 1/2 alive and came late, thinking it wouldn't have actually started and ended so early..
Here's some pictures (mainly of Dan cause he was closest) and half a video.
By

Cy, at 3:30 p.m.
wasn't the encore, this hearts on fire and i'll believe in anything?

I remember you aptly noting the drop D tuning.
By

Gord., at 3:48 p.m.
it was.

i found it funny that the red hoodie guy who was so adamant about being up front couldn't take the noise level. he looked like he was in a lot of pain.

and quinn you should've went down to library square. Fake shark ended up going on at 12:15? and just because it was a classy establishment doesn't mean FSRZ was on their best behaviour. quite the opposite. :)
By

firmdragon, at 9:08 p.m.
I totally meant "This Heart's On Fire"... I don't know why I wrote "Shine A Light."

And I definitely should've gone to Lib Square. I got a bit sidetracked and then ended up being very tired at Mod Club.

Cy: nice snaps.
By

Quinn, at 10:56 p.m.
i missed buck 65?!?

must admit that i only got tickets to wolf parade because they were playing the 'smaller' richard's, but i thought they were superb on friday and will definitely go see them when they tour the new record
By

giselle, at 9:14 a.m.
That guy was a bit much - But at least he was feeling it.
The wolf were fucking great.
This track sounded thrilleresque:

http://www.trendwhore.ca/media/wolf_parade/2007.08.25%20sala%20rossa/08%20fine%20young%20cannibals.mp3

Called "fine young cannibals"
By

Mr.Unibrows, at 7:14 p.m.