Tuesday, October 16, 2007

i want a restorative beer, to take my mind off these tears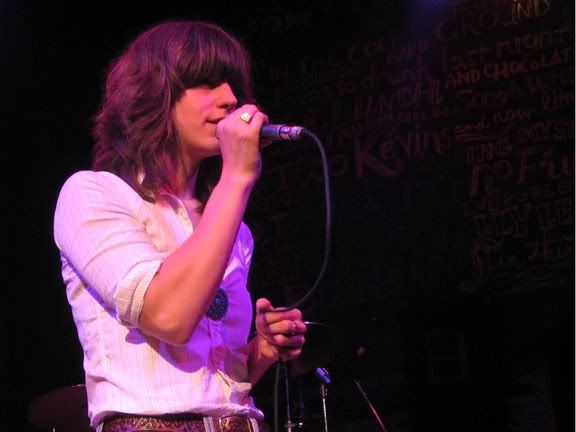 The Fiery Furnaces
were back in town last night, and unlike their visit
last June
they actually brought some keyboards this time (four of them, to be exact). That was probably pleasant news to anyone who was disappointed with the fuzzed out guitar based version of the band that showed up last time they were here, but if you're one of the people who wishes they wouldn't "mess up" their songs in general, you were still out of luck. Fortunately for me, I'm not one of those people.
The Furnaces pulled heavily from their latest,
Widow City
, notably omitting
Blueberry Boat
(entirely I think) from the main set. Some of the songs were fairly faithful to the studio versions, but a lot of them differed substantially, and almost everything was a lot heavier sounding. The entire performance was pretty great, but things really picked up in the encore. After riffing through "Don't Dance Her Down," an admittedly stiff version of "Single Again," and then surging back into "Don't Dance Her Down," they took a request for "Chris Michaels" that totally destroyed. They also took my request for "Waiting to Know You" - it seemed they were a little out of practice on that one - before closing with a great rendition of "Restorative Beer."
This seems like a good time to tell/remind you that
BlueberryBoat.com
is the place to find all things Fiery Furnaces related.
Pit-Er-Pat opened and almost put me to sleep. They had really nice merch though.
The Clips
CD release show is now on November 1st at the ANZA Club. Small Fame and
the Paper Cranes
support, and DJs will rock your body late into the evening afterward.
TI was scheduled to play at Plush on November 7th for a ridiculously high fee.
But then he got himself arrested on a federal charge.
No official word yet, but I'll give you 100-1 odds that it's canceled soon. (thanks Chris)
Bison
is at the Cobalt on Halloween with Crowbra, OSK, ESDS, and
Cryptos
. (thanks Rob)
Stereogum
has the details about a forthcoming record of Mark Szabo covers by the Choir Practice's Marcy Emery. They've also got an mp3 of a track that Dan Bejar sings on. Check out
this old Discorder interview
that Christa Min did with Mark on the verge of Capozzi Park's break up... seems the record idea's been kicking around for awhile.
Since I'm not judging Shindig for the rest of the year: go, Japandroids!
And finally,
Ticketmaster
is suing scalpers who use software that let's them beat TMs own ticket system, which "denies consumers the opportunity to purchase tickets to events at a fair price." This is the music business equivalent of the US calling out other countries about WMD.
Labels: show announcements, show recaps, the fiery furnaces
2 Comments:
Sorry for the short notice but I wanted to mention:

Murray Atkinson, Hey Ocean!, Lotus Child, The Wassabi Collective, Freeflow and DJ Jesse James play The Plaza Club this Thursday Oct 18.
Doors 8pm, and tickets $15 in advance (from Zulu and Scratch) and $20 at the door, and proceeds go towards Oxfam Canada's efforts to make poverty history (event's called Music4Change - Party against Poverty).

http://www.clubzone.com/events/event68128.html

Peace

Mark
By

Anonymous, at 4:26 PM
^ thanks for the heads up. Wassabi are great live.

Confirming that T.I show is cancelled.

=====
RELEASED from T.I.'s Management: Monday, October 15th, 2007
=====

Due to circumstances beyond our control, the upcoming T.I. vs T.I.P. tour has been cancelled.

It comes with great regret that we have to cancel this tour, as we had been working on making it happen for over a year.

Although yet to be found guilty of any crime, we felt it in our best interest to cancel this tour instead of progressing forward and possibly face other problems.

Our support is with T.I. in this time of need, and we hope justice prevails and he will be exhonorated. Until then, we have no choice but to cancel the tour.

===
TICKET REFUNDS:
===

Please go back to the same location (Tickmaster or private seller) where you originally purchased your tickets from. Full refund would be given back.

Any concerns, please email us at infoatsolid-corporation.com

Regards,
Solid Management
By

Anonymous, at 4:59 PM