Wednesday, March 26, 2008

get off the internet
A bunch of shows got announced, but I think I'll just stick with recapping the weekend for now, ok? Ok.
I was kind of busy, hence no internerding...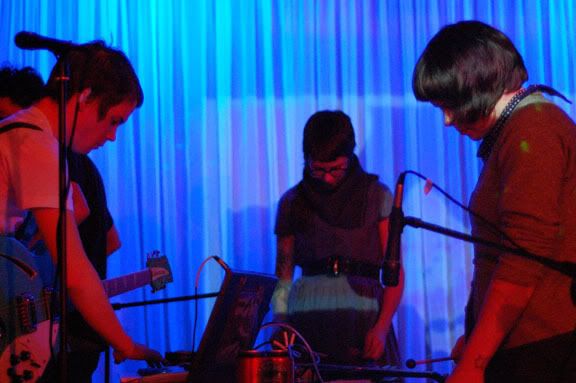 On Thursday, I made it down to the Unicorn to catch
Secret Mommy
headlining
Technotown Boogiedown
. They were great as usual.
Montag
opened up. And while, I was pretty impressed with the recorded material that I've heard by him, I was thinking that he'd be a little too low key for the evening. He was low key, but he was also very good. Pleasant surprise of the evening for sure.
Although, with that said,
Colby Sparks
was also a pretty pleasant surprise. He was the most traditional fit on the bill of a monthly electronic showcase, and his stuff sort of reminded me of Atari Teenage Riot, minus the political sloganeering.
The next morning, I woke up hungover and hit the I5 down to Seattle (while miraculously avoiding the reported 3 hour border waits) to see the
Boredoms
. To put it succinctly, they blew my mind. No pics, since I forgot my camera and since they also didn't allow any in the venue, which is a shame, because they had some ridiculously awesome contraptions (not to mention 3[!] drummers up on stage with them). If you get the chance, go see them, even if it's a bit of a trek.
On Saturday, I was back home and sort of exhausted, but I made it to the Peanut Gallery to catch
White Lung
's return to the stage (or in this case, art space floor). They seemed a touch rusty, but it was still a nice homecoming. Plus, a rusty White Lung is still better than a practiced anybody - or, at least, almost anybody - in my books.
Vapid
opened up. It was actually my first time seeing them, which is surprising. Good stuff. I'd want to check them out again before forming a proper opinion though.
Sunday saw the
Fake Shark-Real Zombie
CD release show at No Tofu. I'd only ever been there for events that didn't involve live bands. The space is a bit weird for a show, but the band were their usual entertaining selves. Their formerly Japan-only debut,
Zebra! Zebra!
is available at HMVs across canada for $11 right now. That, my friends, is a steal.
I spent the rest of my (extra) long weekend in Victoria with
my friend Neil
and the
DNGROUS ADDRESS
ladies (whose videos you might recognize from various shows/dance parties), but none of that really relates to here.
As mentioned, a whole bunch of show announcements tomorrow, and I'll clean up the sidebar as well. In the meantime, book off work and start planning a trip to Calgary for
Sled Island
. Wire, the RZA, and Jonathan Richman (among many others)? Yes, please.
Labels: better than loneliness, boredoms, colby sparks, fake shark real zombie, montag, secret mommy, show recaps, vapid, white lung
2 Comments:
Everytime I see Vapid mentioned, I think of Danny Vapid of the Queers/Riverdales/Screeching Weasel. This is what happens when you listened to a shitload of punk in the 90s.
May 10 at pub 340: Baby Control, Certain Breeds, Hermetic, i/i.

xo eric
By

Anonymous, at 9:51 a.m.