Tuesday, April 29, 2008

trinity
On Saturday, I started my evening off at the Astoria. Mostly, I wanted to finally check out
Ice Cream
, but the show was also notably
They Shoot Horses, Don't They?
's final gig ever (for real this time).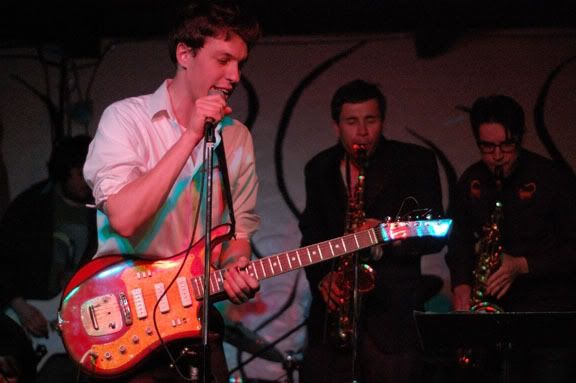 When I got there
Role Mach
were finishing up their last song. No offense to the singer, because the singing was pretty good, but the best part of the one tune that I caught was the part without vocals when he was bashing away at his guitar strings in a rather percussive fashion.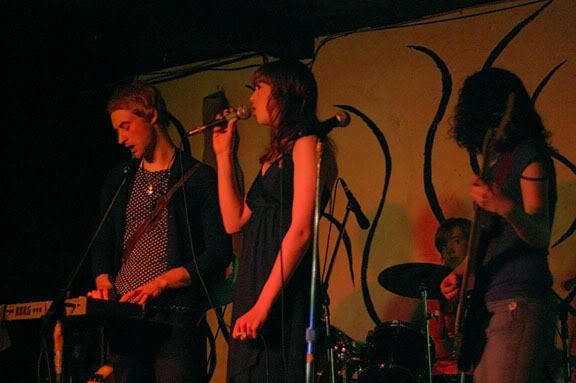 The aforementioned Ice Cream were up next. They've got a very relaxed disco-punk thing going on, but thankfully not in that we're-trying-to-hard-to-look-cooly-detached way. They didn't blow me away, but I get the feeling that they might at some point.
The Doers
were third on the bill. I don't think I ever go out of my way to see a Doers show, but I never feel disappointed when I do end up catching them. Same sentiment stands for last weekend.
I actually bailed before the Horses played. That may sound like a stupid move, but we had
our goodbye
in December. Plus, I wanted to make it to 340 in time to catch
Naked on the Vague
.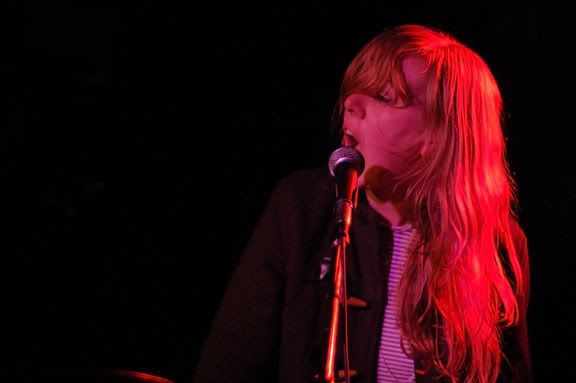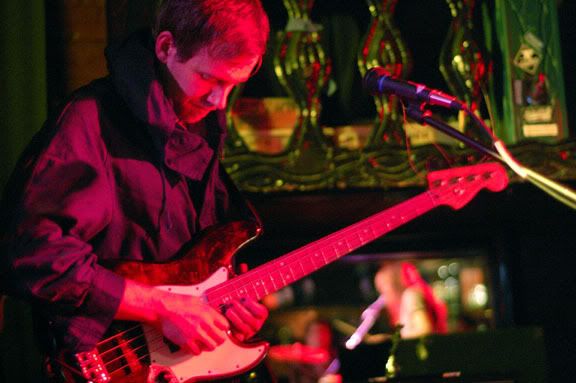 And I did... and they were actually a little disappointing. Certainly not bad live, but they weren't terribly energetic, and their MySpace led me to believe they'd be better than they were.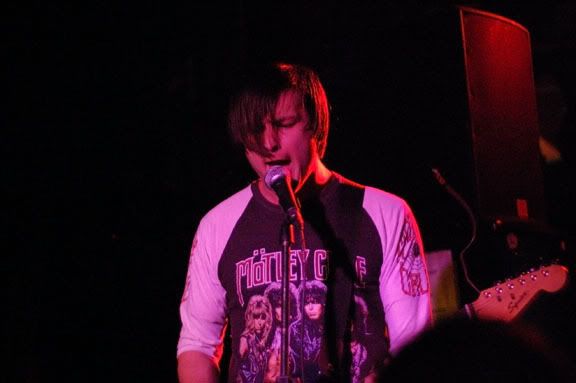 Twin Crystals
headlined. Mutators/JPNDRDS/Bison are still my live, local, musical holy trinity... but I might have to expand it to a quadrangle (or something) soon. Apparently, they thought they played a bad set. I disagree.
They were also selling copies of their new 7"/CDEP. You can grab the 7" via
SLU
and the CD version (which has an extra track) via
their Myspace
. And you should, because it's awesome.
If you have tickets to see the Field on May 3rd, you can go ahead and return them for a refund, because Fortress America decided that their musical equipment might undermine freedom and democracy (or something like that) and denied them entry. Tough for a band to play with no instruments, so understandably, the tour is off. That was a low blow at the US. Canada Customs is equally, if not more, ridiculous.
Eric's Trip
is at the Plaza on July 10th. (thanks Regan)
Jay Reatard
opens for Les Savy Fav.
Technotown Boogiedown
is moving to Sunday this month (May 11th, to be exact). This edition features
Mochipet
,
the Square Root of Evil
, and
No Luck Club
. As usual, it goes down at the Royal Unicorn.
Labels: ice cream, naked on the vague, role mach, show announcements, show recaps, the doers, they shoot horses don't they?, twin crystals
2 Comments:
for fans of the Clash:

Joe Strummer: The Future is Unwritten
May 21-26, nightly 7:00pm + 9:20pm @ the Pacific Cinematheque
I've seen The Doers a couple times & I share the same sentiment as you..
By

Gina Argentina-Rocksellout.com, at 2:44 p.m.