Tuesday, June 03, 2008

wild eyes
Hey, you know what's totally brutal move? Booking a show in Vancouver, getting to the border on the day of said show, and then deciding, "you know what? I don't think I want to try to go to Canada after all," and canceling. Which is apparently why
Japanther
didn't show up to play at the Astoria on Saturday. Getting denied at the border is one thing. Hell, not wanting to play Vancouver is one thing, but it wouldn't kill you to make that decision more than half a day before show time. I mean, I'm not the most reliable guy in the world, but nobody pays money to see me do anything.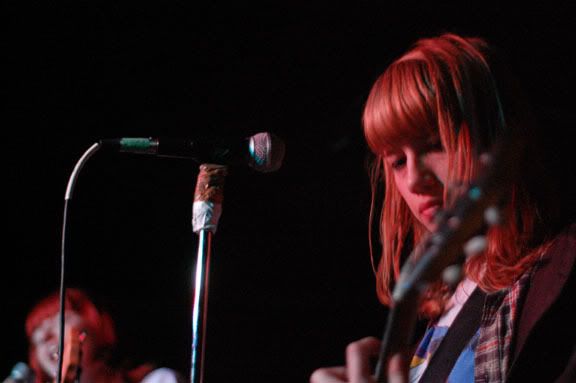 Vivian Girls
, who also hail from Brooklyn, and happened to be in town already, stepped in to fill out the bill. They played pretty enjoyable pop-punk (and I don't mean that in the pejorative sense), but it wasn't exactly what I showed up to see.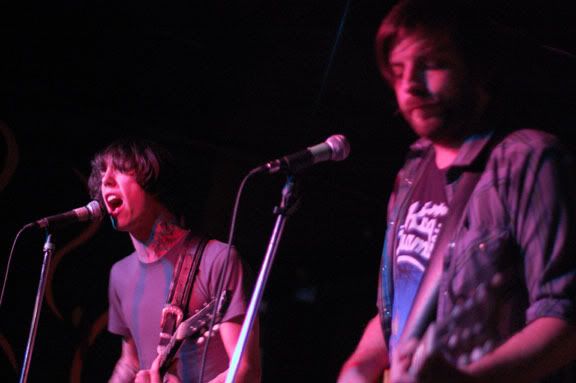 Manic Attracts
opened things up. Their throwback punk wasn't terribly original (but then, what is these days?), but they do what they do well.
I bailed before Vapid, who moved up the bill to headline, played.
Kudos to Erin at the Astoria and also the bands for making the best of things, but this ultimately proves that the mantra, "always choose Destroyer" is one to live by.
Okkervil River
are at Richard's on September 18th.
The Raconteurs
are at Malkin Bowl on the same night. They'll have
the Kills
in tow for the outdoor all-ager.
The Dandy Warhols
are at the Vogue for an all-ager on June 18th. (thanks Nick)
Paul Devro
is teaming up with his brother
Erik
every Tuesday night at 66 Water Street.
Dandi Wind
will be with them on June 24th, though I'm not sure if it's a live or DJ set yet.
Also on Tuesdays is
Weirdness
at the Biltmore. The music won't be your run of the mill dance night thing, so if you like dancing on weeknights, but are also... err... weird, you may want to check it out.
Oh, and something resembling a (way less funny than the official) Music Waste guide will be up before Fake Jazz tomorrow night, as per Kyle's request.
Labels: manic attracts, show announcements, show recaps, vivian girls
2 Comments:
you didn't miss much at a totally lackluster destroyer show
By

Anonymous, at 5:14 p.m.
haha. glad i was out of town and didn't miss japanther.