Monday, July 28, 2008

if we get lucky, we'll be dead by dawn
I was going to start by talking about how awesome the Les Savy Fav show was on Saturday, but it's Vancouver, so why don't we talk about something shitty instead? I wouldn't want to shake anyone out of their comfort zone or anything.
This afternoon, I heard that six staff members at Pub 340 were fired today without warning and replaced with a whole new staff. Malice, who booked the venue, and also runs the Sweatshop, has also apparently been relieved of his duties.
Regardless of what happens from a music fan perspective, that's pretty goddamn low.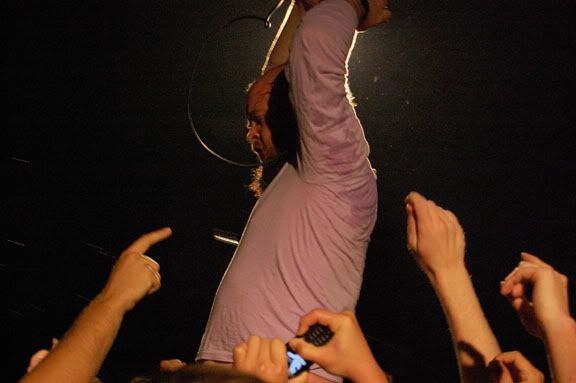 But that show.
I didn't really think that
Les Savy Fav
would be as good in a bigger venue. And, as I often am, was 100% wrong.
As anyone there will attest, they were amazing.
Tim Harrington was out in full force and, as per usual, the band was razor sharp, making sure the show had enough musical muscle to back up the freak show up front.
There was also a little sideshow to the freak show:
At one point in the evening, Tim Harrington was wading through the crowd and kissing various women in the audience. On his way through the throng he kisses some girl, who was a good sport, and seemed totally fine with the whole thing, and her boyfriend totally shoves Harrington. Then, when some guy taps him on the shoulder and tells him to relax, he yells something at the dude (most likely, a clever retort like "shut up, fag").
About a minute later, he shoves Harrington again (from behind - as real men do) and the same dude tells him to chill out again. This time, he shoves the guy. The guy who got shoved for being a reasonable human being then drags him out of the crowd and pops him in the face before shoving him into the corner and attempting to call security over (although, I swear you could shank someone in the middle of the dancefloor at the Commodore, lick the knife clean in ritualistic fashion, and walk out, and security wouldn't notice).
What's worse? When some fat, crazy dude, who is clearly not gunning for your girlfriend, plants a kiss on her as part of his crazy guy stage show, and you demonstrate how insecure you are infront of hundreds of strangers, many of whom are, at this point, distracted from the show and openly laughing at your sorry ass?
Or getting punched in the face and manhandled like a 15-year old in front of hundreds of strangers, many of whom are, at this point, distracted from the show and openly laughing at your sorry ass when you try to act all tough?
For the record, Tim kept singing and pulled up some dudes shirt so they could bump chests like nothing happened.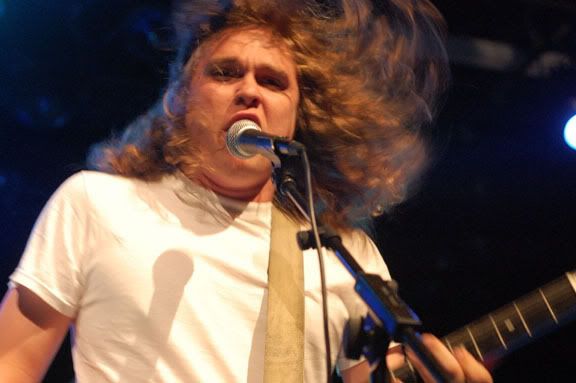 Because I had mistakenly thought that LSF would be merely great and not mind blowing, I was more excited to see
Jay Reatard
before the night began. Contrasting the headliners, Jay didn't have any antics that distracted from the music, nor a lot of banter, nor a lot of anything. In Ramones-like fashion, he crammed in as many songs as possible into his allotted stage time, mostly only stopping for a quick breath before announcing the next song and whipping straight into it. He didn't show up the top bill, but he was pretty awesome.
Cut Copy
is at the Commodore on October 9th with
the Presets
. (Thanks Aleksandra and Ariadna, respectively)
What's Wrong With Tohei
are at the Media Club with
Plus Perfect
and Hard Feelings on August 14th.
The Good News
open that Shout Out Out Out Out show on August 10th.
And Ilyas Ahmed is off of the Hoko's bill on August 2nd.
3 Comments:
i managed to refrain from licking tim's bare chest this time.

then again, i was sober this time.
By

dustin., at 11:09 a.m.
Is that what all that pushing was in the front for a little bit? I wish I got to see that. (And I agree with you re: shanking/security). Jesus... Love the Commodore crowd, love it. :/
As you know, I'm not one for violence, but I'm so glad to hear that douche got popped in the face by the other dude. LSF puts on an incredible show and as sweaty, crazy, and awesome as Harrington can be, I'd think that if you made it all the way to the concert you'd know a little bit about his antics. Oh Commodore, how many un-counted-for knife-lickings have gone on in those walls.
By

Jackie, at 10:36 a.m.